Welcome to the Weatherly Museum page


The Weatherly Museum is located on Steel Plant Rd. (behind the old Weatherly train station) on the grounds of the old Weatherly Steel Co. The museum is the brainchild of John (Jack) Koehler, Weatherly's historian. Jack spent decades collecting photos, documents and artifacts that represent Weatherly's rich and diverse history. The museum is a "must see" for all Weatherly residents. The following photos provide a glimpse of the historical treasures in the museum. I encourage you to take the time to pay a visit. The museum is open from May through October on Saturdays and Sundays from 2:00 PM till 4:00 PM.
Cataloguing documents at the museum are Pastor Don
Adams (left), Jack Koehler (right) and two friends
The History of Weatherly, Pennsylvania
(1825 – 1988)

Note: this history (including all images) is the property of
John Koehler. It may not be copied or reused in any form
without the permission of Mr. Koehler or someone who
represents him.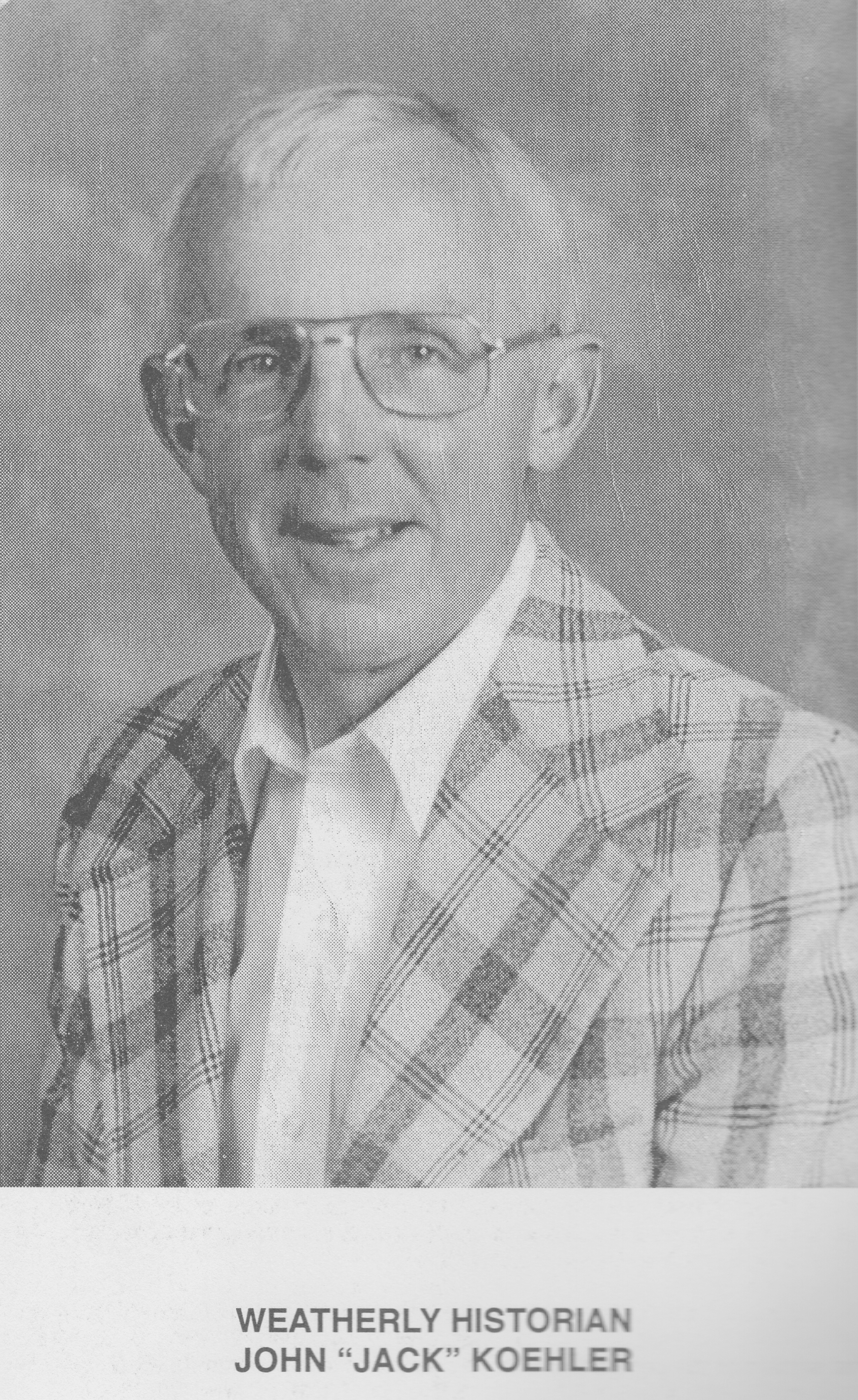 CHRONOLOGY AREA HISTORY OF WEATHERLY, PA
1825-1988
1791
Philip Ginder discovered coal on Sharp Mountain near Summit Hill, PA.
1804
Lehigh & Susquehanna Turnpike was chartered between Lausanne, Junction of Nesquehoning Creek & Lehigh River and Catawissa on Susquehanna River. Turn­pike built in 1807-1808 and used for shipment of farm goods to Philadelphia & Bloomsburg, PA.
1808
Tract of land purchased by Moravians along Lehigh River and site of Rockport today.
1812
Jacob Hartz settled along Turnpike (Hudsondale) and opened a tavern. Later known as Spring Mountain House or Hotel. Coal discovered by Nathan Beach near Beaver Meadows, PA.
1813
Coal seam opened and shipped by wagon teams to blacksmiths on Susquehanna & Lehigh Rivers. Coal sold for $8 a ton in Philadelphia and cost for shipping from mines to Lausanne on Lehigh River was $2.25.
1822
First school in Weatherly area was erected in Packer Township near the home of Jacob Hartz along L&S Turnpike. School was known as the Turnpike District. At one time three schools once stood in Packer Township with enrollment of 141 pu­pils.
1824
Elam Lowry first settler in Lowrytown Valley when he built a log cabin on Joshua's Run. Lehigh Coal & Navigation Co. needed to purchase the lumber rights from the Moravians to obtain a supply of lumber for building coal barges. Four saw mills erected in present day Rockport.
1825
The ground which Black Creek was to be built on was originally owned by Ben­jamin Romig, Sr., and Samuel S. Barber who owned warrantee deeds to the land. They had purchased the land for its valuable timber and later for farming as the soil looked rich. First settlement was on the Romig tract of 400 acres located on west side of Black Creek (Hazle Creek).
Benjamin Romig built a sawmill and house on west side of creek. (site of J&E Market). The new settlement was known as Black Creek because of the dark color of the stream. Color came from the large stands of Hemlock trees which deposit large amounts of tanic acid into the water in dense swamps that were found above the town. Stream was originally named Hazle Creek because of the Hazle nut trees growing along its banks.
1826
Ben Romig moved his family to Black Creek where his son, John, was the first born in the settlement. His sawmill sawed the first lumber for the school house at Hartz's (Hudsondale). Another family, Scheckler, with large family of boys, moved here and located on east side of creek on the knoll (monument grounds). All the men and boys were engaged in lumbering.
1827
Switchback "Gravity Railroad" was built from the mines in Summit Hill to wharves in Mauch Chunk. It was the first railroad ever constructed for transportation of coal. First section of the Lehigh Canal was completed from Easton to Mauch Chunk by engineer, Canvas White, who had built the Erie Canal in New York State.
1830
Ben Romig erected a larger house on lower side of his house and opened it as a tavern. A charter was granted for the building of the Beaver Meadow Railroad. Surveyors and engineers surveyed a route for a railroad from mines in Beaver Meadow, through Weatherly to a point on Lehigh River.
Post Office established in Lowrytown and Samuel Wolf was first postmaster. Asa Packer became postmaster there in 1836. Post office moved to Rockport in 1841. It was closed on March 31, 1916 and mail received from Weatherly as Rural Route #2.
1831
One acre of land purchased from John Faust in Quakake Valley for $2 by David R. Keller, a trustee for the German Lutheran & German Reformed Church, for the building of a church and school. A log church was built in 1834 and called St. John's Church, Lauzanne Township, Northampton County, used until 1868 when a new wood frame building was built on same site. It was called St. Matthew's Church. Remodeled in 1905, 1928 & 1944. In October, 1988, St. Matthew's Church will celebrate its 157th year as a Union Church, consisting of the United Church of Christ (Evangelical Reformed) and Zion's Evangelical Lutheran Church.
1835
Asa Packer purchased the Samuel Barber tract of land on east side of Black Creek.
Benjamin Romig sold his 400 acres on west side of Black Creek to Beaver Meadow RR. Co. for $1 an acre and moved west to Hartz's (Hudsondale).
Lehigh Canal was under construction from Mauch Chunk to White Haven under supervision of Josiah White & Erskine Hazard. Edwin A. Douglas was chief engi­neer.
1836
John Smith was sent to Black Creek by Asa Packer and took charge of clearing the land. A sawmill was built by him about two miles below town. Also he opened a store on the present site of the Community News at 29 Wilbur Street.
Black Creek consisted of but a few small houses until the Beaver Meadow Rail­road was completed to this point, and it was found necessary, in order to overcome what was considered at that time a very heavy grade, to construct two incline planes, (present Plane Street) each about one-half mile in length, making Black Creek the stopping point for the engines that took the coal to their wharves on the Lehigh Canal at Mauch Chunk & Parryville. The railroad continued from the head of the planes to Beaver Meadow, where the company had their coal mines and their foundry and machine shops.
1837
A tavern was opened on the site of the Gilbert House by William Tubbs. Tavern was changed to the Gilbert House by owner, Charles Gilbert in 1843. Old tavern torn down and a much larger building was built in 1885 by owner, J.H. Stofflet, Gilbert House was changed to New American Hotel in 1923 by owner, Frank Romano. Hotel closed in 1969 and last business in building, Villanelli Shoe Repair shop was closed in 1978. Building was tom down in December, 1983 on corner lot on East Main & Wilbur Streets.
1838
Ario Pardee, who surveyed and constructed the Beaver Meadow Railroad, began construction of the Hazleton Railroad and reached Black Creek where it connected with the Beaver Meadow RR at site of present Weatherly Steel Co, office. They had trackage rights over Beaver Meadow Railroad to their wharves at Penn Haven.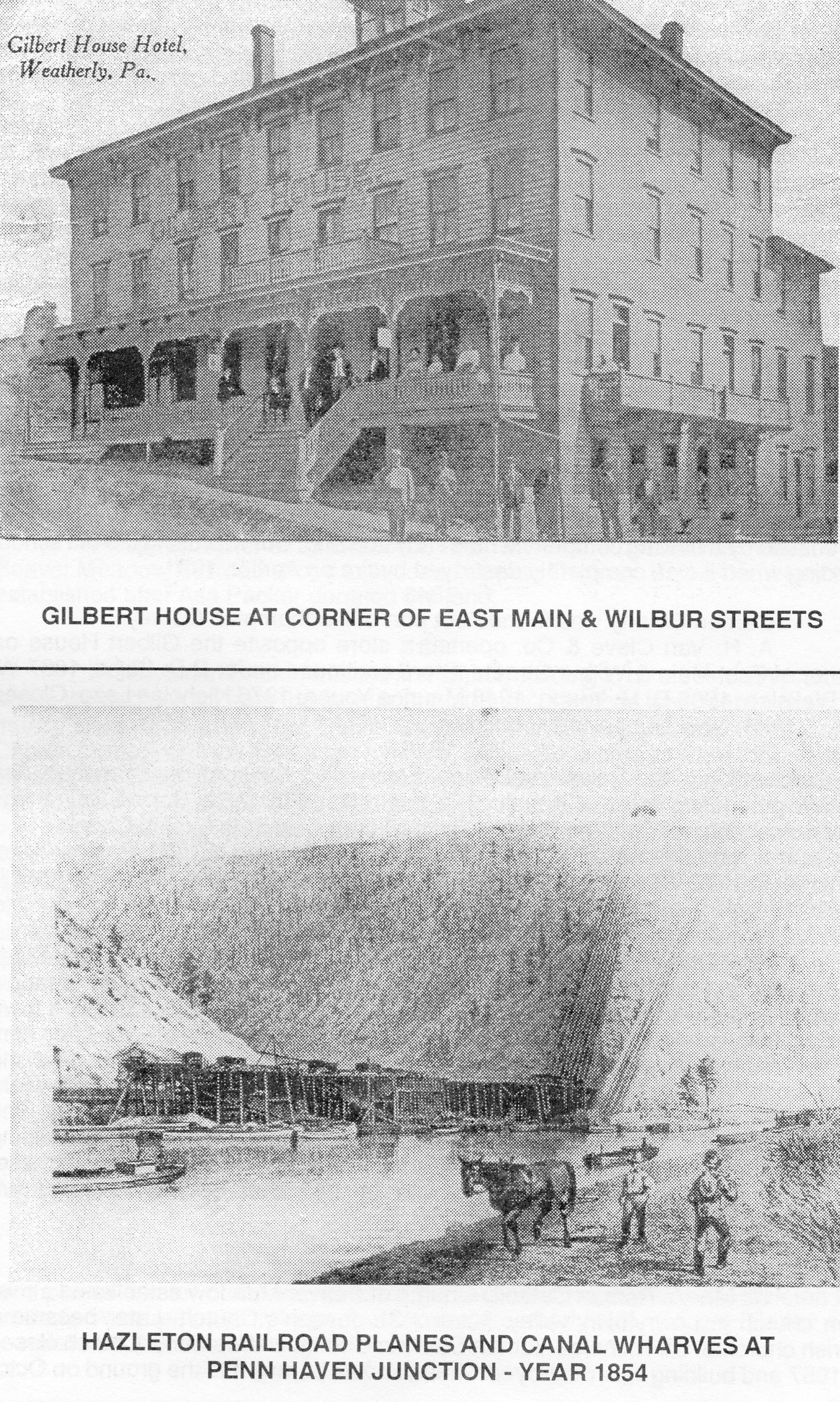 1839
Lehigh Canal finally completed from Mauch Chunk to White Haven.
1840
Very shortly the Beaver Meadow Railroad found it very difficult to get their engines up the planes in Black Creek to their shops in Beaver Meadow. Officials of the railroad decided to move the shops to Black Creek. New shops were built at the base of the plane (near site of Tung-Sol) where house and sawmill of Benjamin Romig stood. This gave Black Creek now a permanent existence.
Mountain Coal Co., Incorporated in June, 1836, by a group of Philadel­phia Quakers. Construction of the four mile railroad from the mines in Buck Mt. to Rockport was begun in 1839 and completed to Rockport, where coal was dumped into canal boats on Lehigh Canal. Railroad had a series of incline planes to reach the river and even built a tunnel which can still be seen in Rockport today. Buck Mt. Coal Co. went out of business after the big flood of 1862 which completely de­stroyed the Lehigh Canal. The canal was never rebuilt from Mauch Chunk to White Haven.
1841
First school was opened in Black Creek in a two room log building on the site of the present monument grounds. A larger two story, four room building was built in 1855 for $1,000. A two story, eight room wood frame building was built on same site in 1869 at cost of $6,000 and became popularly known as Oak Grove Seminary. Another school was built in 1884 on the west side of town to overcome crowded conditions at Oak Grove. Cost was $5,000 and was known as the Third Ward School. It was closed as a school in June, 1960, and the idle building was purchased by a sewing company. The Sandy Lou Mfg. Co. was using the old school building when it was completely destroyed by fire on April 2, 1981.
1843
Carbon County was formed out part of Northampton County.
A. H. Van Cleve & Co. opened a store opposite the Gilbert House on corner of East Main & Wilbur Streets. Store continued under R.D. Stiles; 1857 W. W. Blakslee; 1908 C. M. Young; C. M. Young; 1948 Maurice Young; 1976 Nicholas Lazo. Closed May 7,1983. Now an apartment building.
1846
Incorporation of the Delaware, Lehigh, Schuylkill & Susquehanna Railroad. Asa Packer purchased most of the stock in this railroad in 1851. Robert Sayre was made chief engineer and he built the railroad from Easton to Mauch Chunk. Name of corporation was changed to Lehigh Valley Railroad in 1853. Railroad went bankrupt in 1972-73 and was merged into government operated Conrail on April 1, 1976.
1848
Post Office was opened in Black Creek in Van Cleve store and R.D. Stiles was made first postmaster. David Weatherly, a director on the Beaver Meadow Railroad and a watch-clock maker by trade, promised to give Black Creek a town clock if they would change the name of the community to Weatherly after him. However David Weatherly left town shortly after the change but never gave the town clock. He just disappeared. Eurana Schwab fulfilled his promise 55 years later (1903) when she had a town clock put on top of the new school house. The Post Office was located at many different locations and finally occupied the building in 1945 on Carbon Street in the former Elmer Young garage building, south half of lower floor and taking over entire lower floor in 1965. Sam Sposato is the current postmaster having been there since 1965.
1850
St. Mary's Roman Catholic Church of Beaver Meadow established a mis­sion church in Lowrytown Valley. Named St. Joseph's Church. Later became a parish church of St. Nicholas Roman Catholic Church in Weatherly. Church closed in 1957 and building was destroyed when vandals burned it to the ground on October 17, 1967.
Beaver Meadows Railroad shops and much of the railroad destroyed by flood waters. Rebuilt the same year.
Carbon House was built at 40 West Main Street, by Joseph Leadenham. Hotel closed by the Tarleton family. Remodeled to Bird's & Town Talk restaurant. Remodeled to an apartment house.
1851
A Methodist congregation was organized in Rockport. The church was closed by Rev. Samuel W. Strain in 1925. Building was dismantled in October, 1929, by H. H. Sloat who had purchased the building from the PA. Methodist Con­ference.
After the damaging floods of 1850, the Hazleton Railroad abandoned their track from the top of the Weatherly Hill to their junction with the Beaver Meadow Railroad in Weatherly. They built a new high water line railroad from Hazle Creek Jct. (top of hill) along the side of Spring Mt. to the top of the mountain at Penn Haven.
Two incline planes were built down the mountainside to their wharves on the Lehigh Canal at Penn Haven.
1852
Philip Hoffecker of 21 Carbon Street, was made master mechanic of the Beaver Meadow Railroad shops to succeed Hopkin Thomas. Union Cemetery was established after Asa Packer donated the land.
1853
Presbyterian Church was the first church building to be erected in Weatherly and is located across from the monument grounds. Services had been in the com­munity since 1838 when Rev. Daniel Gaston of the Beaver Meadow Presbyterian Church brought service here once a month. As religious groups were formed, they all used the small school house for worship services from 1841 until the Presbyte­rian Church was built. Different denominations used the church until they built their own churches. Presbyterian Church added a Sunday School in 1888, an addition in 1928 and remodeled the church in 1960-61. Church was awarded a plaque by the Greater Hazleton Historical Society on October 9, 1983, for being the oldest (130 years) church building still in continuous use in the greater Hazleton area. Highest membership was 167 members, currently now standing at 93. Rev. Glen Hueholt is the pastor since 1981.
1854
Beaver Meadow Railroad built one and one half miles of new track from Hazle Creek Jct. up Beaver Creek to their grade running to the top of the Weatherly planes from Beaver Meadow.
First engine built in the Weatherly shops for the Beaver Meadow Railroad was the "North Star". Daniel Rouse who worked in the machine shop built a new five-ton coal car and invented the cast iron brake shoes for coal cars.
1855
On August 14th, the Beaver Meadow Railroad abandoned their two rail­road planes into town and began running trains over the abandoned Hazleton RR grade to Weatherly (Soon to be the famous Weatherly Hill). Engine "Baltic" was completed in the shops in August.
1856
Packer House was built by Aaron Grimes as a house but later turned into a hotel by Levi Hartz in 1868. Hotel had different owners with George E. Shafer 1922-1941; Romaine Shafer, his son, 1941-1960, being the longest owners. Sold to VFW Post #8128 in 1960 and is still operating at 145 Carbon Street.
Carbon County Home was established after the Pennsylvania Legislature passed an act on April 26, 1855, which provides for the building of a "House of Employment of Carbon County". Provision of the act was that the people of each township were to vote to accept or reject it. Banks, Lausanne, Mauch Chunk Town­ships, East Mauch Chunk and Mauch Chunk accepted the act. All remaining town­ships would continue to farm out their poor people. A site was chosen in Lowrytown Valley and 315 1/2 acres of farm land was purchased. Buildings were constructed in 1857 at a cost of $8,273. Fifty-four people were transferred to the new home.
With a merger of Carbon and Luzerne Counties, the home was changed to the Middle Coal Field Poor District in 1862. New hospital was built (four story brick building) in 1871 and a two story addition was added in 1881. First trained nurse arrived at the home from Philadelphia in 1892 with the district paying half her salary and Mrs. Eckley B. Coxe paying her the other half.
There were 144 inmates at the home and during this period 257 men, 384 women and 518 children received out-door relief. A- new hospital, two stories high, with male patients on the first floor and women on the second floor was built in 1894 with a donation of $2,000 from Eckley B. Coxe. Cost of the new building was $17,980. A double brick dwelling was built in 1913 for the steward's quarters at a cost of $4,000.
In July, 1922 a new administration building was erected and completed in 1924, at a cost of $270,000. The name of Lowrytown Poor House was abolished and became the District Home in 1925. In 1933, the District Home distributed aid and relief to 2,328 families in Luzerne County; upper Carbon County, 390 and lower Carbon County, 1,064 for a total of 3,782 cases. Total spent in Luzerne County was $202,792.40; upper Carbon County, $22,578.09 and lower Carbon County, $50,252.09. The total cost was $276,086.39 with District Home share at $4,852.38 and the state covering the balance.
In 1944, the District Home was changed to the Carbon County Institu­tional District Home and again changed in 1960 to the Carbon County Home. A new 200 bed institution was dedicated October 29,1972, in Weatherly and it replaced the old county facilities at Lowrytown. 160 patients were transferred to the new home. 145 from Carbon County and 15 from Columbia County.
The old Carbon County Home was abandoned and finally put on the auc­tion block in September, 1974. Numerous bids were received and refused until the Pennsylvania Power and Light Company offered $686,576 for the land and build­ings. The bid was accepted by the County Commissioners in December, 1975. The PP&L Co. tore down the entire building complex in 1978 and all that remains is the cemetery.
1857
First physician was Dr. Flemington Webster, a graduate of Jefferson Medical College. Webster left in 1865 after the arrival of Dr. James B. Tweedle, 1865-1920. Dr. Tweedle also became the Lehigh Valley Railroad surgeon along with his gen­eral practice in Weatherly. Dr. P.H. Latham came in 1879-1912; Dr. William P. Long 1886-1940; Dr. Ira E. Freyman, 1907-1941; Dr. John Kerestes, 1937-1958; Dr. Charles W. Potter, 1947-1975; Dr. John Slovak, Hudsondale, ?- 1985. Dr. George Anderson and the St. Joseph Satellite are currently serving the Weatherly area.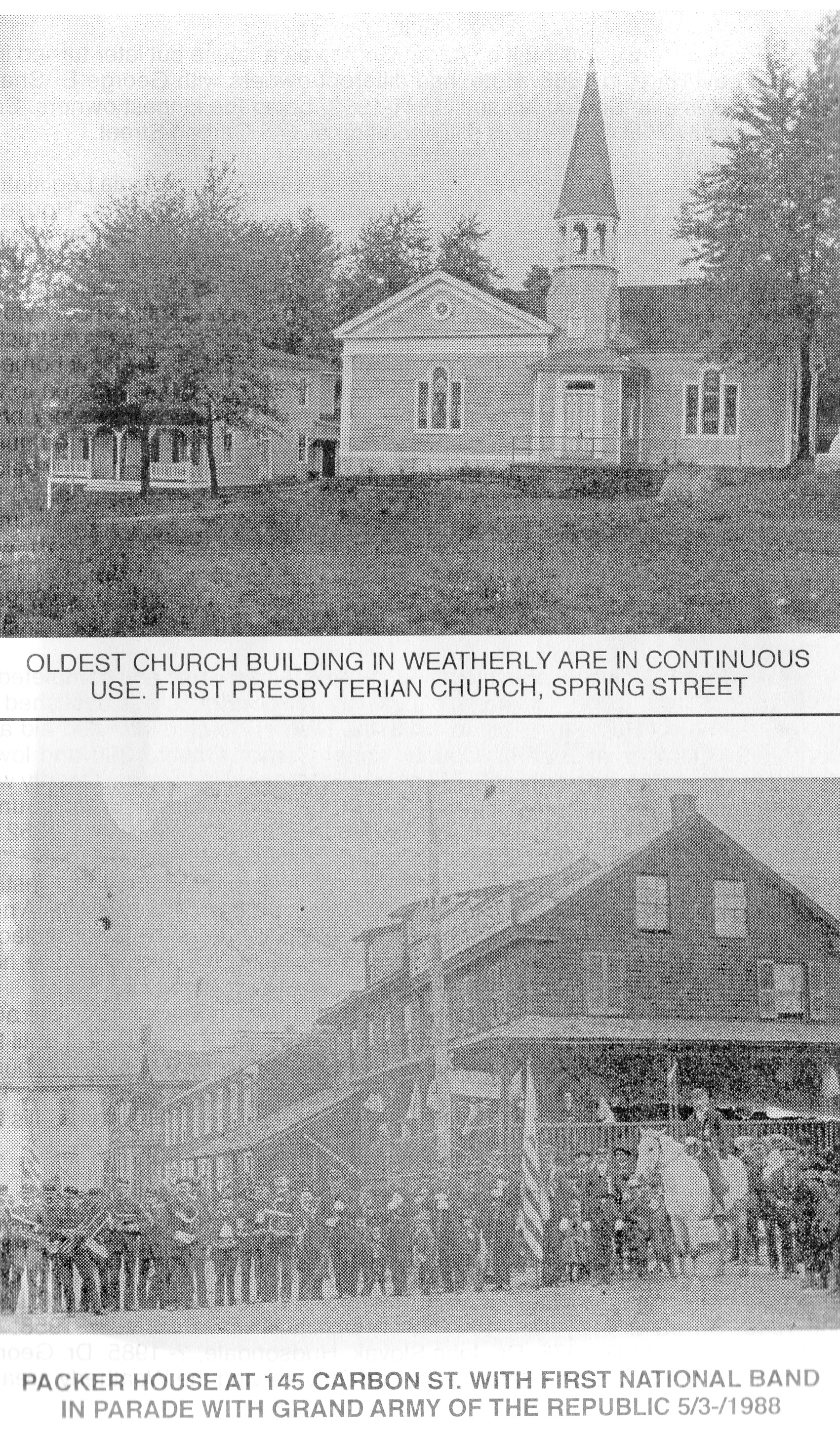 1859
Samuel W. Hudson purchased property in Hartz's and opened a large foundry in 1860. He built a grist mill in 1869. Foundry was abandoned in 1881. Mr. Hudson invented sixteen major patents while living at Hartz. Some of his major patents were on hydraulics and pneumatics. Other patents were for ventilating mines, air compressor, compressed air pump and other first class practical inventions which all proved very useful. Mr. Hudson died on January 17,1885. The town of Hartz, in honor of Mr. Hudson, changed its name to Hudsondale. Last remains of the old grist mill were torn down by Hazleton City Water Authority in 1954.
1862
A disastrous flood completely wiped out the Lehigh Canal from White Haven to Mauch Chunk and east to Easton. Canal never was rebuilt from Mauch Chunk to White Haven. The lower part of the canal from Mauch Chunk to Easton was used until 1937.
1863
Weatherly was incorporated on the 8th day of October, having been cut from Lausanne Township. Beginning at the northeast corner of Packer Township, thence by the division line between Banks and Lausanne Townships, north 2 1/4 degrees, east 55 perches to the Hazleton Railroad (Hazle Creek Jct., all aban­doned), thence by said railroad line 730 perches to Brushy Hollow Creek, thence by said creek southward 380 perches to Quakake Creek, thence westward 750 perches along Quakake Creek to the division line between Packer and Lausanne Townships, thence by said division line northward 470 perches to northeast corner of Packer Township and place of beginning. Population was 500 at the time of incorporation.
Certificate of charter and first officers to serve the Borough of Weatherly were: First Burgess, Daniel Rouse; First Council elected, 1866, Samuel Hooven, Nicholas Houser; First School directors elected, 1866, W.W. Blakslee and Joseph P. Buck; First Justice of the Peace, John Watson; First Physician, Flemington Webster; First Postmaster, John Smith; First Constable, John Hoover; First Asses­sor, James G. Eadie; First Tax Collector, James G. Eadie; Assessed Valuation, $50,000.
Weatherly was divided into four wards on October 13,1893. The four ward system was abolished in Weatherly on February 20,1967. A new council-manager form of government was used on January 5, 1976. First mayor-councilman under new government was Edward Dodson. First borough manager was Robert E. Par­sons, elected on May 1, 1964, which replaced the office of borough secretary. This office had been held by Norman H. Koch for 30 years. Mrs. Beverly Knepper cur­rently the borough manager of Weatherly.
1864
The Lehigh Valley Railroad Co., under Asa Packer, assumed control of the Bea­ver Meadow Railroad Co. on July 8, and all company property in Weatherly and Penn Haven, including the shops, stations and railroad, were merged into the Lehigh Valley System.
1866
The Methodist Church was erected on a plot of ground on Carbon Street.
The land was donated by John Smith and the church was built by him. The church was part of the Beaver Meadow circuit until 1877. The congregation had been meeting in homes, school house and Presbyterian Church. The new church was called "The Centenary Methodist Episcopal Church". The word Episcopal was dropped in 1939. Last service was held in the wooden building on April 16, 1950, by the Rev. James W. Dendler. The 84-year-old church was razed in the summer of 1950. The congregation held services in the Tung-Sol Electric plant cafeteria until a new brick church was erected on the same site at a cost of $64,000. The church was dedicated on June 10,1951. Rev. Cynthia A. Snavely is the current pastor, serving both Weatherly and Beaver Meadow Methodist churches.
The Lehigh Valley erected a large sixteen stall roundhouse on the east side of the creek across from lower Hudsondale Street. An engine house served the rail­road very effectively until the completion of the new engine terminal at Ashmore in August in 1920. The roundhouse was abandoned in 1920 and fell into ruins. It was torn down in June of 1929 and the large cut stones were used by the PA Dept. of Highways to build a large retaining wall on the west side of the creek along Hudsondale Street. The cost was $15,000. Today the lower circular wall of the roundhouse foundation can still be seen along the creek.
A German Lutheran congregation was formed and met in the Presbyterian Church building. Later they met in the home of Aaron Grimes at the corner of Second and Pardee Streets. First Communion was observed on October 6,1867, by Rev. W. Hasskard. Land for a church was purchased from Asa Packer for $300 at the cor­ner of Third and Fell Streets. The cornerstone of the church was dedicated on September 10,1876, and the building was completed and dedicated in 1877. The new church was named "Zion's Evangelical Lutheran Church". The building was remodeled and enlarged in 1904 at a cost of $7,250. A new $60,000 Christian Education building was erected and dedicated on September 12, 1965, under the pastorate of Rev. Byron R. Stauffer. The current pastor is Rev. Robert A. von Frisch.
Associates of Oak Hall erected a one-story building on the corner of First and Carbon Streets. Oak Hall was incorporated on October 1,1867. A second story was added in 1872 and a third in 1877. Oak Hall soon housed numerous busi­nesses in the two floors and basement. The third floor served as a meeting place for clubs and organizations. J. C. Sendel opened a hardware business in 1890. His son, Robert 0. Sendel, took over the business from 1902-1923 and Ario A. Sendel, Robert's brother, from 1923- 1931. Harry Wertman purchased the hardware store on January 11, 1931, and named it "Wertman's Hardware Store". Harry's son, William, took over the business in 1959. In January, 1980, William purchased Oak Hall from the president, Bart Druckenmiller. Due to failing health, William Wertman closed the store for good on December 31,1981. A public auction was held on the contents and the building on January 28-29,1982. The building was purchased by the Weatherly Borough for $5,000, and was razed in March of 1984.
James G. Eadie opened a mercantile business in Rockport after serving as a clerk in the Asa Packer, Douglas & Co. in Nesquehoning and W.W. Blakslee Store in Weatherly. In 1869 he sold his Rockport business and moved to Weatherly where he opened a store in the Kintz building. He moved his store to the corner of Second and Carbon Streets, across from the railroad shops. He sold the store to J. F. Kressley in 1892 and opened a new and complete assortment of general mer­chandise at 131 Carbon Street. He sold his business to his son, Robert A. Eadie in February, 1902.
1867
The Lehigh Valley Railroad began construction of a large stone building adjoining the railroad roundhouse. It was completed in 1869 and measured in size 150' x 250'. Under its single roof could be found four departments; machine shop, foundry, boiler and blacksmith shops. The new building was built for the construc­tion and repair of railroad locomotives. A total of 78 engines were built and many hundreds of engines were overhauled and repaired in these shops.
Under Weatherly's master mechanic, Philip Hoffecker, a new design in engine building was developed in 1872. A fleet of 4-8-0 type engines (nicknamed "dirt burners") were built and the new design engine was readily adopted by most of the other railroads across the country. Hoffecker designed and built 70 locomo­tives before he retired due to poor health in 1890. Only eight other engines were built after he retired. Shortly afterwards, the Lehigh Valley began a program of consolidation of its railroad shops and closed the Weatherly engine shops in June, 1894. The building, containing 32,000 square feet of floor space, was put up for sale. On February 10, 1913, the Weatherly Iron & Steel Co. purchased the building for $10,000. The shops once employed 425 men.
1869
The first newspaper published was the "Lilliput" and Volume One was published in March, 1869, by Mike Kelley who had his office at 18 Carbon Street. The paper was published monthly and cost $1 a year. The paper contained four pages. No other facts have been found on this publication.
1870
Weatherly's population had doubled in the past decade with 1,076 inhabitants.
1873
The Union Hotel was built on lower Railroad Street (Dutch Hill). The hotel was later known as Helker's Hall. It served as a meeting place for local boy scouts and Meiser's Bottling Co. was located in the basement. One of Weatherly's oldest buildings it was tom down in October of 1916 and the lumber was used to build the new Wertman building on Wilbur Street. (Present E. & R. Plumbing building).
1874
St. Nicholas Roman Catholic Church was built on Plane Street and the cornerstone was dedicated on October 25,1874, under pastor Rev. E. V. McElhone, who was also pastor of St. Joseph Parish in Lowrytown. He founded the Weatherly charge as a mission of the Lowrytown Church.
St. Nicholas became an independent church in 1902 when Rev. Francis X. Wastl was appointed pastor. The present church building was erected in 1907 to replace the original structure. In 1916, St. Nicholas Church opened another mis­sion church in Buck Mountain. That church was dedicated on November 30,1916, and was named "Our Lady of Lourdes". The church was closed in 1957 and re­mains empty today.
Sisters of the Immaculate Heart of Mary were invited by St. Nicholas Church to come to Weatherly in 1921 to organize a parochial school. A school was opened in a library building on West Main Street and called Columbus Hall. A home was purchased by St. Nicholas at 243 West Main Street for a convent for the Sisters. In 1925 a new brick school was built on the same site and replaced the old two-story building. The school was closed at the end of the school term in 1981.
Fire destroyed the church rectory in 1950 and Rev. Thomas F. Peleshek had a new stone and brick rectory built on the same site in 1951. Rev. William J. Shields is the current pastor and Bishop Thomas J. Welsh, Weatherly native, is the Bishop of the Allentown Diocese which includes 262,000 Catholics and Weatherly's St. Nicholas Church is a part of that Diocese. Bishop Welsh was installed as Bishop on March 21, 1983.
Andrew H. Horlacher, a master baker in Philadelphia and Allentown, moved to Weatherly and purchased the Reuben Horn bakery along the railroad tracks. He moved his bakery business into his new three-story building he had erected on Carbon Street in October, 1889. He operated the bakery until 1897 when he sold it to Harry Yeide. The Horlacher building housed many different businesses over the years, including the Weatherly Herald, U. S. Post Office, and Public Market. The only remaining business in the building is the dentist practice of Dr. William T. Ravina. The other part of the building was made into apartments.
1875
Frank White opened a jewelry business in a portion of the Oak Hall build­ing. He moved the business into the former Stiles building on the corner of First and Carbon Streets. His son, Howard, entered the business with his father following the end of World War I. Frank retired from business in 1919 and Howard continued to operate the business until he retired because of poor health in 1969. His wife closed the store in 1970 after 95 years of continuous service to the community. Today the Hometown Video operates in that part of the building.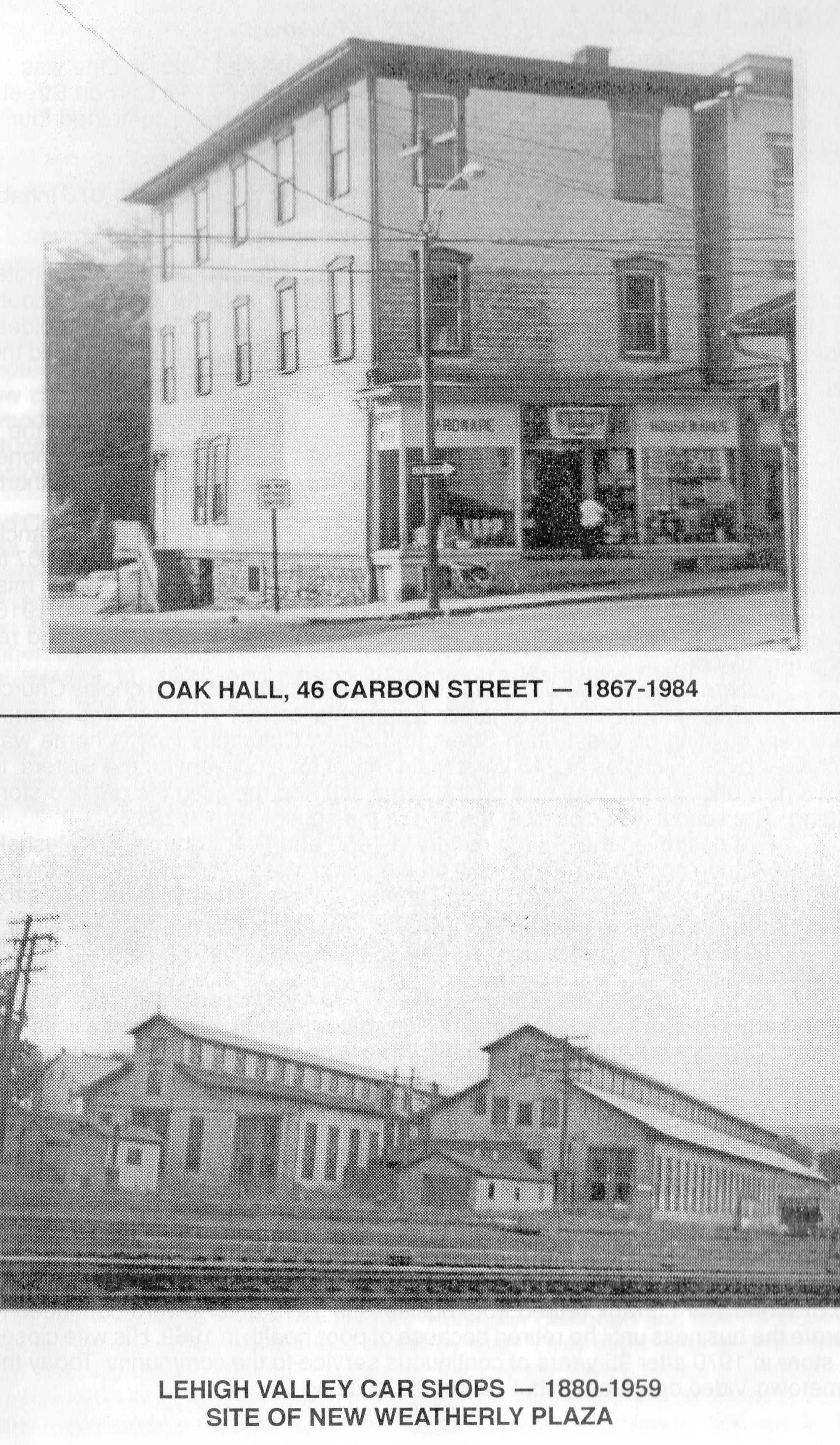 1876
Salem Reformed Church was organized on January 4, 1876, under pas­torate of Rev. F. Feundling, pastor of the Grace Reformed Church of Hazleton. Two lots were donated from the Asa Packer estate on the corner of First and Fell Streets. The cornerstone was laid April 30, 1876, and Rev. Mahlon Mishler was elected its first pastor. A parsonage was built in 1883 and an addition was added to the church in 1885. In 1914 the old wooden church was torn down and a new stone and brick building was constructed on the site. The congregation rented the Warner & Waas Hall on West Main Street for their services until the new church was finished. The church was dedicated on June 11,1916, at a cost of $23,000. Name changed to United Church of Christ in 1952. Rev. Dr. A. M. Masonheimer served the congrega­tion 41 1/2 years and Rev. C. T. Moyer for 28 years. The current pastor is Rev. Donald J. Stump, who has been the pastor since 1966.
1878
A tinning and stove business was opened in one of Weatherly's oldest buildings at 37 West Main Street by Benjamin F. Clewell, a Bethlehem native and a tinsmith and plumber by trade from Mauch Chunk. Mr. Clewell retired from busi­ness and his son, Asa T. Clewell operated the business following World War I.
In April, 1926 ground was broken for a new two-story brick veneer apartment and business building by local contractor, David S. Kistler. The building was erected on the same site as the old building which was demolished. Asa Clewell retired from the plumbing business in 1958.
Ethel (Fields) Wagner opened a dress shop in part of the building and the Pennsylvania State Liquor Store occupied the other side at 37 West Main Street in June of 1936. The Liquor Store closed in the 1970's and this part of the building remained empty until Candy Jeffries opened a beauty salon. Today the building is occupied by the Dough Box, owned by Thomas Evans, at 39 West Main Street and Brenda Fedorick Beauty Salon at 37 West Main Street. The Dough Box opened in February, 1983 and Fedorick's Salon in March, 1986.
1880
Weatherly had become contented and prosperous under the regime of the Lehigh Valley Railroad Company. Census figures for 1880 showed population at 1,977 and growing as more people were coming into the community looking for work.
The Weatherly Herald was first published as the Carbon Herald in June, 1880. The newspaper was published in the basement of the Gilbert House by H. V. Morthimer and J. P. Rowland. The paper sold for $1 a year. Mr. Morthimer retired from the newspaper and Harvey B. Smith became associated with Rowland in Sep­tember, 1880. J. P. Rowland retired in December, 1880, and left H. B. Smith editor of the paper. He moved the newspaper business from the Gilbert House to J. G. Eadie's Store at 131 Carbon Street in September, 1881, and had changed the name to The Weatherly Herald on March 16, 1881.
Smith then sold the paper to Percy E. Faust on May 1,1886, and he moved the publication to the second floor of the Horlacher building at 40 Carbon Street at the end of May, 1886. With the newspaper business growing, Percy Faust had a new building constructed at 31 Wilbur Street. It was a two-story wood frame build­ing which was completed in June, 1890. He moved his business into his new quar­ters. Faust sold The Weatherly Herald to his son, Robert V. Faust, on May 1,1925. Robert continued the newspaper for the next 37 years and upon his death in June, 1962, his son, James P. Faust and his partner, Cletus W. Milan, of Jim Thorpe, purchased the paper in October, 1962. In November, 1976, James Faust sold his share of the newspaper to Cletus Milan. On May 29, 1980, the Herald celebrated its 100th anniversary with a special edition of the newspaper. Cletus Milan sold the Weatherly Herald to Mr. and Mrs. Jay E. Holder of White Haven, publishers of the White Haven Journal, on September 4, 1981.
The Weatherly Herald was merged with the White Haven Journal and is now called The Journal-Herald, published in White Haven. Until the merger, The Weatherly Herald had been the longest continuously published newspaper in Car­bon County. The building at 31 Wilbur Street is currently occupied by Mr. Gee's carpet and linoleum business, having moved from 105 Carbon Street in the fall of 1987.
Lehigh Valley Railroad car shops on lower Railroad Street (Carbon St.) were completely destroyed by a disastrous fire on July 8. 1880 Rebuilding of the shops was begun in August, 1880 and completed in 1881. A new wooden frame building for the car shop was 60' x 256'; blacksmith - bolt and engine room was 41' x 176' and the boiler house was 18' x 36' with a 50' stack.
An average of 200 men were employed in these buildings. The most promi­nent figure in these shops was Supt. Daniel Rouse, who had been in charge of the car shops since 1855 and during the next two generations of service, he achieved remarkable reputation for mechanical and executive ability. In 1883, the shops built 175 coal cars and repaired 45,900 cars. Not only was there a great deal of work turned out of the shops, but the location of the place made it an advantageous place for general repair work. The number of men employed in the various shops of the railroad and the railroad itself, increased steadily until the early 1890's when over 1000 men were employed.
In 1894, as a result in change of management all work done in the ma­chine shops was transferred to Delano, PA. Weatherly had become too much of a town of one industry and this proved quite a blow to the prosperity of the commu­nity. Further consolidation of the railroad in 1899, caused the company to close all the shops and most of the train crews were shipped to other locations. Only 25 men remained with the local railroad facility following all the changes. Late in 1899 the LVRR re-opened the machine shop here and closed them in 1912. The LVRR brought a frog department back into the vacant car shops in 1899. They employed between 60 to 70 men and by 1928, under Supt. Charles A. Miller, the frog shops became a repair shop for all maintenance-of-way equipment for the entire railroad.
Many new patents were designed in these shops and were later used by most of the other railroads. In June, 1937, the frog shops were closed and consoli­dated with the shops in Sayre, PA. Weatherly Borough purchased the 4.3 acres of land, 28,000 square feet of floor space in the twin buildings, office and a few smaller buildings for $4,000 in November, 1941. The Borough sold the old frog shops to Hartland Steel & Foundry Co. of Buffalo, N.Y. for $5,000 in August, 1943. Hartland Steel shut the plant here in 1954 and Rad Woodworking Co. of West Hazleton purchased the buildings in December, 1956. The business was renamed the Weatherly Woodworking Co. and few years later the entire business was destroyed by a major fire on the morning of November 11,1959. The new Weatherly Plaza is now located on the site.
The Massey House a boarding house and bar, was erected on the corner of Packer and Second Streets by Joseph Verzi. He sold the hotel to John Hines in 1882 and it soon became very popular as the Massey House. Abe Patterson was hired by Hines to operate the hotel after he retired in 1894. Patterson renamed the Massey House to the First Ward Hotel and purchased the business upon Hines death in May, 1904 In 1911 Abe Patterson decided to build a new hotel so he moved his business to his rear lot and demolished the old hotel. A two-story brick building was erected on the site and was completed on August 11,1911, at a cost of $10,000. He renamed the business as the Patterson Hotel and operated it until his death in 1939. His son, Robert, took over and remained in business until he retired in 1950. The hotel was closed in 1953 and remodeled into apartments. Dr. Michael Slovak purchased the building in 1974 and Dr. G. W. Anderson maintains an office in a portion of the building.
1881
Edwin F. Warner, son of Peter and Lavina Warner of Tannersville, PA, had completed courses in cabinet making and studied at Clark School Embalming. He joined his father in the undertaking business for a short while, coming to Weatherly in April, 1881 He purchased the furniture business of Harry L. Beck in the basement of the Gilbert House. In September, he moved the business to 47 Carbon Street. Business continued to boom as the town grew and expanded, so he bought a lot at the corner of First Street in August of 1885. He erected a building to house his growing business and moved into his new quarters on October 8-9, 1888.
An addition, 16' x 50', and four-stories high was made to the building in July, 1912. Edwin sold his furniture and undertaking business to his sons, Peter G. and H. Fred Warner, on April 16, 1920. P. G. Warner retired from the furniture busi­ness in September, 1956 and the business was purchased by Joseph Leskie on March 1, 1957, but not the real estate. In 1959, the Warner funeral home and furni­ture store were sold to Philip J. Jeffries, Sr., a Coaldale funeral director, who had been associated with P. G. Warner until Warner's death in July, 1958. The furniture store was re-opened after Leskie moved his business out.
Philip J. Jeffries, Jr., assumed the managership of his father's business in September, 1970. He purchased the furniture business in 1972 from his father and the funeral home in January, 1985. Jeffries Furniture Store was closed on Decem­ber 31,1985, after almost 105 years in business. The building was sold at public auction on March 1, 1986, for $7,000. The building today houses an exercise pro­gram operated by Joseph Furmanchin and is known as the Pump House.
1882
The Weatherly Water Company was chartered on January 24,1882 and W. W. Blakslee was elected its first president. A 150' long by 22' deep reservoir was built on the side of Spring Mountain above town and when full held 250,000 gallons of water. The new system was gravity fed into the community. The first source of water was from Shepp's run nearby. Additional water supplies were added with an agreement with Lehigh Valley Railroad Co. for water from Penrose Creek. The LVRR invested in 200 shares of Weatherly Water Company stock on October 26, 1882, and became the first owners of capital stock in the new water company. Penrose water was turned into the system on August 1, 1882, to supply twelve customers. The LVRR enlarged the small dam across Penrose Creek 150' wide and 700' long and to a depth of eight feet to hold and estimated three million gal­lons of water. Water was carried through a five inch line which was laid in 1884 and an eight inch line laid in 1889 with a gravity flow easterly 1 1/2 miles to a collection basin. No other water in the area rated as high as Penrose Creek and springs for purity and quality.
Moyer's Run was added to the system on December 11,1910. A new dam and breast was built at Penrose at a cost of $2,350 and was completed in November, 1915. Two major droughts hurt the Weatherly water system in 1923 and 1934 and they frantically searched for new sources of water. The small Penrose dam was added for a new supply and the Marusak reserve darn was also used in emergen­cies. A tool house was built on Wilbur Street in April of 1929. The water company also purchased Moyer's Run for $2,500 on January 15,1947: (Penrose dams and springs had been purchased from settlement with Penrose Estate and Cox's for $1,500 on February 9, 1899.)
An extreme water shortage in October, 1963, forced the water company to use 1,600,000 gallons from the borough's Eurana Park Lake. It was again used in the drought of October-November 1964.
The Weatherly Borough purchased the Weatherly Water Company on June 3,1968 for $250,000 and it contained 152 acres of water shed: Big Penrose -5,000,000 gallons, Small Penrose - 750,000 gallons, Moyer's Run - 340,000 gal­lons and the distribution reservoir - 525,000 gallons. The borough began adding new sources of water to the system with the purchase of the well pond and reser­voir on the Marusak property, East Third Street, on February 16, 1971. A well house and deep welt was constructed in September of 1973 and a 450,000 gallon, 65 foot high water tank near the Weatherly Carbon County Home (Weatherwood) at a cost of $195,000. Another well was dug in the third ward near end of West Main Street, in November 1975. A large storage tank, holding 750,000 gallons cost $140,000 was completed in November 1976.
The final stage of the water system came in April 1980, when a loan of $920,000 was granted to Weatherly Borough for improvements to the 90 year old system. This included another welt (#3) on Wilbur Street, booster pumps and in August 1981, renewal of major water lines in the community. With the entire system pressurized and the three deep wells now serving the town, Penrose reservoirs were abandoned.
The Verzi House was located at 267 Packer Street. With the need for a more modern boarding house, Joseph Verzi sold his business, the Massey House on the corner of Second and Packer Streets, to John Hines. Verzi purchased lots on Packer Street and designed his own plans for a modern hotel. Work was begun on April 12,1882 and the building was designed in French architecture from his native country. The hotel, 40 feet by 40 feet, was a three story wooden frame build­ing with 22 rooms, a saloon and merchantile business located in it. It was com­pleted in November 1882 and was one of the finest buildings in the community. A large sign, 36 feet by 2 feet, inscribed Verzi House, was placed across the top of the building on May 10, 1883. Joseph Verzi sold his entire complex to Thomas F. Reese in December, 1885 and moved to West Virginia.
During the period 1885-1904, the hotel was under different management until on September 15, 1904 Harry Gangwer, Sr. leased the hotel. He purchased it in October, 1910 for $5,800. He changed the name to the Fern Hotel in honor of Fern Gangwer. In August, 1941, the hotel was leased to Eva Gibbons and years later to Mrs. Anna Sensenbach and Charles Kelshaw. Lincoln Younker bought the hotel on June 1, 1953 and over the next 25 years it became known as Link's. The hotel was closed upon the death of Link's wife, Helen, on September 21, 1978. It was reopened on February 7, 1979 under management of Anna Marie Younker who operates the business today as the Fern Hotel.
The Grand Army of the Republic (GAR) Civil War Veterans organized the Colo­nel James Miller Post #273 in Weatherly on August 11,1882 with 40 members. The post was named in honor of James Miller of Mauch Chunk who performed deeds of heroism for his country in the Mexican War. He was killed in the very first battle of the Civil War at Fair Oaks, VA on June 1, 1862.
A plot of ground was donated by the Weatherly School Board on April 1, 1905, for a monument to all local Civil War veterans. The monument was made of Barry granite from Vermont. It was 21 feet high on an 11 foot base and the soldier placed on top was six feet tall, his flag 4 feet long. The soldier was made of stan­dard copper bronze.
The monument was erected in front of the Schwab High School, at a total cost of $1,525. A pedestal was built to hold a 4 1/2 ton cannon with a pyramid of 20 balls on each side. The cannon and balls were a gift from the U.S. government to GAR Post #273.
A crowd of 2,000 people were on hand when the monument was dedi­cated on November 3,1906. James F. Kressley was the last Weatherly Civil War veteran, he died on October 27, 1928 at the age of 81. The soldier's monument is now part of the new dedicated Veterans Memorial Plaza.
Rockport Tunnel on the Lehigh Valley Railroad was under construction in September of 1882. The new tunnel was 1,400 feet long and would save 1 1/2 miles. It would eliminate one of the most dangerous curves on the railroad across from Rockport, PA. It took 125 men almost two years to complete the tunnel. LVRR Train #8 was the first train through the new tunnel on November 2, 1884.
The Lehigh Valley Railroad erected a new station at Black Creek Junction in November, 1882.
Miller Store was built in November of 1882 by George W. Miller, Sr. He purchased three lots from the Asa Packer estate on Carbon Street. He sold two lots and on the third lot he constructed a large three story brick building at a cost of $10,000. He moved his merchantile business that he bought from Edward Wilson and Samuel and Edward Harleman in 1879, from the Oak Hall building into his new store. An opera hall was opened on the third floor on November 24, 1882. G.W. Miller, Sr. soon became a very successful and prominent merchant. His store be­came known as the Wanamakers of Weatherly. In July of 1904, G.W. Miller, Jr., C.W. Miller and Alfred Warncke had the store incorporated as the Miller Store Com­pany with a capital stock of $10,000. Over the years the Miller Store business de­clined until it was located on the first floor of the building. The third floor was used by the American Legion Post #360 for a meeting and social room since 1936. Upon the death of G.W. Miller, Jr. on March 14, 1940, Conner Miller assumed operation of the store. The business was sold to Walter Figas in the mid- 1970's and he operated the store on a small scale until closing on December 15, 1984. The Ameri­can Legion Post #360 vacated the building in 1981. The building at 107 Carbon Street remains empty in 1988.
The Anthracite Building and Loan of Weatherly was organized by a group of local citizens which had met in Miller's hall. A.J. Lauderburn was elected the first presi­dent on December 2,1882. The new building and loan applied for a charter for 1000 shares. The charter was granted by the, Commonwealth of Pennsylvania on Janu­ary 10, 1883, with a capital stock of $200,000. It was re-chartered in 1888 for its perpetual existence. The purpose of the charter was for the association to sell shares to investors and make mortgage loans for land and homes.
Over the years the Anthracite Building and Loan Association has helped the majority of Weatherly area residents to own their homes and nearly two thirds of the homes were wholly or partially built with funds advanced by the association.
From the beginning, the Anthracite Building and Loan has been one of the most carefully and economically managed associations of its kind and has grown in strength and confidence of the people from year to year.
The building and loan was located in different downtown buildings through the years until a new 24 foot by 40 foot building was erected at 140 Carbon Street. This building replaced their previous office at 105 Carbon Street. The grand open­ing was held on March 15, 1975.
In March, 1986, papers for the merger of the Anthracite Building and Loan Association and the Security Savings Association of Hazleton, PA, were filed with the Pennsylvania Department of Banking at Harrisburg, PA. The two institutions have reported combined assets of $70 million dollars. Samuel L. Klapper, president of Security Savings and John R. Raynock, president of Anthracite Building and Loan announced in September of 1986, that the Federal Home Loan Bank Board and the Pennsylvania Department of Banking had approved the merger of their respective institutions. Weatherly's 103 year Anthracite Building and Loan became a division of 97 year old Security Savings and will retain its name and continue business at 140 Carbon Street. New landscaping and renovations to the building were made and a grand opening was held on October 7, 1987.
Episcopal Church, one of Weatherly's smaller churches was formed in 1882, by Charles A. Marks of Hazleton. Mrs. Asa Packer donated a lot and W.W. Blakeslee donated a lot on East Main Street for the new church. Ground was bro­ken on April 16, 1887 and the cornerstone was laid on May 8th. Twenty-one mem­bers made up the congregation under the Rev. Louis C. Washburn. The church was closed in 1918. The church was remodeled into an apartment building located at 19-23 East Main Street.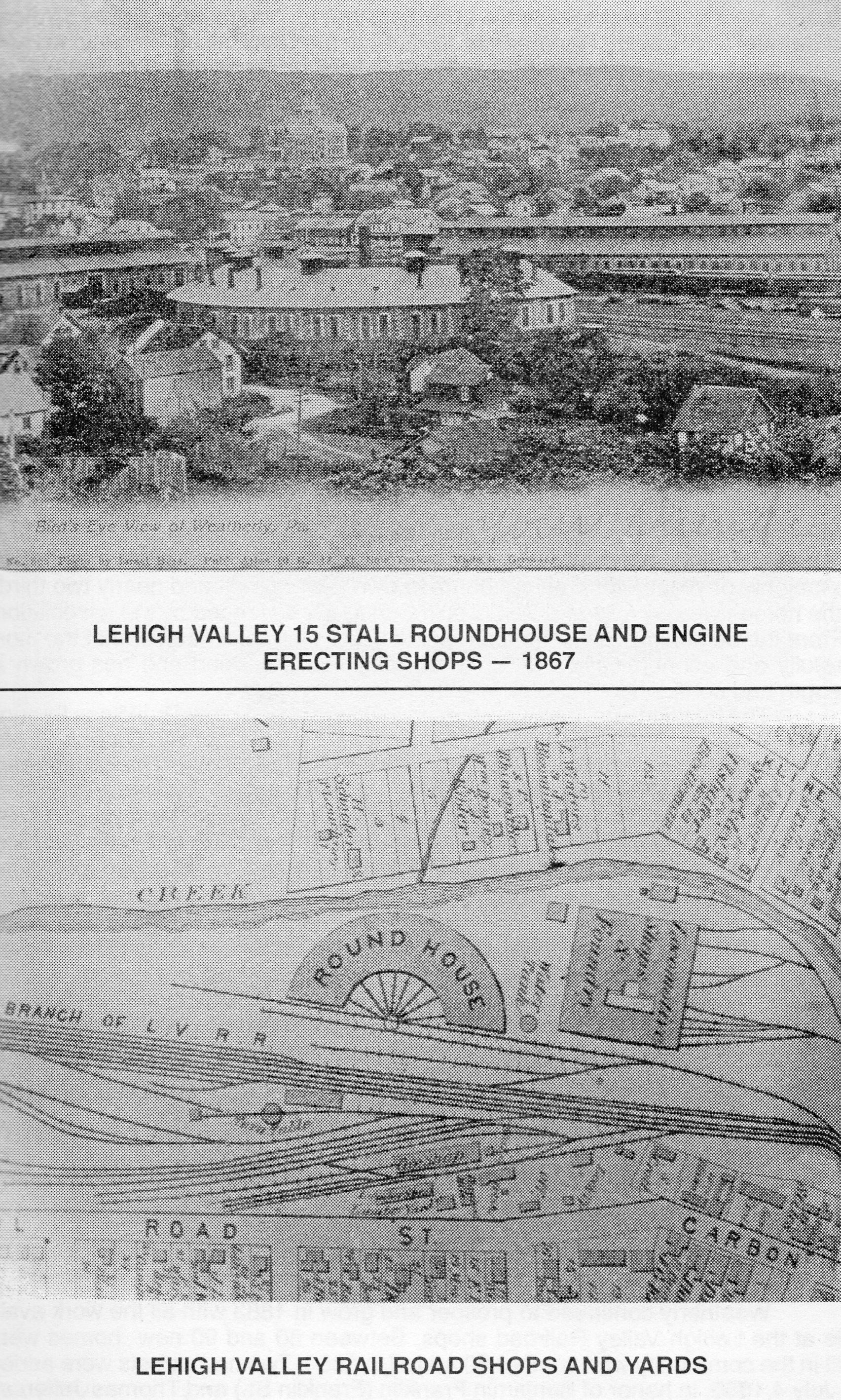 1883
Weatherly continued to prosper and grow in 1883 with all the work avail­able at the Lehigh Valley Railroad shops. Between 80 and 90 new homes were built in the community with another 60 added in 1884. Two new streets were added on July 4,1883, in honor of Benjamin Franklin (Franklin St.) and Thomas Jefferson (Jefferson St.).
Charles Cassler, local shipping agent, shipped in 62 railroad cars of LVRR, 4,693 bushels of Blueberries gathered from area berry pickers at 5 cents a quart.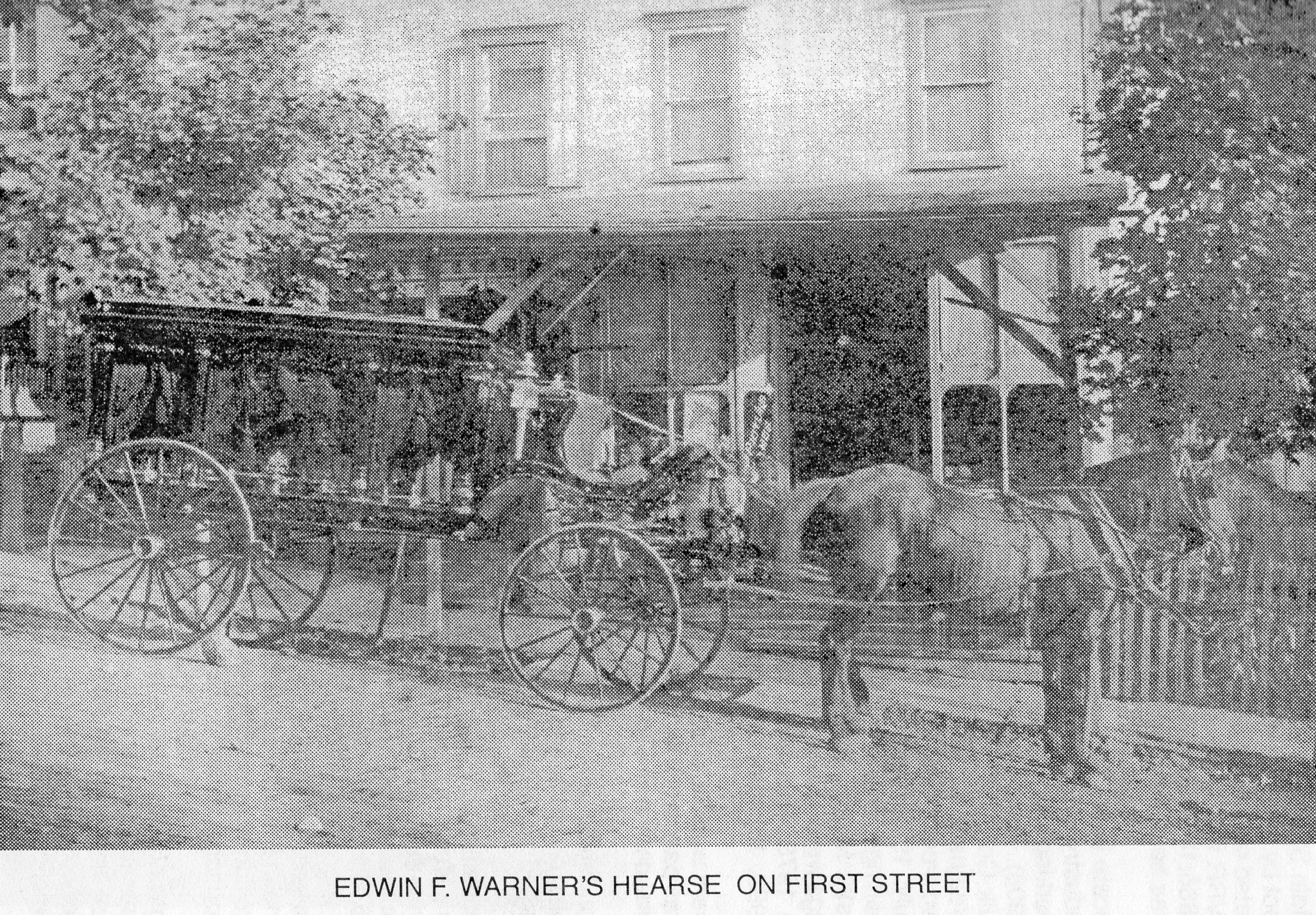 1884
Cassler's Rink was erected by Joseph R. Cassler on the corner of West Main Street and County bridge on October 18, 1884. The building was a large 40 foot by 105 foot wooden structure used for roller skating. Cassler's Rink was dedi­cated on December 23,1884. Special trains were run from Hazleton for skaters by LVRR Company. The building was later used for school graduation exercises in 1886,1887,1889,1894 and 1895. Demonstration of the new Edison graphophone was held in the rink before a packed house in 18$9.
With LVRR shops removed from town, and a need for new industry to locate in the community, Joseph Cassler offered his large empty building for any industry to use. In May of 1896 an agreement was made with the H. A. Mack Wood­working Co., a new manufacturing company, to lease Cassler's building. (1896­1906). Many industries used Joseph Cassler's building through the years: Onoko Silk Co. (1906-1910); Weatherly Silk Co. (1910); Roscoe Silk Co. (1910-1914); Weatherly Broad Silk Co. (1915-1916); J.H. Meyers Silk Co. (1916-1924). (A large two story brick building 40 feet by 150 feet was erected next to Cassler's building in July, 1919 due to growth and need of more room for Meyers Silk Co.); Joseph Berlinger Silk Co. (1924-1937); Linotype Parts Co. - Star Parts, Inc. (1941-1967); Astro Manufacturing Co. (1972-1974); Parrot Industries (1974-1977). The build­ings were abandoned in 1977 and remained empty until purchased by John Shrofan in 1978. The entire complex of buildings was torn down in October November, 1980, to make room for the new J & E Supermarket.
The first street lights were erected in the community following an agree­ment with Pa Globe and Gas Light Co. on November 11,1884. A levy of 3 1/2 mills was passed by voters to cover 42 gas lights at $ 18.60 per year for each lamp. The total cost was $781.20.
On July 25,1888, borough council agreed to procure electric lights for the community. The first electric lights in town were located in Read & Lovatt silk mill following a new addition to the plant and installation of a generator. Electricity was turned on in the plant on September 24, 1888.
Weatherly borough council purchased two lots from LVRR in October, 1889 for erection of their own electric light plant on Wilbur Street. The contract was awarded to a local contractor, J.C. Sendel for a 34' x 40' building divided into two sections for an engine and boiler room. The building was completed in July of 1889. Contract for installation of a generator from Thomson-Houston Electric Co. was awarded for $6,729 to supply electricity for 36 arc lights.
Electricity was turned on in the community on July 26,1889 to 26 arc lights on streets throughout town, 5 in LVRR shops, one in Miller store's main store room, one in the grove near Read & Lovatt silk mill and one at the light plant. One other arc light was reduced to eight 16 candlepower lights, in which four were used in the Horlacher building, two in the post office and two in the Weatherly Herald building.
In a special election on September 24,1889, council purchased a new light plant from Thomson-Houston Electric Co. for $7,500. Paul Horn was made superintendent of the plant. Because of the rapid growth in demand for new electricity, council had a new brick building erected in January, 1900 to replace the old wooden structure. New machinery was also added. The light plant was com­pletely rebuilt inside by Jerre Woodring in August, 1905 for $7,343.
In July, 1908, excavation was begun on the new block building to house two 150 hp boilers. It was completed in October, 1908 at a cost of $7,165.
Contract for a new tile and brick building was given in December, 1919 for a new addition to the boiler house. A new boiler ($3,400) was placed inside the new building in January, 1920.
The Pennsylvania Power and Light Company made a cash offer of $54,063 in March of 1924, for The Weatherly light plant. The bid was rejected and the light was again expanded with the purchase of two lots adjoining the plant in October, 1925 from the LVRR Co. for $160.
Construction of a spray pond for cooling the water from the plant was completed on two lots in November, 1925. A new generating unit was placed in operation on January 24, 1926, costing $22,000.
With more industrial demands for power, the light plant was in bad need of a new building and new generating equipment. A WPA project in August, 1935 for a new boiler and boiler house was submitted and approved by President Roosevelt in July, 1936. Council accepted the WPA project in August, 1936 and awarded contract for a new building at a cost of $6,500; boiler contract $27,531. The total cost was $34,031. The U.S. Government gave a grant of $14,727 and the Weatherly borough paid $19,304 for the improvement project.
A new 750 kw unit, $52,000 was placed in operation in May, 1939 WPA paid 45% and the borough paid the balance. Another new addition, 22'x68' of brick, cement and steel construction was added to the south side of the engine room at a cost of $3,348. The new building held an office, storage, lavatory and work rooms. It was completed in September, 1940. P.P. & L. Co. made another offer for the light plant in September, 1945, when the light plant was again in short supply of electric­ity.
A 750 kw unit was recommended to be installed to handle the power short­age. Coxe Stoker Co.'s bid of $59,426 was accepted. The unit was installed and went on line January 24, 1948 went on line January 24, 1948.
A survey was made between diesel and coal in 1950. Coal costs had jumped 154% and labor costs increased 77% in the last ten years. Weatherly vot­ers on referendum ballot, November 7,1950, elected council purchase a 1000 kw diesel from Baldwin Locomotive Works for $50,000. Two 10,000 gallon fuel tanks were installed in April, 1951. The new diesel engine was installed and connected to a 1000 kw generator for $97,846. This unit was equal to the entire steam boiler horsepower capacity in use at the plant with coal.
Diesel power was placed in operation on September 25, 1951. A request for more power was submitted by Tung-Sol electric in November, 1955 forced the council to order another diesel unit of 600 hp for $ 131,000. The new unit went on line, June 23, 1957.
The light plant was dealt a severe blow when one diesel unit sustained heavy damage in December, 1960 with repairs to cost $30,000. Council made plans in September, 1960 to expand the size of the light plant and make all needed re­pairs.
P.P. & L. Co. again made an offer of $600,000 for the plant and again it was rejected. However, in March, 1962, council was informed upon a survey that an expansion and repairs would cost over one million dollars. Notice was sent to P.P. & L. Co. that the plant was not for sale or lease, but an agreement was made for the purchase of electric power to resell to borough customers.
Weatherly borough borrowed a $50,000 loan to renovate and repair light and power equipment for connecting over from local generation to purchased power in May, 1962. A sub-station was installed by Westinghouse Electric Co. in July, 1962 for a price of $57,056. A new 12 kv line was erected, connecting a 3,750 kva outdoor sub-station by Davis & Reed Construction Co. in September, 1962 for $60,000.
Weatherly Borough owned light plant ceased operation on January 25, 1963 after 74 years of service to the community. It was one of the last independent light plants in Pennsylvania to be taken over by the larger electric companies.
The following men served as superintendents of the light plant: Paul Horn (1889-1902); Harry Chamberlain (1902-1913); Clyde J. Ketcham (1913-1946); C. Austin Sendel (1946- 1950); Amandus Young (1950- 1963). Engineers, electricians & linemen: Walter Behan, Walter Hess, Harry L. Allison, Russell Koehler, Joseph Gutosky, Andrew Garber and Eugene Kunkel.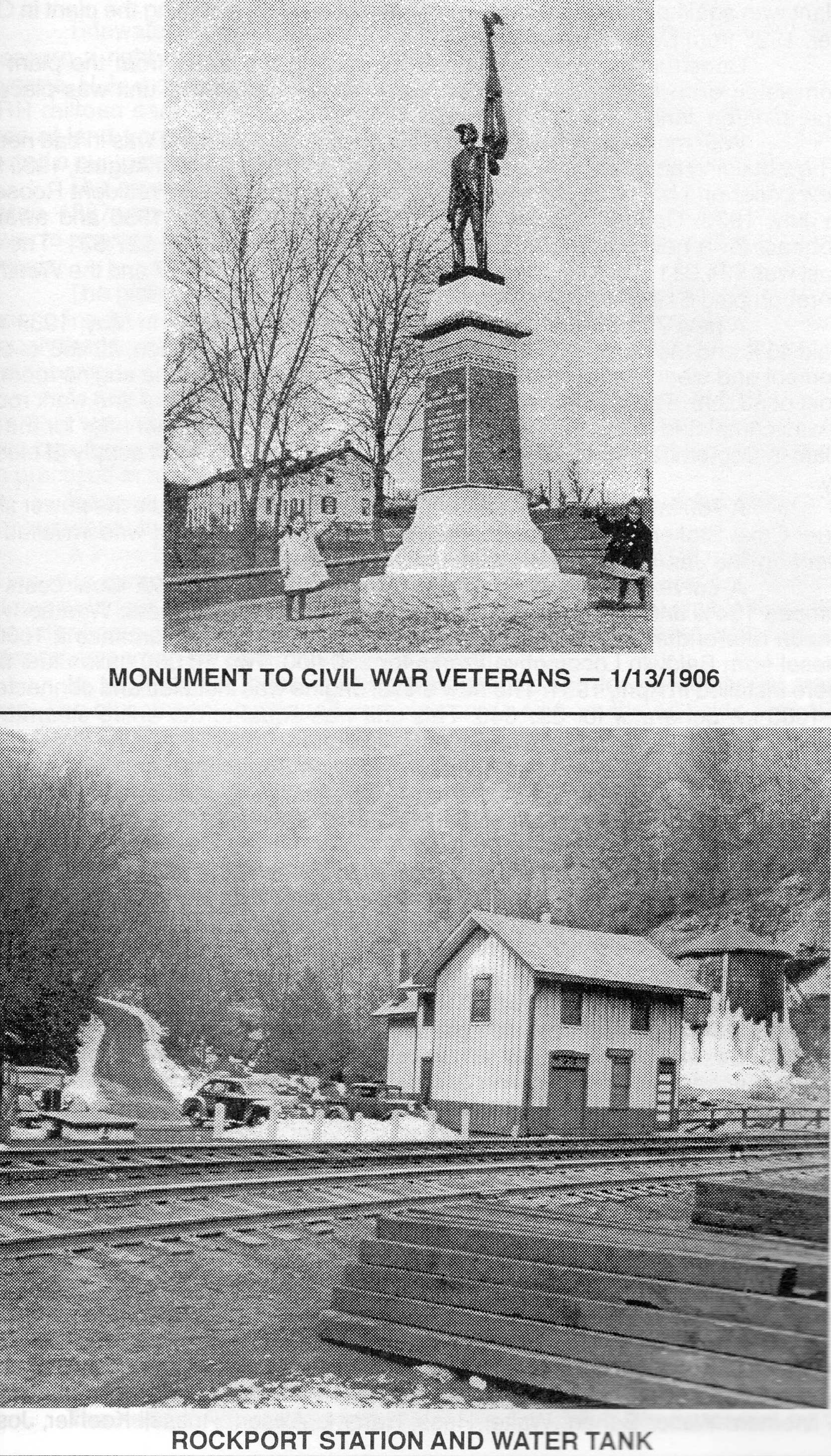 1886
Tidewater Pipeline Co. survey gang arrived in Hudsondale in May, 1886, to secure a right of way for a new pipeline from Rixford, PA (near Bradford) to Bayonne, N.J., a distance of 350 miles. The first load of 6" pipe was delivered in 27 LVRR railroad cars to Hudsondale in November, 1886. Tidewater purchased 10 acres of land from the Samuel W. Hudson estate in February, 1887. There they erected a pumping station (the sixth station on the line) and two large storage tanks.
The new pipeline was completed and tested from Hudsondale to Rixford in May, 1887. An electric power plant was built in November, 1888, to generate power to operate the pumps that pumped oil over the mountains of eastern Penn­sylvania.
The pipeline was replaced with larger pipe in October, 1889 because the present line became too small to handle the large amount of oil being pumped through the Hudsondale station. The average quantity of oil pumped per day was 11,000 barrels.
In 1907, the Tidewater Pipeline Co. extended their lines to Story, Illinois from their terminal in Rixford. Tidewater was a pioneer in construction of long dis­tance pipe lines, being driven in a desperate experiment to offset the discrimina­tion practiced in favor of Standard Oil Co. by the railroads.
Henry L. Brenckman was made stationery engineer and A.J. Romig, su­perintendent of the Hudsondale pumping station.
A large brick building was erected in the summer of 1908, right over the old wooden pumping station without interruption of plant operation. The new building held four boilers and two steam pumps. Another oil line was laid in 1908. Tidewater had a pumping station every 50 miles but over the years, with new and better equipment every other station was closed.
In 1917, a new brick building was constructed for an additional steam pump. The oil company continued pumping crude oil from the oil fields until 1954 when Getty Oil Co. acquired controlling stock in Tidewater Oil Co. With a constant demand for home heating oil, Getty Oil Co. began replacing the flow of oil through the pipeline with home heating oil and kerosene.
Thomas Payne, fuel oil dealer from Scranton, used Hudsondale as a load­ing station for distributing Getty home heating oil. From the early 1960's to 1982 it was known as Getty's Hudsondale station. In 1982 Texaco Oil Co. took over Getty Oil Co. and the station was closed. Texaco Oil Co. sold the buildings and property to the Packer Township supervisors in September, 1987.
The Jersey House was a large boarding house erected on the corner of Hudsondale and Kline Streets in May, 1886 Peter Wistler was proprietor for many years, followed by Walter Derrick and in 1941 by Charles Wistler. From 1954 there were many different hotel proprietors until Howard Betchel, the last owner, closed the business down in 1985. The building apartments and business have been empty and it is still for sale.
A Board of Trade was organized on November 25,1886 in Cassler's Rink at a public meeting of interested citizens of the community. The meeting was called to talk over and form some plans to promote industries to locate in Weatherly. The community had become too dependent on its only industry, the railroad, and busi­ness leaders felt the need to bring other types of employment into the area. A boot and shoe mfg. company and hosiery mfg. company came to Weatherly and set up shop but both failed.
The Board of Trade re-organized in October, 1889 and again in February, 1892 when 150 interested citizens attended. Marshall L. Smith was elected presi­dent. James B. Tweedle, Thomas J. Drumbor, James G. Eadie and Walter B. Lovatt were all vice presidents. George W. Miller was treasurer and James F. Kressly and T. J. Drumbor were secretaries.
The need for diversified industries was becoming very apparent by the signs of growing consolidation of the LVRR Co. Riverside Novelty Works came to a site on Yeakle Street donated by Dr. J. B. Tweedle in April, 1892. A two story 50'xI00' building was erected but the industry failed in April, 1893. Webb Button factory arrived June, 1892, and opened on a site donated by James G. Eadie on East Third Street. It failed in July, 1892. Morse Electric came and failed in July, 1892.
Other industries came, a Bicycle Plant (1894-96); Brick Works (1894-1900). Board of Trade became inactive 1895-1900 but organized again in September of 1900 to back a growing demand for a bank to be opened in the community. The bank opened in March, 1902. The Board of Trade was very active in talks with Charles M. Schwab in what he could do for the town. Percy E. Faust, C. Howard White and M.D. Hooven met in New York City with Mr. Schwab in May, 1901 and returned informing the community that he would give the town a new school build­ing. In April and October, 1904 the U.S. Clock Co. and Plate Works were showed sites in the community by the Board of Trade. The Clock Co. left and Plate Works opened shop from 1904-1907.
Many letters and conferences were held with officials of LVRR Co. about their remaining in the community but to no avail. The Board of Trade was respon­sible for the road over the Broad Mountain in 1908. Kept LVRR shops open in 1911­1912, LVRR frog shops in 1914; responsible for World War Liberty Loan drives in 1918. In December, 1918 the Board of Trade re-organized into the Chamber of Commerce.
In 1926 they fought for better telephone service. Organized in June, 1937 as the Citizen's Progressive Association which held talks with Berlinger Silk Mill officials and strikers to re-open the plant; led fights for the purchase of LVRR frog shop buildings. With the start of World War II, the Citizen's Progressive Asso­ciation disbanded and only a few attempts were made to reorganize after the end of the war.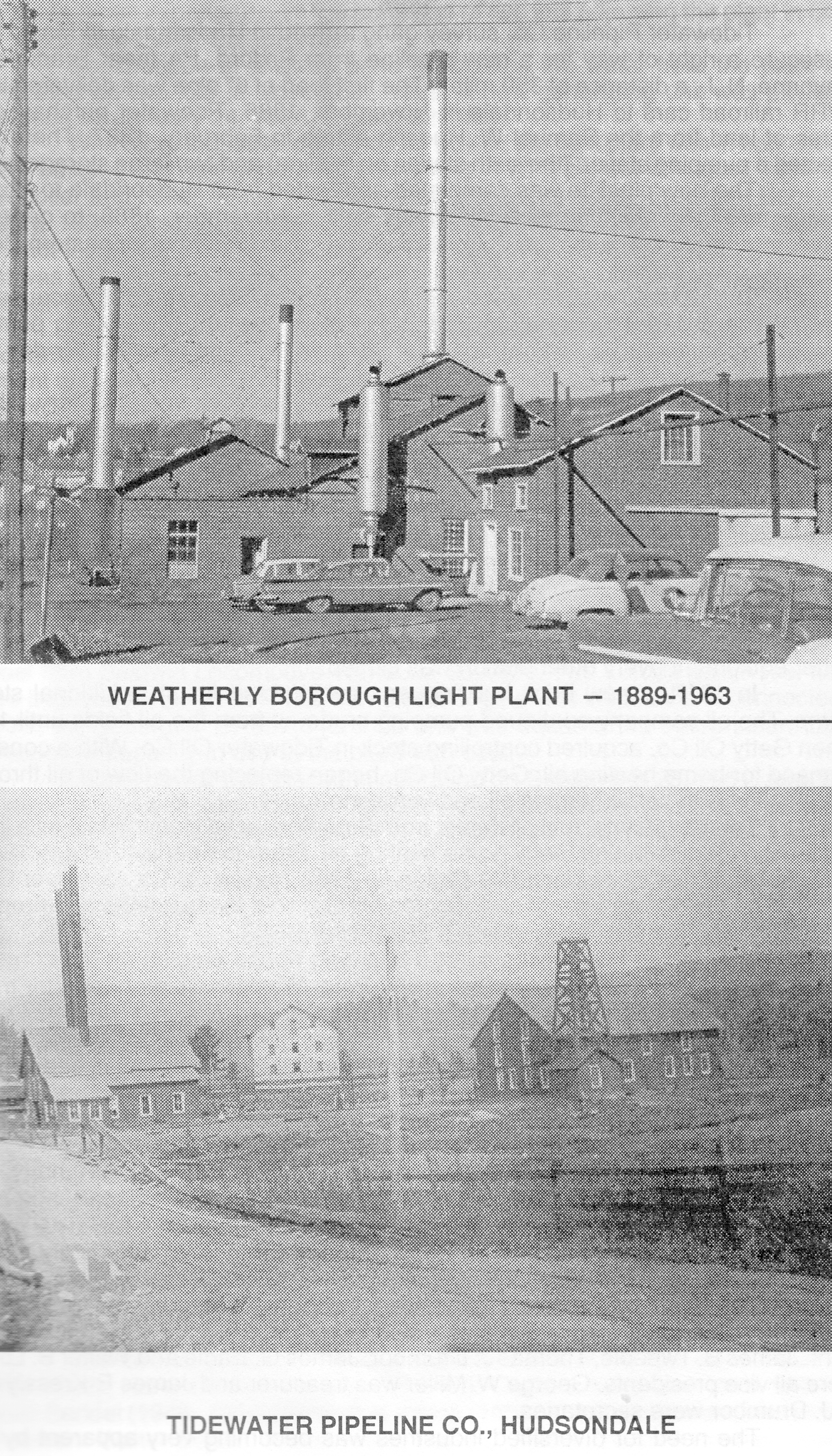 1887
The Read & Lovatt Silk Mill was established in Weatherly by Jerome C. Read and J. Walter Lovatt, silk manufactures from Patterson, N. J. Weatherly, in need of some diversified industry, invited a representative of the silk company to look over the community. Lovatt visited Weatherly in May of 1887 and was highly impressed with his reception and in a few days his partner, Read, arrived and in­formed community officials that their firm would locate here.
A site was chosen, Teaney's Island, at the base of the old Beaver Meadow RR plane (Plane Street). It was purchased from the LVRR Co. for $13,000. Weatherly had to raise its share, $35,000 for a new building and machinery for the new indus­try. An agreement was signed on May 1, 1887, and construction began on Septem­ber 29, 1887 on a 381' x 49 1/2' building with a 120' high chimney with a 16' base and inside diameter of four feet. A boiler room, 31' x 40', containing two 150 hp boilers and an engine room, 20' x 45', containing a 250 hp engine, was erected. The total cost was $50,000 and Weatherly fulfilled its pledge of $35,000.
Read & Lovatt Silk Mill was dedicated on May 16, 1888 and began opera­tions with 40 employees on May 29th. The owners opened a new plant in Elmira, N.Y., in 1893. In June, 1895, they added a new machine shop to the rear of the Weatherly plant.
The silk industry continued to expand rapidly and by 1895, Read & Lovatt Silk Mill had become the world's largest spinning (throwing) mill. To operate all the machines, the silk mill officials had LVRR trains pick up employees from all the surrounding towns and bring them to the mill to work. Any boy or girl, 13 years of age or older, could apply for a job at the mill. It cost the company $70 a day to have the railroad transport the workers to and from the mill.
By June, 1899, there were 253 males and 422 female employees, of which 562 were under 21 years old. A total of 96 males and 300 females were between the age of 13 and 16 years old. Twenty-five were under the age of 13 and later discharged. Many of them found work in the mines.
Another silk mill was constructed in Palmerton in 1903. In January, 1905, the local mill had the honor of making silk threads for the manufacture of material for the inauguration gown of Mrs. Theodore Roosevelt. In early 1906, the mill made blue threads for weaving of material that went into a gown for Alice Roosevelt's trousseau when she became the bride of Congressman Nicholas Longworth of Ohio on February 17,1906 at the White House. A song, "Alice Blue Gown" was written in honor of that blue gown which had its beginning here.
A terrific explosion occurred at the mill at 6:10 P. M. on December 12, 1910, when the boiler room was ripped apart by an exploding boiler. Engineer Michael Mooney (48) and fireman, Robert Beers (45), were killed instantly. The boiler was found 200 yards away in the nearby woods and bricks were scattered all over West Main Street.
Read & Lovatt became pioneers in processing rayon for voile and crepe fabrics. Following World War I and the depression years, the mill produced real silk but with World War II beginning, the entire plant was converted over to the produc­tion of silk cores and sleeve threads for construction of parachute shroud lines and silk threads for sewing parachutes together. On October 24,1942, the plant was awarded the Army-Navy "E" for their unexcelled record for production quality and their outstanding contribution to the war effort. The plant was the first of its kind to receive such an award. A white star was awarded on September 4, 1943, to the "E" flag for outstanding meritorious services on the production front. The entire plant was surprised when a federal court officer and two department of justice officials arrived on August 18,1944, and served notice that the U. S. Government had seized the plant. Five federal officials appraised the plant and on August 21, 1944, the government took over the mill, retaining all the plant employees.
The government gave the owners 90 days to be off the property, leaving the 60-year-old firm without a building or employees which terminated the life of the company. The seized mill was turned over to Reconstruction Finance Corp. to es­tablish a plant for the manufacture of radar tubes for the war effort. On September 8th, a U. S. deputy marshal! served a seizure order which included machinery, equipment and property. Government officials arrived on September 18th, to ap­praise the property and award a settlement with the Read & Lovatt officials. They informed president, William H. Coeyman, vice president and general manager, Emerson C. West and secretary-treasurer, Samuel R. Gangwer, that the seizure of the mill was in no way any reflection on its fine record and reputation over the years.
Tung-Sol Lamp Works, inc., of Newark, N.J., leased the Read & Lovatt mill.
The Hudsondale Ochre Works was located in Hudsondale by Marshall L. Smith when he signed a lease with Mrs. Hudson on August 27, 1887, for the old aban­doned machine shop and foundry of the late Samuel W. Hudson. The building was renovated and Mr. Smith moved his business from Slatington, PA. The mill which was run by water power from Quakake Creek, manufactured yellow ochre and talckene which was used as a pigment in certain types of paint. Large deposits of yellow ochre had been discovered at Penn Haven but were later abandoned when a rich vein of red ochre was discovered only a mile from the mill. The Ochre Works employed between 15 and 20 men on shifts around the clock. The refined ochre was shipped in 30-ton railroad cars over the LVRR's Quakake Branch to Armstrong Corp.
Talbot Smith, Marshall's son, was made superintendent and took over operation of the business upon the death of Mr. Smith on February 20,1909. At the close of World War I, the market for ochre dried up and the mill was closed in 1920. Charles Smith and Zenus Grover opened the mill and made foundry sea-coal fac­ings from old foundry refuse piles. The foundry facings were sold to Berwick Car & Foundry in Berwick, PA. The new business operated under the name of Smith & Grover. A fire of unknown origin completely destroyed the building early on the morning of March 18, 1932. There remains little trace of the ochre works today.
1888
Carbon Street from E. Main Street to First Street, was the first street in Weatherly to be macadamized in May, 1888. $630 from liquor tax monies paid for the paving.
A zig-zag wagon road was built in July, 1888 over Spring Mountain. The road started from the old Hazleton RR grade, over the mountain through Evergreen Valley to Buck Mountain. It was constructed by contractor James G. Eadie and 58 workers.
A post office was opened in Buck Mountain on July 1, 1888, and James McGinty was named postmaster and Lewis Krammer, mail carrier. It closed on April 15, 1902. Patrons then had to pick up their mail at Weatherly, Rockport or Eckley. Rural Free Delivery Route #2 started from Weatherly to Lowrytown and Buck Moun­tain on June 1, 1904.
Weatherly Planing Mill was placed in operation by local contractor, David Swank in July, 1888 because of the building boom. Lumber became a high priority with the demand for building materials. A large 32' x 50' mill and 14' x 20' engine room was erected on lower Yeakle Street on lots owned by Dr. J. B. Tweedle. A steam sawmill was purchased at Drifton, PA, in August, 1888, dismantled and reas­sembled at the mill.
Another building, 30' x 30', was built for a grist mill. The new business was called Weatherly Planing Co. and began operations on September 1,1888. Lumber for the mill was contracted from tracts of timber land along the Lehigh River. A sawmill at Glen Onoko handled logs floated down the river. Logs were cut and shipped to the Weatherly mill to be sawed into lumber. David Swank leased his mill to John and James Beyer on June 21,1889, for a five year period. They operated the mill for only a year when they decided to set up business for themselves on Lauderburn Avenue.
The building boom came to a halt with the slow down of the LVRR shops. A sheriff sale of Beyer's mill on December 5,1890 and David Swank's mill on June 8,1891, brought an end to the lumber business. Dr. Tweedle purchased the mill and tried to keep it running but with no business he was forced to close down on March 23, 1893. Fire broke out in the abandoned building on December 4, 1894, but the building was saved. The machinery was moved to Lehighton and the remains of the planing mill was razed. No trace of the mill can be found today in the woods at the end of Yeakle Street.
After many complaints about the condition of the Lehigh Valley Railroad station at the comer of East Main Street, the company decided to built an new facility. A site was selected halfway between the old station and the railroad shops. Ground was broken on July 25,1888, and a one and a half story building 20' wide and 120' long was constructed. A wooden platform 150' long was built from the station to the highway. The new brick structure was divided into four sections: south end, men's waiting room; ticket office, women's waiting room and north end, a freight and express room.
The station opened for business on March 27, 1889, with the arrival of Train #2. The old depot was torn down in May, 1889, and it made room for opening of a new street, Wilbur, from East Main to the borough light plant. Wilbur was also opened along the new LVRR station to First Street. The new station, over the next fifty years, saw a steady procession of freight, coal and 22 passenger trains a day serving the community. Station agents were John Frable and Edward Welsh. Both men served in that capacity for many years.
In 1950 the station was renovated. With the decline in passenger busi­ness following the end of World War II, the company abandoned all passenger service, effective February 4,1961. The passenger section was closed and the south half of the station was made into a maintenance of way quarters and the balance of the building became a freight house. A decline in local freight service forced the company to close the station on March 19, 1970. It remained abandoned until Weatherly Borough Council purchased the building in May, 1973 for $7,486.83.
Kocher and Young erected a large three-story brick building, 30' x 70', on the corner of Carbon and First Streets in October, 1888. The building was 35' tall with top two floors as apartments and first floor for businesses. The structure was erected on the site of the former E. F. Warner Furniture Store. The store opened for business on September 10,1889. The sudden death of William Kocher, partner of Thomas Young since 1873, caused the building to be sold on September 27, 1890 for $6,400. A number of various businesses were located in the building until Elmer M. Young opened a plumbing and insurance business in March, 1917. In later years, a portion of the building had barber shops run by George E. Somers and Michael Garber. The building has been renovated into apartments, except for one business, Bob's M & M Hoagie Shop, since March, 1974, at 47 Carbon Street. Closed 3/31/ 88.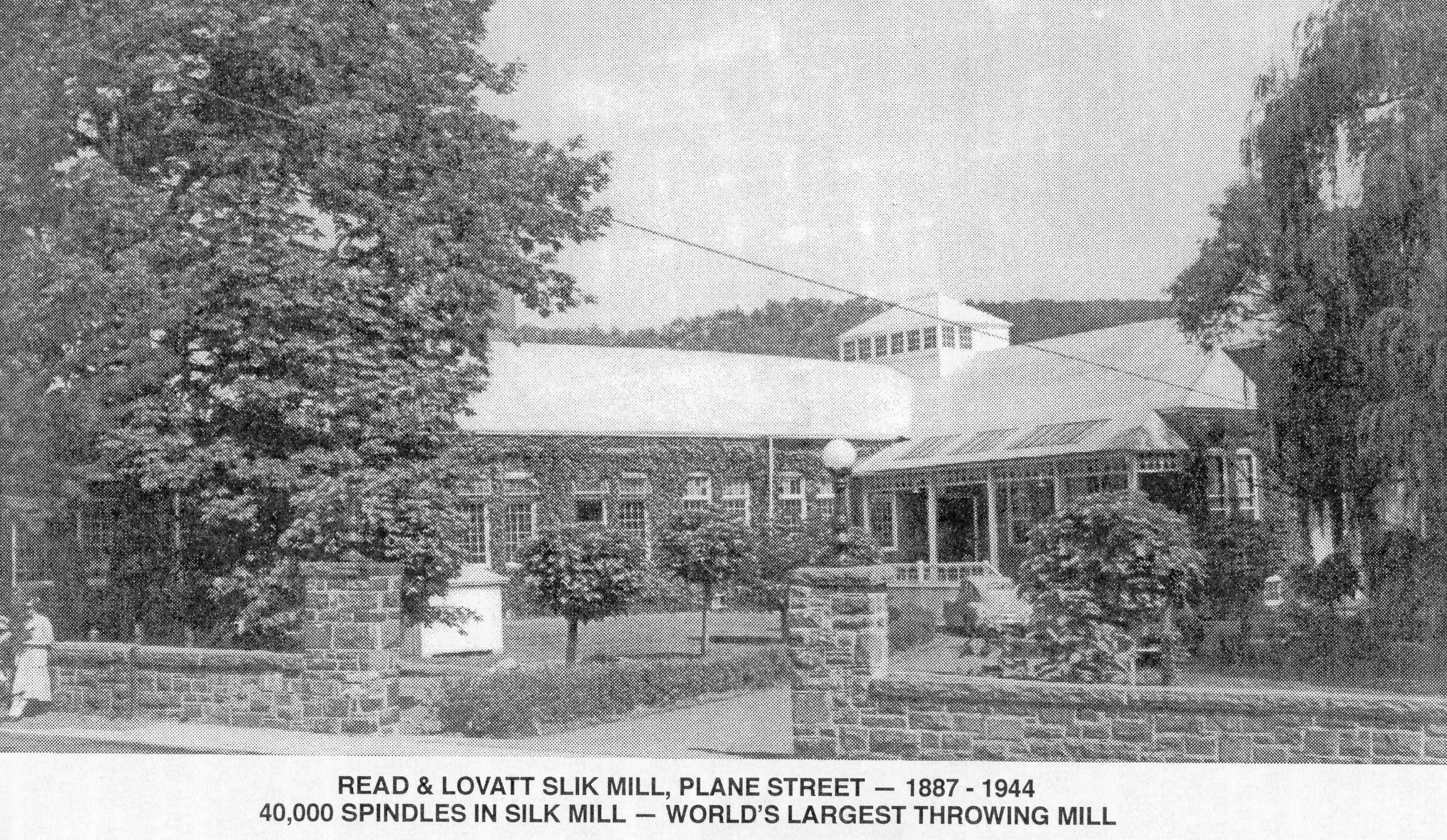 1889
The Evangelical Church, located at 412 Kline Street, was organized through the efforts of Daniel Yeakle and Rev. J. F. Heisler. Dr. J. B. Tweedle donated two lots for the new church. Construction was begun in September, 1890 and the church dedicated on December 20-21,1890. The total cost was $ 1,250. Poor membership led to the closing of the church in December, 1914 The building was later sold to an association called Gospel Sunday School, on January 21,1921. The association was a non-denominational group which held weekly afternoon service regularly until they suspended them in 1965. Property of the old Evangelical Church was presented to the congregation of Christian & Missionary Alliance Church on April 17,1966, by Mrs. Sarah Eroh of the Gospel Sunday School Association. The Rev. R. J. Witchey was their first minister. The congregation was disbanded in May, 1979, upon the retirement of Rev. William S. Corby. The church remained vacant until the Trinity Baptist Temple organized a congregation on April 1, 1984. The church, always known as the little white church on the hill, was renovated and given a new coat of Cape May gray paint in the fall of 1987 under pastor, Rev. Jerry Wilhite.
1890
Weatherly census figures reported for 1890 were 2,970. There were 611 homes, 618 families and 60 surviving soldiers. Population on east side was 1561 and west side 1409. Packer Township was 665 and Lehigh Township was 565.
Ebinger's Market was opened by Charles Ebinger of White Haven in Janu­ary, 1890, when he purchased the butchering firm of Rouse & Kline. He broke ground at 205-207 Second Street for a new market and home in November, 1892. A large barn was built at the rear of the property for a slaughter house. He moved into the new butcher store on December 19,1892. In 1919 his son, Albert Ebinger, joined him in the business and upon his father's death on November 20,1920, Albert took over full operation of the market. Ebinger retired from the business in May, 1959, and Elmer Hinkle, RD #1, Weatherly, purchased the business on June 4,1959. Hinkle operated the business under Hinkle's Market for 11 years. He retired from the business in December, 1970, and the building remained empty until the Jay­cees leased it from Ebinger on December 30,1974. They used the building as a meeting place until November, 1979. Albert Ebinger celebrated his 94th birthday in May, 1987.
1891
Warner Store at 24-26 West Main Street, was opened by Elmer Warner, brother of Edwin F. Warner and with his aid, purchased the business of David Kintz at a sheriff sale on September 25, 1891. Warner closed his store in Tannersville, PA and moved to Weatherly and opened his new store on October 5, 1891. The busi­ness soon became one of the leading retail stores in the region. He named the store "The Weatherly Bazaar".
In 1902 Warner purchased more land adjoining the store and in 1903 broke ground for a large three-story brick building. It was completed and a grand opening was held on October 24, 1903. The first floor, 60' x 60' was a large store room; second floor, 60' x 57' was for storage and the top floor, 40' x 60' was used as a hall for school, churches and practice room for the Weatherly Orchestra. With so many groups and clubs using the top floor, it became known as Warner's Hall.
Warner had become so involved in many community activities (organizer of Weatherly Foundry, its general manager; 1st National Bank, president; organizer of Weatherly Steel Co, Weatherly Silk Co., chairman of Broad of Trade, director of Anthracite Building and Loan, president of Allen Candy Co., chief burgess of Weatherly, 1906-1908 and elected Senator of the 14th Senatorial District. He sold the business to his son, Floyd T. Warner and a partner, Charles Waas on January 11, 1915. Waas closed his store in Monroe County to locate in Weatherly in 1912. The name of the store was changed to the new Warner & Waas store on January 15,1915. For the next 25 years the store was one of the leading businesses in the community. Waas retired on March 14, 1940 and Warner became the sole owner. He renamed it the Warner Store. On August 6, 1958, he sold the business to Hy and Sam Medintsky of Hazleton. Joseph Leskie moved his Belmont Furniture busi­ness from Packer Street into a portion of the first floor in 1959 through 1961.
The Weatherly Band used the hall for years as their practice room. The building was vacant for a few years until William Hinkle opened a grocery store in the early 1970's. The store eventually closed and the building slowly fell into ruins and was condemned by the Board of Health in May, 1976. It was razed on Septem­ber 1 and 2,1976. Once Weatherly's leading store today is a vacant lot next to the J & E Supermarket on West Main Street.
Weatherly began a campaign, through the Board of Trade, to advertise in national newspapers the advantages for industries to locate in the Weatherly area. The following advertisement appeared in March, 1892 newspapers: "Weatherly is a town of 3,000 inhabitants, picturesquely and advantageously located on the line of the Lehigh Valley Railroad, 10 miles from Hazleton, 14 from Mauch Chunk, 97 from Philadelphia and 135 from New York City. 27 passenger trains arrive and depart daily. As fine a passenger and freight depot as any in the valley, extensive locomotive works, car shops and foundry. The largest silk throwing mill in the world, planing mill and other small industries. Admirable for natural drainage. Proverbial for good mountain water with a fall of 225 feet. The best electric light system in the region, both arc and incandescent, eleven grades in school, not excelled in the county, seven churches and a desirable place to live. All children between ages 12­18 guaranteed steady employment. Special inducements are offered manufactur­ing industries to locate here, such as free land, free from local taxes for ten years. Coal for steam purposes delivered at 900 a ton. A large stream of water flowing through the town with a fall of 155 feet to the mile".
1892
The First Volunteer Fire Co. was formed in August, 1892, when a public meeting was held in the Read & Lovatt Silk Mill. W. B. Lovatt was elected president; Percy E. Faust, secretary and Samuel West, treasurer on September 3, 1892. It was named the Florence Hose Company in honor of W. B. Lovatt's daughter, Flo­rence.
Different sites were offered for the new fire house and it was finally agreed, on April 12,1893, to use the lots owned by Charles Cassler on Hudsondale Street. Read & Lovatt purchased the tract and donated them to the fire company. A charter was granted on April 24, 1893.
The first fire engine, American Steam, arrived on May 19. Construction began on the new fire house on May 25, by contractor, J. C. Sendel and was com­pleted at a cost of $3,500 on October 5,1893. The Company answered its first alarm on July 13, to a barn fire in the alley between First and Second Streets above Pardee Street. Thirteen minutes from the time the alarm sounded the volunteers were at the fire a delay of 3 1/2 minutes because of the passing of a coal train. A $5.00 reward was paid to Rich Chamberlain for having the first team of horses ready for action. A new hook and ladder truck arrived on September 1 and Fireman's Day was held along with dedication of the new building on October 19 1893. The volunteer fire company disbanded in disagreement with borough officials on Au­gust 3 1897 and all the equipment was locked in a barn on September 27. A new volunteer fire company was formed on September 20 1897 with 45 members and they named the new company "Citizens Fire Company #1 " with J. C. Sendel as fire chief. A charter was applied for and granted on July 15 1901.
The first motorized equipment arrived in 1917 a chemical-hose truck on a Model T Ford chassis. In 1926 an American LaFrance model 75 arrived and a new Seagraves in 1945. The volunteer company has remained very active and strong over the years. In June 1975 ground was broken for a new fire house on the corner of Spring and Laurel Streets on land donated by Weatherly Borough. The old fire house which housed the borough offices was put up for sale in May 1976 when the borough offices moved into the renovated LVRR station. The Weatherly Ambu­lance Association used the fire house section as headquarters until the building was purchased by the Central Garage on February 9 1987 for $5 050. The building had held borough offices on the second floor police and jail on lower first floor and fire company on upper side of first floor and fire headquarters on the second floor.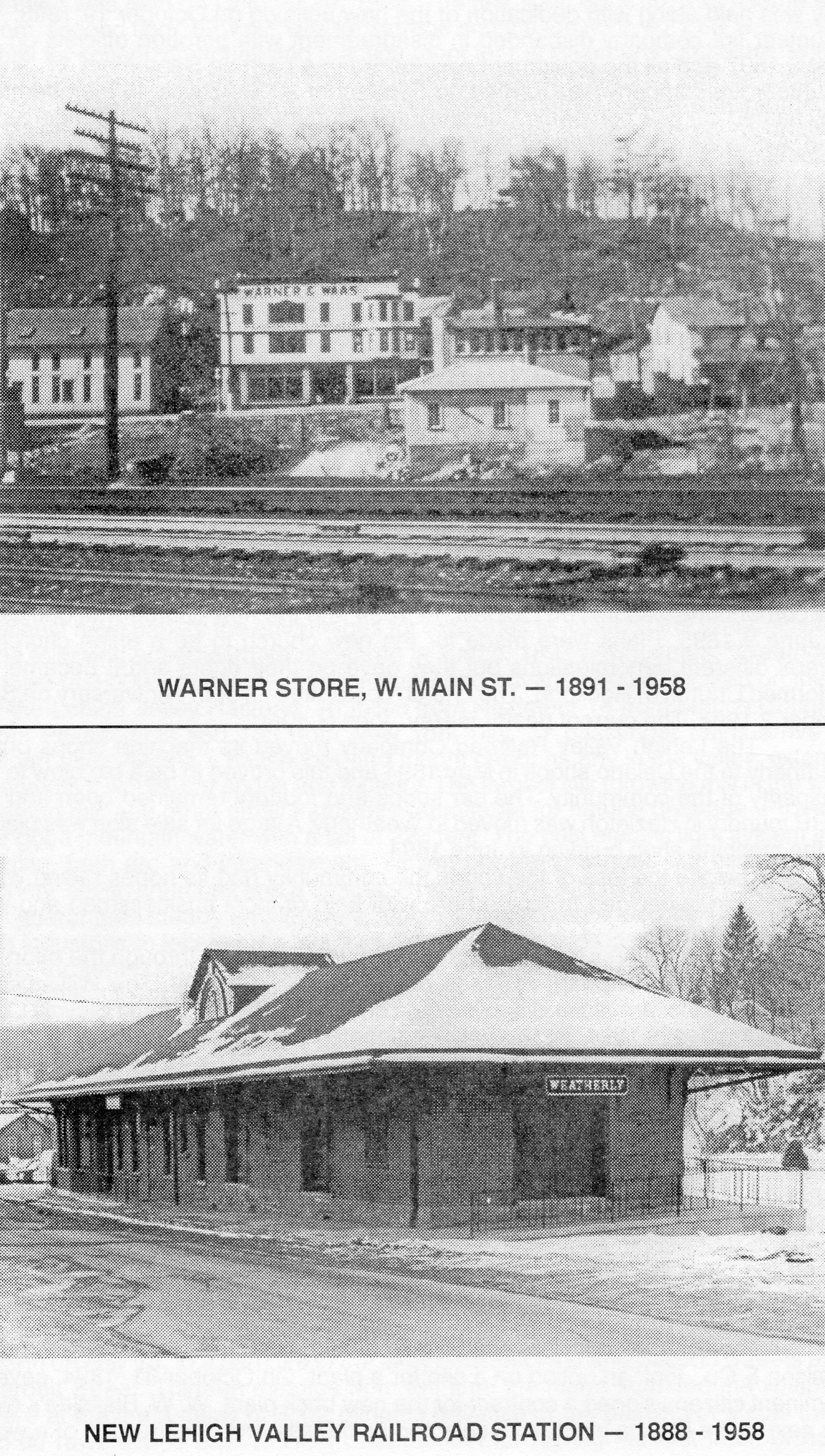 1894
St. John's United Church of Christ was started as a small congregation which had been meeting in a school house in Rockport since 1882. Led by Rev. A. M. Masonheimer of Weatherly, pastor of Salem Reformed Church, plans were made to erect a church in early 1894. A plot of ground on three lots in Rockport was donated by James McGinty a member of St. Joseph's Catholic Church at Lowrytown. The cornerstone was laid on October 14 1894 and the new church was dedicated on June 9 1895. Plans were made for the new church to be a union church of several different denominations but they gave up their rights and it became the Reformed Church of Rockport. The church celebrated its 90th anniversary on Sep­tember 2 1984. The current pastor is Rev. John H. King.
The Lehigh Valley Railroad Company moved its machine shops out of Weatherly to the Delano shops in May 1894 and this proved to be a big blow to the prosperity of the community. The car shops and foundry remained open and the LVRR foundry in Hazleton was moved to Weatherly. A large for sale sign was placed on the machine shop building in June 1894.
Despite the loss of the shops the community had its hopes raised when some industries decided to locate here with help of local businessmen and with some tax incentives.
A bicycle works became interested in locating here through the efforts of E. F. Warner and the Board of Trade on September 13 1894. The Williamsport Bicycle & Mfg. Co. arrived and applied for a charter for the Weatherly Bicycle Com­pany on October 29 1894. W. W. Blakslee donated ten lots near the local light plant and a two-story brick building, 50' x 150', with an annex, 30' x 40' was constructed. The new plant went into production on January 2, 1895. Financial difficulties plagued the plant from the start and it was forced to close in July, 1895.
A determined and spirited-group of Weatherly citizens began a drive for more money to save the industry and through their efforts the plant re-opened on August 15,1895 under the new name of Weatherly Bicycle Works. The plant was faced with new problems because the bicycle that was made was so excellent and expensive that people could not afford to buy them. Thus loss of business again closed the plant in October, 1895, and the buildings remained empty until they were purchased a few years later by the new Weatherly Foundry and Machine Co, in 1899.
The Brick Works were established here in October, 1894, when Schmol, Lamison & Co., took an option on a site for a plant. On October 31, 1894, several prominent citizens signed a contract for the new brick plant. W. W. Blakslee's eight lots next to the bicycle plant were selected as the site and construction of a wood and brick building was begun in November, 1894.
Officers of the new brick plant were E. P. Williams, president; Joseph Cassler, secretary and George W. Miller as treasurer. The new plant was named Schmol & Miller Brick Works. Large deposits of clay were located in Brushy Hollow section of Weatherly. The LVRR would not lay a track to the clay deposits so the brick works employees laid a track up along Kuhn's Run to the clay pits. (Some of the old clay pits, now filled with water, can be seen behind Erdman's Garage on East Main Street). The brick works was made up of three buildings, one, 80' x 130', held three kilns each 30' x 80' in size. Each kiln held 480,000 bricks. The second building, 20' x 125', held the dryer with 17,000 feet of steam pipe with a capacity of drying 50,000 bricks a day. The third building, 30' x 48', formed an "L" to the dryer, held machinery and an engine room for the entire complex. The first bricks were made on May 11, 1895. The plant closed down in October, 1895, because of lack of funds.
George W. Miller, Jr., purchased J. C. Schmol's share on October 15,1895, and resumed operation of the plant on October 30. Another building, 36' x 100', was , erected for storing clay during the winter season and bad weather. The plant con­tinued to manufacture large orders of brick but financial problems continued to haunt the company and it again was forced to close on March 20,1897. The entire brick works was purchased for $13,000 by C. J. Stettler of Perkiomenville, PA for the bondholders. They had an entire plant that had cost $30,000 to build and the original stockholders and G. W. Miller, Jr., lost their entire investment.
The brick works re-opened in May, 1898, and was called the Weatherly Brick Works. In June, 1899, a new mould was installed which made a larger size brick. On June 20,1900, the men walked off the job because of a misunderstanding and refused to work. Over 100,000 bricks were on hand and because of a shortage of bricks for the building of the new Schwab School in 1901-02, the bricks were used from the idle brick works. A lien was placed on the plant September 10, and sold at a sheriff sale on October 13,1902. Miss Sallie J. Reigel purchased the brick works and land for $1,000. The Weatherly Foundry and Machine Co. purchased the buildings and machinery plus the ten lots from Miss Reigel. For the Foundry, it was a first class investment as they were already cramped for space because of rapid growth.
Allen Candy Company: Andrew H. Horlacher branched out of his bakery business and opened a candy kitchen in rooms on the third floor of his building on Carbon Street. He bought a candy making machine for production of clear toy candy in October, 1894. The candy business soon proved very profitable and larger rooms were badly needed. Plans to build a building were cancelled in July, 1897, when a group of Weatherly and Allentown citizens brought out an entire candy business in Allentown.
Horlacher sold his bakery business to Harry Yeide and moved his candy facility to Allentown in August, 1897. The new company was named Allentown Candy Co. Stockholders informed the company that business was bad in Allentown so the business was moved to Weatherly in early 1899. A new building was erected in June, 1899 and all candy equipment arrived from Allentown by LVRR on July 6,. Production of candy was begun on July 10 and the plant was called Allen Candy Co. Business grew at a rapid rate and a larger building, 80' x 60', with 16,000 square feet of floor space was built on lots behind Oak Hall and the corner of First and Wilbur Streets. The building was two-stories high and it was an all wood frame structure when build in August, 1903. A third floor was added in September of the same year.
The factory produced many varieties of candy and pop-corn. A car load of pop-corn arrived by railroad and when it was popped, it filled 12-15 railroad cars. In November, 1905, Horlacher purchased the vacant lots across First Street from the candy factory and erected a cement block warehouse, 40' x 75', in September, 1906. It was the first building in town to use the new cement block in building con-
struction. A boiler house was erected behind Oak Hall and the candy factory that same year. A cold storage building was erected in June, 1916, next to the storage building to keep candy cool during the summer months.
The company continued to grow and new machinery and candy making equipment was constantly being added. On March 12, 1928, it changed owners when Elmer Warner gained control of the stock and the new company became Warner Candy Co., on April 1, 1929. A new 50 candy bar called, Warner Ham­burger, was placed on the market on April 22, 1930. Controlling stock in the com­pany was gained by Barton W. Druckenmiller of Pittsburgh and Dr. Stanley Druckenmiller of Lansford, on January 2,1939. The name was changed back to the Allen Candy Co. on June 20,1939. Barton Druckenmiller was made president and treasurer; vice-president, Dr. William Long; secretary, Norman H. Koch; general manager, Harold Fortwangler and general foreman, John Rohde.
Because of the demands for time on Barton Druckenmiller in the cement business and the continued illness of John Mitchell, Supt., the stockholders closed the factory on May 1, 1949 and put the buildings up for sale. The company assets were liquidated in 30 days when no buyers were found. Weatherly Foundry pur­chased the vacant buildings on December 11, 1951, for the sum of $12,000. The Foundry used the empty buildings for storage, but in October, 1962, had the three story building torn down. A grinding shop was opened in the cement block building in 1952. The vacant lot where the candy factory stood became a parking lot for the employees at the grinding shop. The Foundry finally consolidated their grinding business at the main foundry and closed the grinding shop on Wilbur Street on August 31,1971, after 19 years. The cement block building is still partially used today by small businesses.
1895
Lehigh Valley Railroad dispatches over 100 trains a day in and out of Weatherly. The railroad made Weatherly a division point and all trains were made up in the Weatherly yards.
The first dentist was Dr. W. R. McCloskey in 1895. Dr. Worden M. Nyer arrived in June, 1900 1945. He had offices on the second floor of the Dr. Freyman building at 102 Carbon Street. Dr. Raymond S. Waltman, 1927-1938, practiced on the second floor of the A&P Building, 106 Carbon Street. Dr. Richard Matthews, 1938- 1971, set up offices at 14 First Street. Dr. William T. Ravina, 1954 at 42 Carbon Street, and Dr. John T. Timko, 1983, at 788 East Main Street.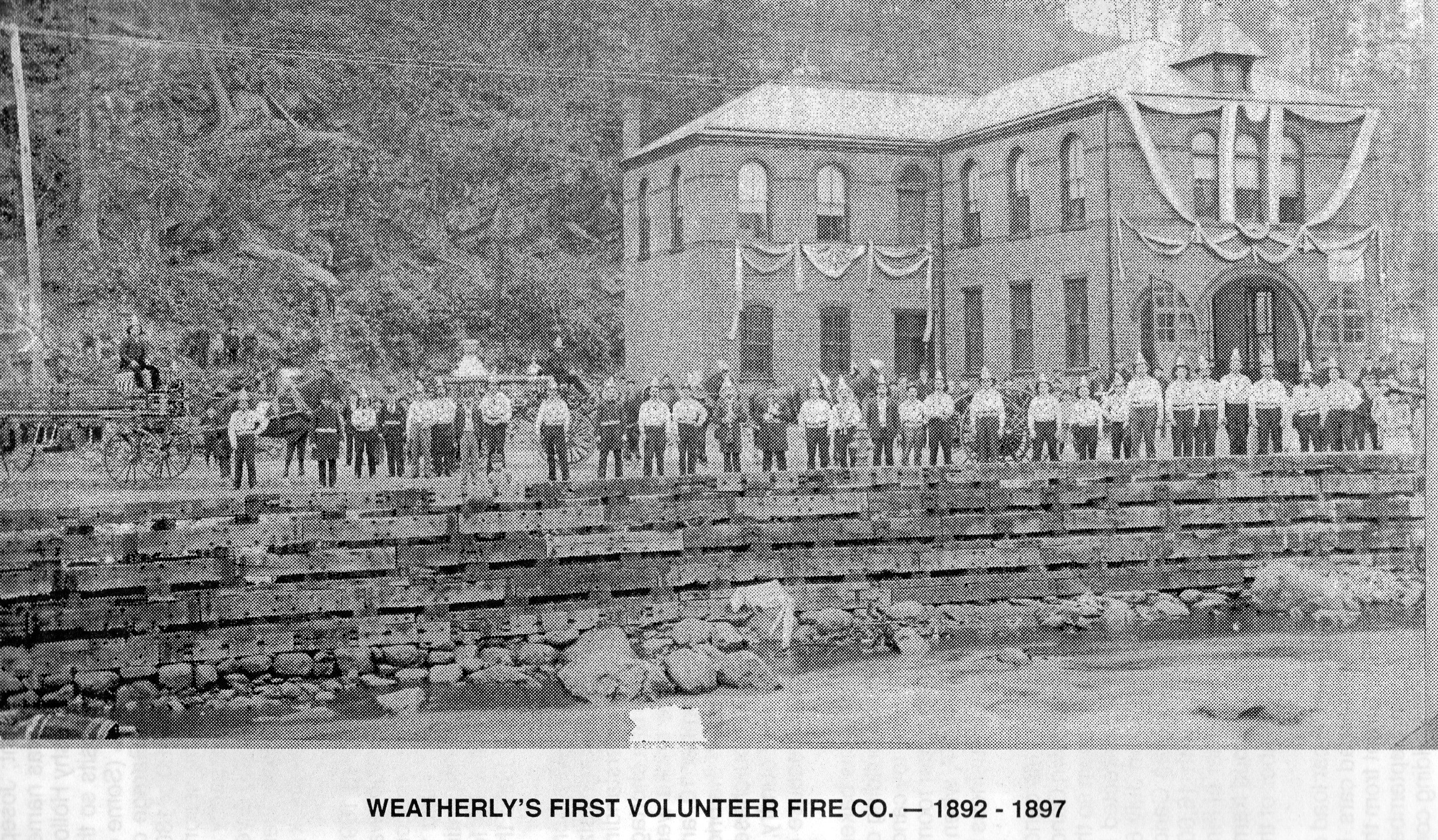 1896
Hudsondale Water Company: The Hazleton Water Company purchased 89 acres from the Samuel W. Hudson estate from Red Cut below Tidewater Oil Co. and to a point near the ochre works which included the old grist mill and dam for $10,000 in July, 1896. A contract was awarded on August 11,1896, for construction of a 12" pipeline from Hudsondale to Hazleton. Plans were made to spend $75,000 on a new pipeline and dam to increase the supply of water by 2,500,000 gallons daily.
In October a large pumping station was built near the old grist mill and a large basin was built to hold thousands of gallons of water. A 30" line was laid from the dam to the basin. W. A. Lathrop, A. P. Blakslee and other LVRR officials, to­gether with the press from Hazleton, along with a large crowd, were brought to Hudsondale in a two-car train to inspect the new pumping station at Hudsondale. Water was turned on at the pumping station early on the morning of June 29,1897, and water reached Hazleton at 12:40 p.m.
In 1902, Hazleton Water Co. made extensive improvements to Hudsondale dam and a new cement breast was built. Hazleton was now connected to one of the largest pumping stations in the state. Casper Hoebener was in charge of the pump­ing station and Charles Romig and Howard Eroh were engineers. Lehigh Valley Coal Co. made a connection with the Hudsondale Water Co. to supply water for their Jeansville & Yorktown collieries. In December, 1904, an addition was added to the rear of the pumping station. The new pump house and remodeled boiler house were completed in March, 1905.
The Hazleton Water Co. received a $300,000 mortgage from the U. S. Mortgage & Trust Co. of New York in August, 1907, for the erection of a second water line from Hudsondale to Hazleton. Two large pumps with a total capacity of four million gallons daily was forced over Spring Mountain to Hazleton, a distance of seven miles, in 1912. Hudsondale dam was drained and cleaned in 1936 and 1951. In May, 1980, a $1.4 million improvement project was granted to Hazleton Water Co. for the Hudsondale pumping station and dam. New pumping station and a 10,000 gallon storage tank were built and dedicated on October 22, 1982. The new facility replaces the old pumping station which had been in steady use since 1949. Hudsondale pumping station is constantly pumping 3 million gallons of water daily into Hazleton City Water Authority customers.
The H. A. Mack Woodworking Co. made application for a charter to open a plant in Cassler's idle building on West Main Street in July, 1896. The building was renovated and a stone boiler house was erected on the north side of the build­ing in late July. H A. Mack Woodworking Co. began production of bobbins. Officers elected for the new firm were: President, Charles Cassler and secretary-treasurer, Joseph Cassler. Plans were made by President Cassler to add a two-story 30' x 100', wing to the existing building to hold more machinery as the market for bobbins continued to grow at a rapid pace.
In January, 1898, the new plant was ready for machinery on the first floor to fill orders for 75,000 bobbins. The silk industry across the U. S. was booming and orders for bobbins were so heavy that machinery was placed on the second floor of the mill in April of the same year. The company was granted a patent on August 1, 1899, for a new fibre head bobbin using wood in the middle and vulcanized fibre head. This fibre bobbin was far superior to any other type bobbin manufactured in the U. S. In 1901, the H. A. Mack mill became the largest manufacture of bobbins in the country. The mill became popularly known as the "bobbin works".
Two near disasters almost wrecked the bobbin works when a series of floods, December 12-13, 1901 and February 28, 1902, caused the Black Creek to overflow its banks. An old building was burned to keep it from being washed into the bridge and damming up the stream. A sharp downturn trend in the silk industry and a new Mack Bobbin Co. in Allentown created problems for the local plant in 1903. The plant was operated part time in late 1903 and finally closed in early 1904. Directors met on July 20, 1904, and re-organized as the National Spool & Bobbin Co.. The new company began production of bobbins in August, 1904, but another downward turn in the market in late 1905, forced the plant to close. A group of Weatherly and Mauch Chunk businessmen held a meeting to locate another industry in Weatherly. An agreement with the board of directors of the bobbin works, the building was transferred on March 1, 1906, to the Onoko Silk Company.
Heiligh House was erected in October, 1896, by Wilhelm Heiligh on Hudsondale Street. The building, which included a spacious hall, was built adjoin­ing the family homestead. The hall was used for operas, dances, weddings, balls, shows, festivals, etc. A grand opening was held on November 13,1896, with a ball and music furnished by the Weatherly Orchestra Upon the death of Mr. Heiligh in March, 1898, the place had numerous proprietors: Mrs. Fred Garabrant, 1898­1900; Jacob Koehler, 1900-01; Christian Herling leased the property in January, 1901, and changed the name to American House; Robert Jones, 1908-10; John G. Younker, 1910-14; David Wetzel, 1915; Elmer Miller, 1916; 0. E. Meyers, 1916; vacant, 1917-1919; Mrs. Mary Hinkle leased the building and held a grand opening on April 2,1920. She purchased the property from James C. Sendel estate on June 24, 1927. Due to illness, Mrs. Hinkle turned the business over to her son-in-law, John J. Earley in 1948. He operated the business as Earley's American House until he retired in 1964. His son, William Earley, still operates the business at 194 Hudsondale Street.
1897
Hugo Paul's Summer Garden: Hugo Paul, foreman of the LVRR paint shops at Weatherly and Hazleton, erected a large 35' x 50' building on April, 1897, for the young people to use during the summer months. It was the chief place for amuse­ment at 204 7th Street. Mr. Paul already had a park and picnic grove when the building was completed on May 25. He called his new facility "Weatherly Summer Garden". Many fine dances and parties were held at the summer garden including many different bands and orchestras. The summer garden lasted until World War I broke out. Over the years it became little used and ended up as a garage and storage building and is still standing at the rear of 204 Seventh Street.
Yeide's Baker Shop: Harry Yeide purchased the entire stock and fixtures of Andrew H. Horlacher's bakery, ice cream and confectionery store in the Horlacher building on Carbon Street, on October 27,1897. He opened the business on Octo­ber 28, as Yeide's Bakery. William Koehler, a master baker, remained with the busi­ness. In March, 1901, Yeide purchased a horse and opened a bread route in the community. The bakery was such a success that he built a new baker shop and had new brick ovens built into the new shop in January, 1911. The bakery and confec­tionery business of Harry Yeide was turned over to his son, F. Rudolph Yeide in October, 1931. Rudolph and his wife, Marguerite Yeide operated the bakery, res­taurant, delicatessen and news agency at 44 Carbon Street until late 1958. George L. Somers opened a Sweets & Gifts Shop in the building for a number of years. Mr. and Mrs. Pete Creasy conducted a luncheonette for a time, later being vacant until Kathryn Koehler opened the annex from her drug store in the building. The building was renovated in the 1980's into apartments, but the store section has been vacant for years. The brick bake ovens are still sealed in the basement of the building.
The Plane Road was constructed from Weatherly to Beaver Meadow us­ing the old Beaver Meadow Railroad grade which" included the two railroad planes leaving town. The road was opened for travel on April 1, 1897.
1898
The Anthracite Telephone Co. arrived in Weatherly in December, 1898. A switchboard was installed at 43 Carbon Street, in the millinery store of Mrs. J. B. Kolb on December 20, 1899. Miss Vivian Kolb was placed in charge of the switch­board. The first phone installed in the community was at the borough Light plant and Weatherly Foundry on May 15, 1900. Bell Telephone Co. placed an exchange in town in May, 1905, and lines were connected to 35 customers in August. In 1914 there were 168 customers with phones. The Weatherly exchange of Consolidated Telephone Co. closed its business in February, 1914, leaving Bell Telephone as the only phone company in town. The company placed in operation two more circuits between Weatherly and Hazleton in September, 1916. There were a total of six circuits in use to handle the increase in business. In 1925, the Lehigh Telephone Co. opened an exchange in Weatherly, but merged with Bell Telephone in Novem­ber, 1929. The new dial phone system was completed in February, 1939, and in­stalled in the new brick building on East Main Street.
New service brought to an end the old exchange service that was located at 18 Carbon Street, next to the drug store. Bell Telephone held open house of their new facility on May 25, 1939. The property had been purchased from Mrs. Elva Felker and a 25' x 25' building was erected in September, 1938. A $860,000 im­provement for the new Bell Telephone switching service, which replaced the old service since 1939, was begun in April-May, 1987. The new switching service went into effect in town on June 28,1987, and the capacity of the new system was 13,000 lines for the state of the art in switching.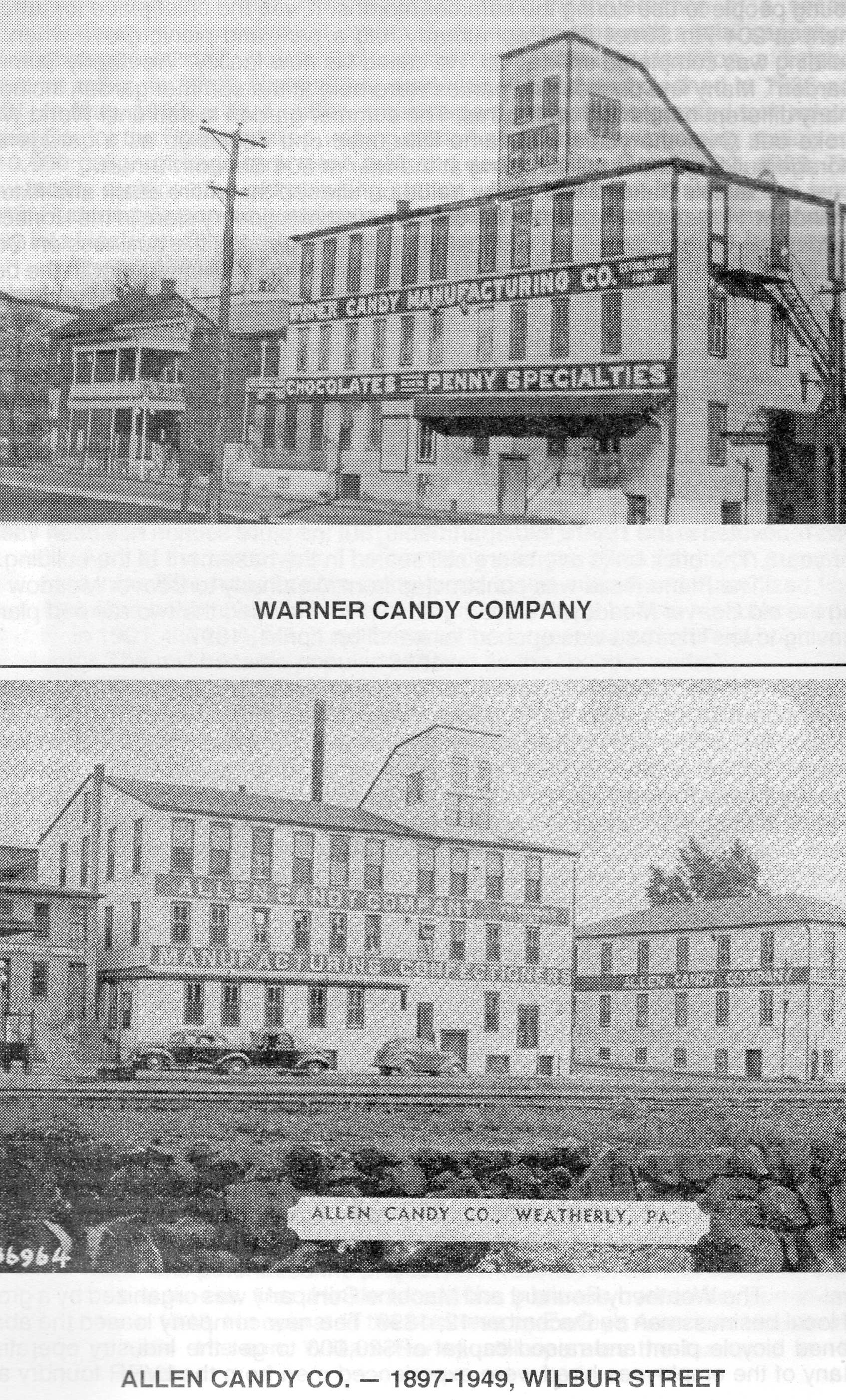 1899
The Weatherly Foundry and Machine Company was organized by a group of local businessmen on December 12, 1899. The new company leased the aban­doned bicycle plant and raised capital of $20,000 to get the industry operating. Many of the employees hired were experienced men from the LVRR foundry and shops which had closed in November of that year. The company bought the bicycle plant for $3,000, and obtained a cupola from LVRR's Hazleton foundry and many of the appliances from the LVRR foundry in Weatherly. The first heat of 6,500 pounds was run on March 19, 1900. The first order was from the LVRR Co. for 15 tons of grey iron daily.
Over 100 men were hired to handle all the work. A new pattern shop was built in March, 1901, and a new machine shop was added. Capital stock was raised from $10,000 to $35,000. In 1902 the abandoned brick works was purchased to further expand the business. An addition was added to the moulding building in February, 1903, and a large modern scrapping and cupola building was built in July, 1906. Employment climbed to 300 men. A contract was awarded for a modern machine shop in May, 1919. The company closed down on June 10,1920, because of labor problems and strike.
A group of Hazleton and New York citizens gained control of the stock and the name was changed to Weatherly Foundry & Manufacturing Co., on August 30, 1920. James L. Bradbury was named superintendent; J. H. Ritter, chief clerk and Harry Kleppinger, foreman of the pattern department. The old Hazleton Iron Works merged with the foundry on November 10,1925, and all its material was moved to Weatherly. A large 16' boring mill, weighing 135,000 pounds, was installed on Sep­tember 19, 1929. The local foundry was the first industry in the community to sign up 100% on July 16, 1942, whereby all employees invested 10% of their earnings in war bonds and a special flag raising ceremony on August 25, 1942, denoting that the plant had gone over the top in the War Bond Drive, was held. During the war a shortage of men developed at the foundry and the first women were hired on July 1, 1943, to work in the machine and welding departments.
In December, 1951, the foundry purchased the empty candy factory build­ings on Wilbur Street. A grinding shop was opened in the cement block buildings and the large wooden candy factory building across from the grinding shop was razed in October, 1962. The grinding shop on Wilbur Street was closed on August 31, 1971, and moved to the main foundry complex.
Barrett-Haentzens & Co., Hazleton, purchased the local foundry on Feb­ruary 2, 1982. Eighty percent of the foundry business was castings for the cement and coal industries. The entire foundry complex is located on 31 acres of ground in the borough. The decline in the coal and cement business across the country forced the local plant to close in 1985. The plant was re-opened with an increase in busi­ness and is working steady in 1988.
The Lehigh Valley Railroad Co. shops and foundry in Weatherly were closed definitely in 1899 because of a policy of retrenchment by management. Acting fore­man, Claude Wilde had the whistle sounded, steam turned off, fires pulled and the shops closed after almost 50 years of service to the railroad and community.
1900
Weatherly's population in the 1900 census was 2,471, even though the LVRR shops had closed in 1894 and 1899. Many new industries had arrived and settled in the community since 1880, but many of those industries that applied for sites here remained stable. Census for Packer Township was 684 and Lehigh Town­ship, 619.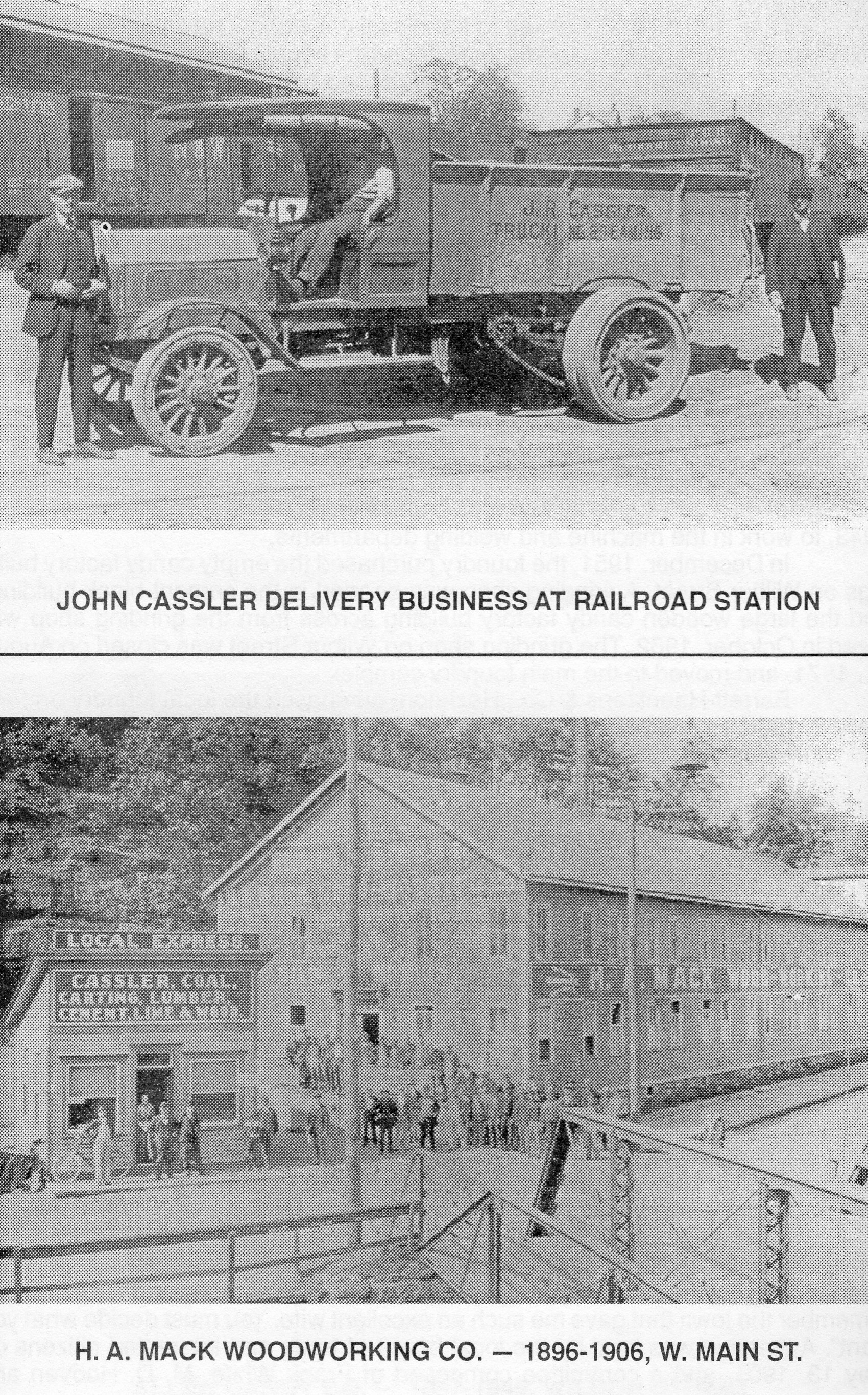 1901
Charles M. Schwab High School—A surprise visit was paid to Weatherly by Mr. and Mrs. Charles M. Schwab on May 5, 1901. They had not been in the community since their wedding day 18 years previous. They were given a personal tour of the community and Mr. Schwab was very pleased at the reception they gave him and his wife. He liked the town people and made a remark, "We would like to do something for the community. My wife is a native of Weatherly and I would like to remember the town that gave me such an excellent wife. You must decide what you want". A meeting was held by the local board of trade and interested citizens on May 13, 1901, and a committee composed of Frank White, M. D. Hooven and Percey E. Faust were named to visit Schwab in New York
Upon their return they notified the school board that Schwab wanted to give the community a new school. A site on the old school grounds on the corner of East Main, Spring and Pardee Streets was selected on June 24, 1901. A contract was awarded to Andrew Breslin of Summit Hill in the amount of $50,400 to build the school on September 3, 1901. The new school was a three-story brick structure. 84' x 95' and 100' high, containing ten rooms, an auditorium and other class rooms.
Ground was broken on September 26, 1901. Breslin placed a large town clock in June, 1902, from the Seth-Thomas Clock Co. It was installed on top of the new building to fulfill an old promise made by David Weatherly to give the town a clock which he never carried out. Eurana Schwab fulfilled that promise. In July, 1903, the Schwab School was completed. It was 125' tall from basement to dome and a flagpole on top of the dome was 25' high. There were 106 windows and 76 doors in the building.
Never in the history of Weatherly was there such a demonstration given in honor of the new $75,000 Schwab School dedication on September 19, 1903. The Schwabs arrived at the local LVRR station in their private car. He presented Elmer Warner, president of the school board, the keys to the new school. Classes were started on September 22, 1903. The flagpole atop of the school was removed on August 29, 1911, by local contractor, F. A. Kunkle. The Mrs. C. M. Schwab School was used as a grade, junior and senior high school but by 1935, a need for more rooms to relieve over-crowding conditions was very evident. Plans were made to add a $30,000 annex to the school. Voters approved the bond issue by a 2-1 mar­gin to build the annex with Federal Public Works Board paying 45% and Weatherly the other 55%. Ground was broken for the new annex on April 14, 1936 and com­pleted on October 15, 1936.
With the completion of a new elementary school in 1960 and a new middle school in 1975, the Mrs. C. W. Schwab School was used as the high school with grades nine through twelve. Schwab once was president of Carnegie Steel Co., U. S. Steel Co. and Bethlehem Steel Co.) Mrs. E. Eurana (Dinkey) Schwab was a native of Weatherly and at one time lived at 230 Second Street here.
First National Bank of Weatherly—A group of local citizens met in the borough building on December 3,1901, to organize a badly needed banking facility for the community. A charter was filed with the Controller of Currency and any inter­ested person who wished to invest in the bank, could purchase shares for $100 each. Officers were elected on December 30, with Elmer Warner, president; Dr. W. P. Long, secretary and J. C. Sendel, treasurer. On January 22,1902, Ira Barnes was made first cashier of the new bank in rented rooms in the Horlacher building on Carbon Street.
Arrangements were made to purchase plates and engraving for new bills to be issued by the bank. A charter was received on January 29, and the bank opened for business on March 2,1902. Lawrence Tarleton and Percy E. Faust were the first two depositors. New bank notes arrived March 21, and Elmer Warner and Ira Barnes were busy signing their names to the new bills. The bank showed a net profit in the first year of business of $700, while deposits had reached $102,000.
The bank directors purchased two lots on Carbon Street in May, 1906, to build a new banking facility. It was completed at a cost of $10,000 and opened for business on March 30, 1907. The bank continued to prosper and plans were made to build a larger bank to handle the expanding business. On July 8, 1929, a new building was constructed and opened for business on May 31, 1930. The cost of the new structure was $50,000. The new vault doors, weighing 15 tons, were delivered by LVRR. There was no truck strong enough to take the vaults from the railroad siding on Wilbur Street, so rollers were used to move them to the building on Carbon Street. The bank suffered a severe blow in September, 1936, when it was discovered by auditors that bank cashier John N. Trezise had embezzled $95,204. Some of the funds were recovered but financial difficulties continued to plague the institution. The board of directors held a meeting on March 14, 1942, and sold the building, fixtures and business to the Hazleton National Bank.
Wilbur Nya was elected acting manager of the Weatherly Branch. The local building was renovated in March - April, 1954, and again in July-August, 1980. Kevin L. Kreiger is currently the manager of the Weatherly branch.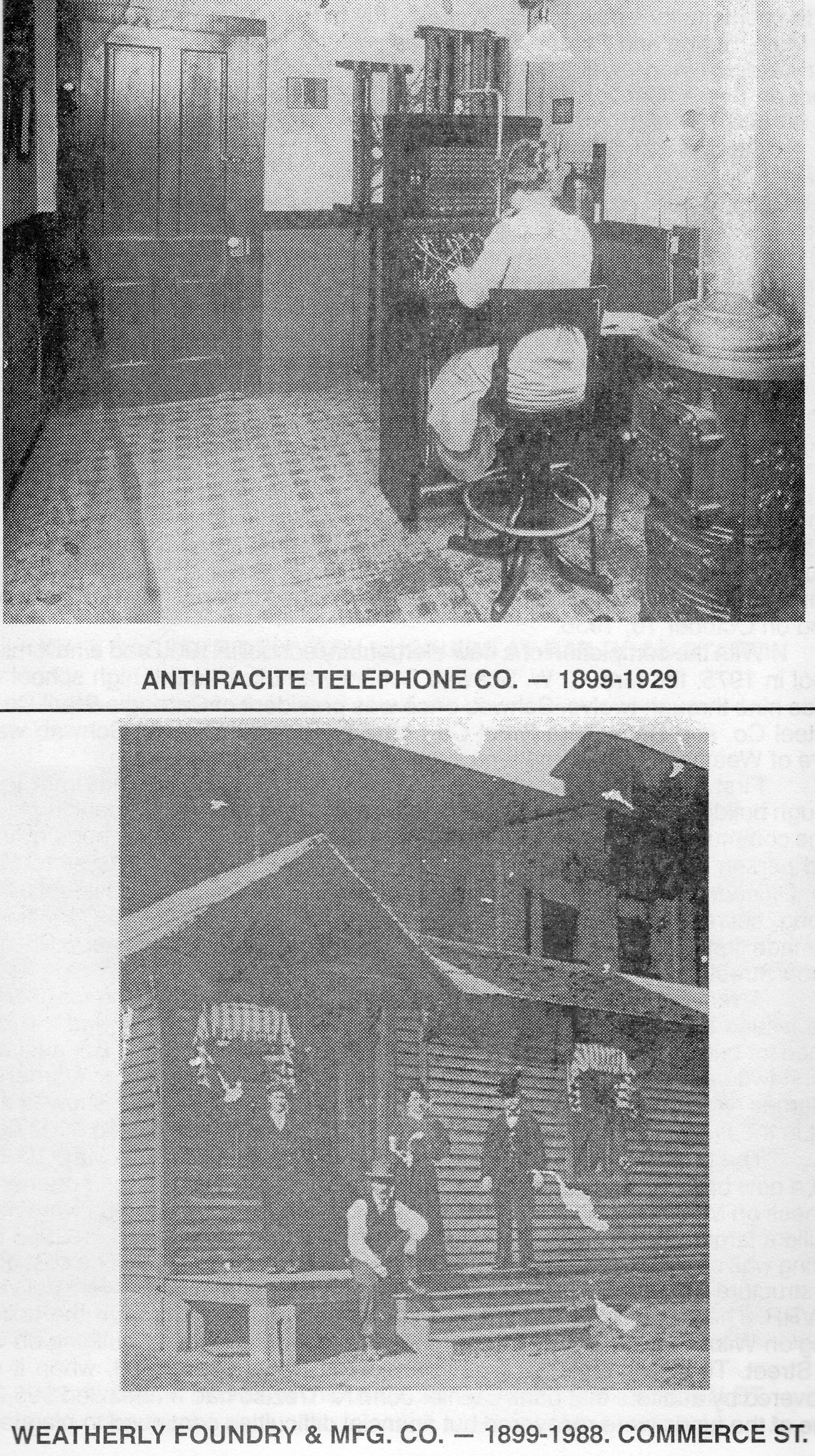 1902
John McCarthy, former editor of the Hazleton Sentinel and Pottsville Chronicle, purchased the Harrison Rouse tract of 17 acres in West Weatherly for $1,550 on October 5, 1902. He had married Etta Mussleman, daughter of Mr. and Mrs. Peter Mussleman of Weatherly and planned to build a home in town. He pur­chased the home and two acres of land from Josiah Wilcrout on March 15,1903, which adjoined his Rouse tract of land. McCarthy and George Shaefer of Hazleton, bought 10,000 acres of timber in Florida in April, 1903, and negotiated for 30,000 more. He went to Kentucky where he purchased large tracts of coal land. His in­vestments amounted to over 27,000 acres in timber and coal lands.
McCarthy erected a large dam on Doney Run which was on his property here. In November, 1904, the McCarthy family, C. R. Hoover and C. A. Hawk ap­plied to the Governor of Pennsylvania, for a charter for a corporation, named the Justin Water Co. of Weatherly. The object of the new water company was to supply the public with a water supply. The charter was granted on December 30,1904, with capital stock of $5,000. Water was to be pumped from the Doney Run dam into houses on West Main and Franklin Streets, but the company never fully developed and was later abandoned.
McCarthy bought 100 acres of cleared land in Quakake Valley from P. D. Black in March, 1905. At the same time Mrs. McCarthy was buying three homes at Atlantic City, New Jersey. McCarthy purchased a second farm from P. D. Black of 104 acres and 97 acres from Philip Keiper of Hazleton, all which adjoined the McCarthy farm. He purchased the balance of the Wilcrout farm, extending from the dam to Hudsondale Street in 1905. He broke ground for a fine new home on the brow of the hill overlooking his dam in August, 1905. The three-story house had native conglomerate rock on the first floor and the other two stories were shingled. There were sixteen rooms and four baths with one room having an auditorium. The McCarthy family moved into the new home on January 25,1906. In May, 1907, the family left for England to buy a home for an indefinite stay. The local home was closed, farms rented out and the livestock sold. They returned to Weatherly in Oc­tober, 1907. On August 5, 1908, John McCarthy died suddenly. His son, Justin and Mrs. McCarthy closed the home and did not return to Weatherly until the early 1920's. She died at her home on May 1, 1940. Justin had become an area huckster over the next 20 years and did paintings as a hobby until 1920 when he started painting in earnest. At age 70 he took up painting professionally. His work began to draw attention at area art shows in the 1960's. In March, 1972, he sold his home on the corner of Franklin and High Streets to the local American Legion Post #360 for $25,000. He moved to Beaver Meadows and died on July 15,1977 in Tucson, Ari­zona at the age of 85. His paintings have been displayed in New York's Museum of Art as well as other area museums and he has become one of the most respected primitive artists in the U. S. The American Legion Post eventually sold the home to Mr. and Mrs. Arnold B. Rinker.
A footbridge was constructed over the Black Creek for the convenience of the Fourth Ward people in 1902. Money was raised by subscription to build the short cut to the business district and Steel Company employees used the bridge to get to work. On August 15,1915, the footbridge fell into the creek when an abut­ment gave way on Hudsondale Street. It was rebuilt and used hard over the years but deteriorated into a deplorable condition by the late 1950's. A bridge association was formed by people who lived in the Third and Fourth Wards. With funds raised the bridge was completely overhauled, repaired and painted. A special dedication was held on October 11,1960. A total of $305 was collected for the repairs and the total cost was $283.69. The crusade was led by Theodore Koehler to save the historic footbridge and he had taken the bridge under his personal care until he took ill in 1985.
1904
The first automobile in the Weatherly area was bought by A. P. Kunkle of Lowrytown on May 15,1904. The first one in Weatherly was purchased by Charles Wasley in August, 1906. The second local car was a Cadillac bought by Robert 0. Sendel in July, 1907. Hudsondale's first car was purchased by Peter and Abraham Romig in 1906.
Hudsondale's Post Office closed on May 15, 1904. Mail was delivered from Weatherly as Rural Route # 1.
Weatherly Plate Works—Board of Trade helped to establish another busi­ness venture in October, 1904, with the purchase of land for a Plate Works. A site with 60,000 square feet of land near LVRR siding was chosen. Five lots were pur­chased adjoining the Weatherly Foundry from the LVRR for $200. A building, 50' x 120', was constructed in January, 1905: Two more acres were purchased and an outdoor lean-to type building, 6' x 120', was constructed for the production of spe­cial machinery, plate structural and cast iron work.
George N. Seidel, of New York City, and well known in the business trade as a specialist in cement mill machinery, applied for a charter for the new plate works on August 3,1905. The plant never reached full production and was shut down due to the illness of Seidel. The Plate Works was sold at sheriff sale on June 1,1906, and was purchased by local businessmen, Robert 0. Sendel, M. D. Hooven and W. F. Wagner, for $4,300. Trouble continued to plague the new owners and the plant was again sold, this time to J. M. Stauffer of Hazleton and Dr. W. P. Long of Weatherly. They made an effort to keep the plant in operation but lack of funds, plus creditors, caused the plant to be placed up for sheriff sale on January 3, 1907. The Board of Trade, discouraged at the failure of the project, sold the entire business, buildings and property to the Weatherly Foundry & Machine Co. on May 16, 1907. It was a good deal for the Foundry since the Plate Works adjoined their property and on October 31, 1907, they paid the Board of Trade in full.
The Lehigh Valley Railroad turntable at Black Creek Jct. on the Quakake Branch was dismantled and sold in November, 1904. The cut stones were shipped to Conyngham to build LVRR Superintendent P. J. Flynn's home.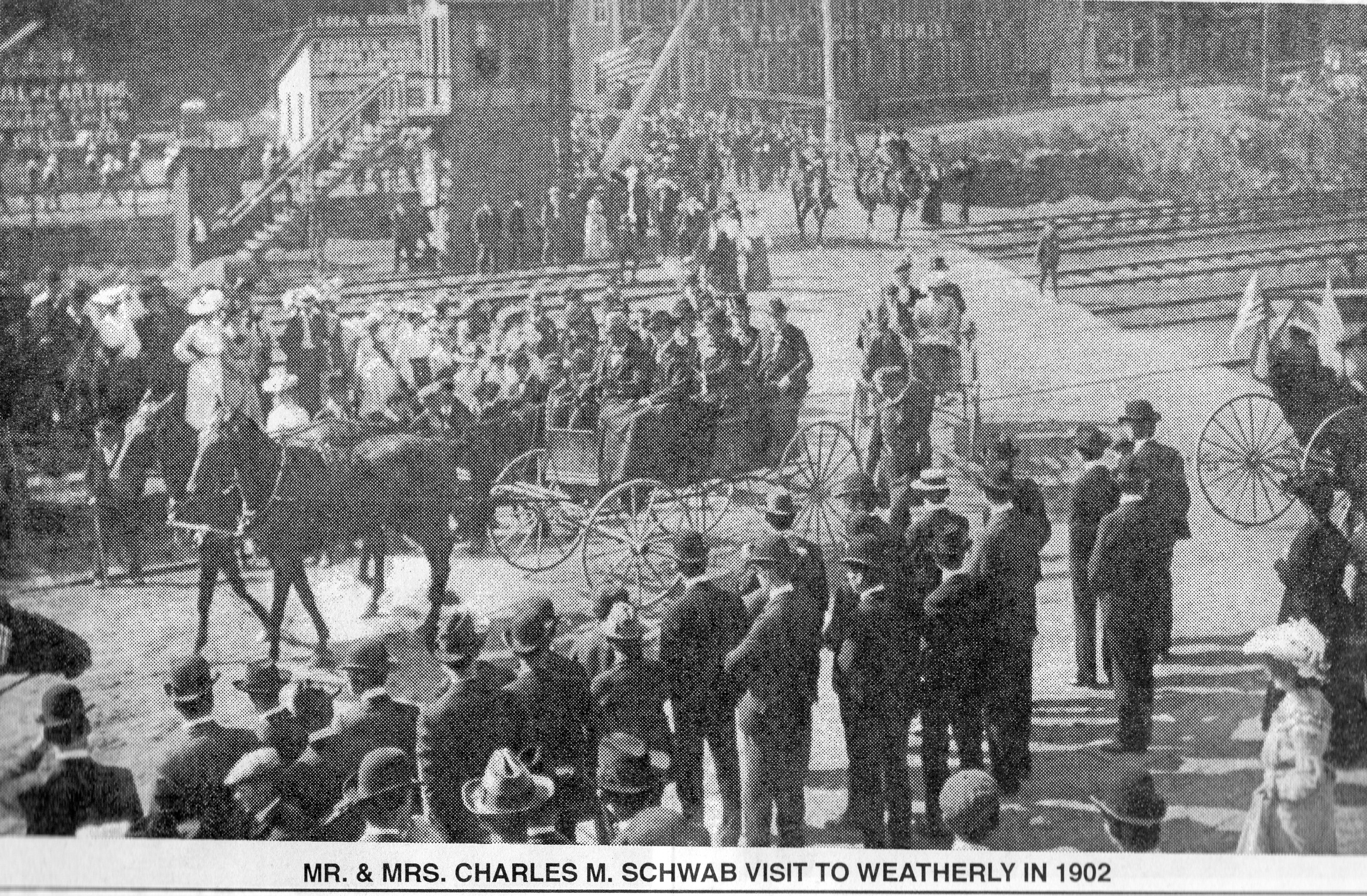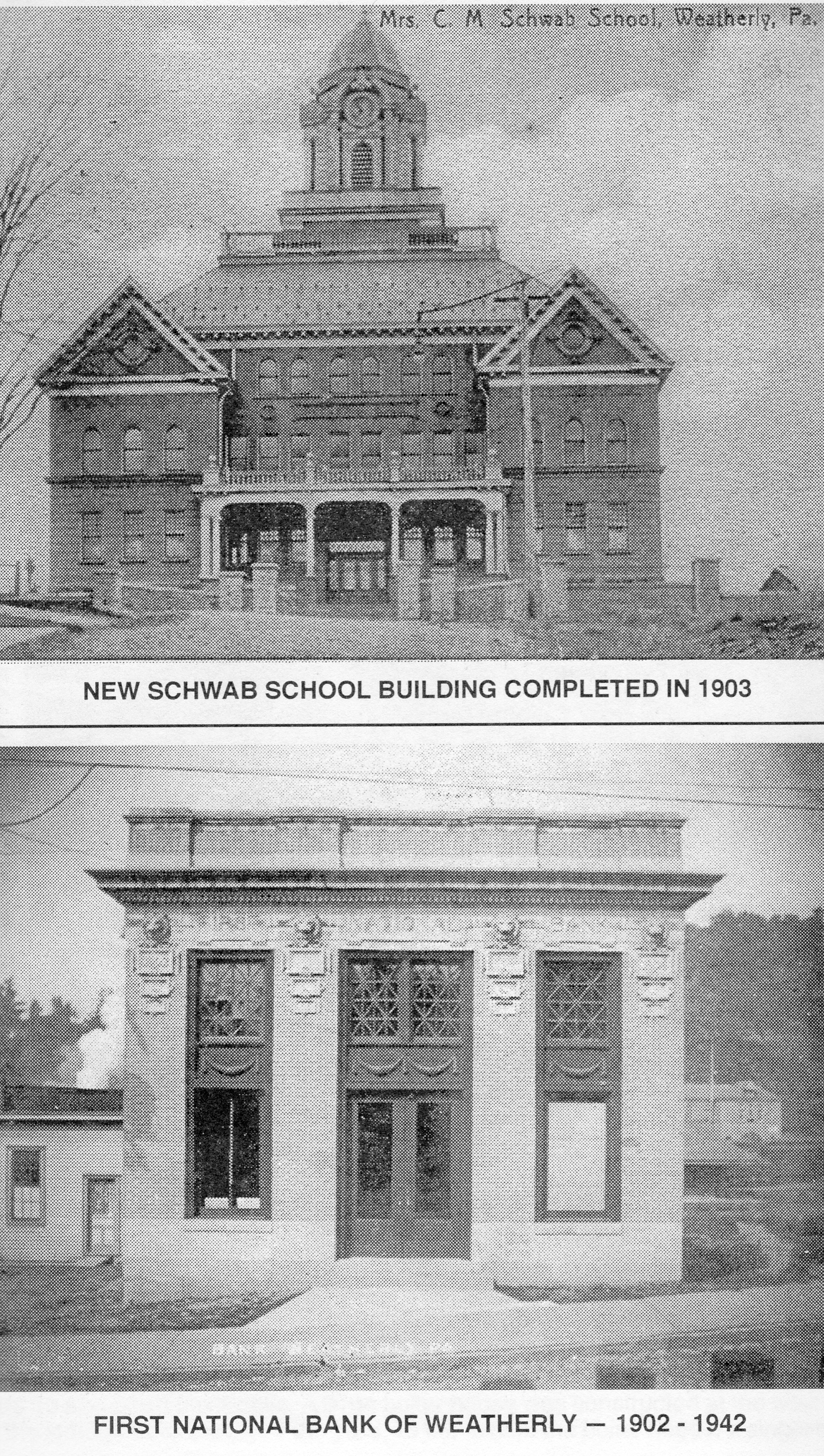 1905
Hudsondale Coal Storage—The Lehigh Valley Railroad Co., which owned huge coal lands in the Hazleton and Mahanoy areas, and with their collieries pro­ducing more coal than could be sold, began looking for a site to stockpile the coal. A crude coal storage had been used for years at Black Creek Jct., but a more permanent site was needed. In March, 1905, the company purchased land from Samuel Hinkle and Al Troutman of Weatherly, to build a large coal storage facility. The land was located on the north side of Broad Mountain and along their Quakake Branch of the Mahanoy division which ran from Black Creek Jct, to Hudsondale to Delano and west to Mt. Carmel.
Construction began in May, 1905, on a 1000° long wall and the mountain was cut away to make room for two tracks that would run parallel to the mainline. A single track was built along the new wall to a scale house for cars to be weighed when filled. Also constructed was a new wall holding 50 chutes for loading into railroad coal cars. A dumping track was built high up the side of the mountain and ran parallel with the storage wall. By May 25, there were 125 men employed and the total reached 250 by July. The floor of the storage was laid with cement and two planes were built to get the loaded cars to the top and the empty cars down. A barney car was built to haul the loaded cars up the plane and a barney to drop them down. A stone engine house was built at the head of each plane to lift the barney cars up and down the planes. A large boiler house was constructed at the west end of the storage near the top of the yard. To the east of the boiler house, a single track was built for a large boom crane which would run parallel with the dumping track to stockpile the coal in huge piles in the yard below.
Over 400 men were used to complete the building of the facility in March, 1906. The first cars of coal arrived from the mines on March 21,1906. The storage was now capable of holding 300,000 tons of coal and this would enable the collieries to keep working. The cost of the storage area was $500,000. Charles Beidleman was made superintendent of the coal storage. A dam was built across Quakake Creek and a pump house was constructed to pump water into a storage tank on top of the hillside above the boiler house. Charles Mordue replaced Beidleman as su­perintendent in 1908. On July 25, 1926, Valentine Romig was made superinten­dent; Howard Hentz, foreman of the yard and William Roberts, chief clerk. A new cement wall, 1000' long, 2' thick and 20' high was built in June, 1929, and com­pleted in August. In 1932, the cement floor, which had begun to crumble, was dug out and a gang of men quarried stone from on top of the mountain to be laid as a cobblestone floor with tile gutters to carry the water and coal to the chutes. The project was completed on September 24-25, 1932.
A steady decline in the coal business, following the end of World War II and the use of oil for home heating, spelled the end for most of the coal companies. In 1952, the LV Coal Co., made an effort to streamline their operation. A six-foot high by two-foot wide addition was added to the storage wall and the 50 chutes were reduced to 25. However, continued financial losses in coal sales from 1954­58, forced the company to close the Hudsondale Coal Storage on January 15,1959. S. Gaudiano Brothers was awarded the contract to dismantle the facility of all its machinery and metal for scrap.
The LVRR Co. abandoned the Quakake Branch from Delano to Black Creek Jct., in the winter of 1964-65 following the final dismantling of the storage and the loss of the iron business due to the opening of the Great Lakes to shipping. Nothing remains today of that huge operation except the long high wall and the stone floor overgrown with brush. The land now belongs to a hunting club from Lancaster, PA.
The large shops of the Lehigh Valley Railroad at Sayre, PA, went into operation on June 15, 1905. These new shops brought the final end to most of the remaining shops in Weatherly and surrounding communities which were consoli­dated at Sayre.
1906
Onoko Silk Co.—A group of businessmen from Mauch Chunk and Weatherly, organized the Onoko Silk Co., in the idle H. A. Mack Woodworking plant and a charter was applied for on February 19,1906. Officers elected in the new company were: Elmer Warner, president; M. D. Hooven, secretary; R. 0. Sendel, treasurer and John Kidd, superintendent. Capital stock was $50,000. The building was renovated and machinery for weaving was installed. Directors reported a very successful year and ten more looms were installed to handle the increase in busi­ness. During the years of 1907-08, the Onoko Silk Co. expanded their business with more machinery and personnel to operate them.
At the height of the business, weavers went out on strike on June 22,1909, over ventilation problems. Failing to return to work, the board of directors closed the plant down and 60 employees were out of work. The plant remained idle for seven months and on February 1,1910, negotiations were made with a silk com­pany from New York, to lease the building. The Manhattan Silk Co. received the lease on March 5, 1910, and began operations under the name Weatherly Silk Co.
1907
Weatherly's Golden Cane Award—James F. Kressley and a group of local citizens gathered on the porch of the Gangwer Building on First Street and made plans to honor the oldest living man in the community. A fund of 50 cents per person was collected and enough money was raised to buy a handsome gold headed cane. On September 14,1907, Weatherly introduced the cane with the inscription, "Our tribute to the oldest gentleman resident of Weatherly and his successor". The cane was presented to Lewis Flickinger, age 88, as a badge of honor and in rever­ence of old age, with hope that it will bring pleasant memories and add more days of life, both to the recipient and donors alike.
Golden cane holders were: Lewis Flickinger, 1907-14; Edward Freyman, 1914- 16; Peter Mussleman, 1916- 17; Griffith H. Bachman, 1917-23; John Layden, 1923-1927; Abraham Hartz, 1927-28; Lewis Young,1928-1935; Henry Schaefer, 1935-36; Joseph Rose, 1936; Benjamin F. Clewell, 1936-37; Benjamin Younker, 1937-47; Alfred Troutman, 1947-48; Jacob Moser, 1948; Stanley Pakola, 1948-50; Edward J. Fichter, 1950-54; Francis Schnauffer, 1954; William N. McClain, 1955­56; Charles Eroh, 1956-57; Thomas Elliott, 1957-60; Edgar E. Young, 1960-63; Jacob Hendricks, 1963-65; Lewis Knepper, 1965-70; Edward Romig, 1971-74; William 0. Miller, 1974-81; Harry Kleppinger, 1982-83; Samuel W. Young,1983-84. The cane has been in limbo since death of Young. Albert Ebinger is currently the oldest man in the community and will be 95 in May, 1988. He refuses to accept the cane.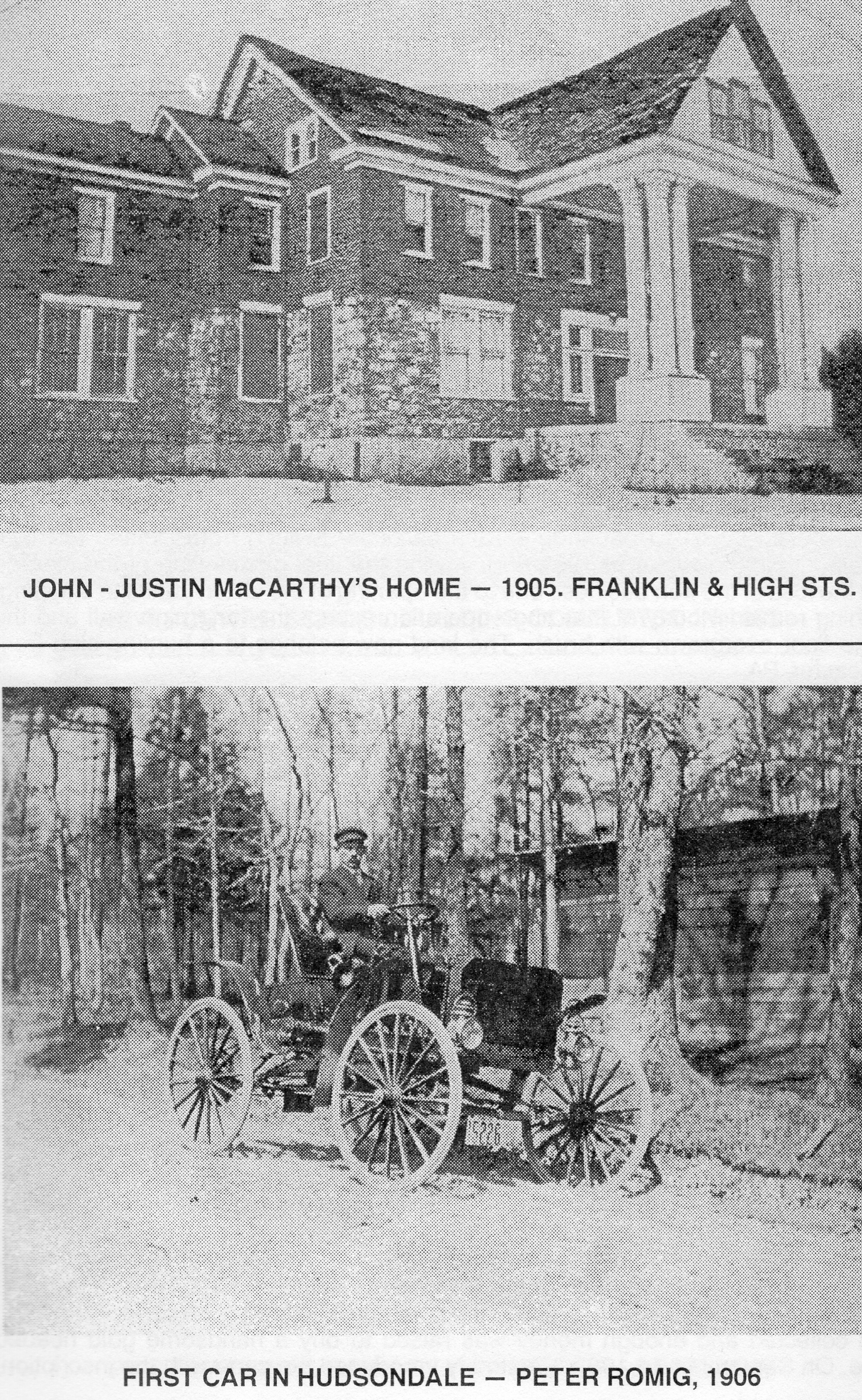 1908
Calvin M. Young and Elmer M. Young purchased the merchantile busi­ness of W. W. Blakslee at 3 East Main Street in June, 1908. The partnership dis­solved on March 5, 1913. C. M. Young continued the business and in 1918 his son, Maurice, joined him in the business. On April 1,1948, Maurice J. Young took over his father's business and apartments and continued Young's Store until his death on April 22,1964. His wife operated the store until early 1976. Nicholas Lazo and John Gutosky continued the business for a short period and when the partnership dissolved, Lazo continued the store until he closed the business on May 7, 1983, The building has been converted to all apartments.
Broad Mountain Road—In September, 190$, the Weatherly Board of Trade appointed Warren Van Dyke, Robert 0. Sendel and Lewis C. Nuss to promote a road over the Broad Mountain to connect both ends of the county. The old Lehigh & Susquehanna Turnpike had been closed and abandoned for 20 years and the cost to repair the old road would be $5,000. Only six miles of road would be needed as three miles from Nesquehoning to Mauch Chunk was finished. The road from Hudsondale, at elevation of 1134', Broad Mountain, 1614' and Nesquehoning, 820', using the old turnpike was decided by the Carbon County Commissioners in May, 1909. The reason for opening the old turnpike road was that the road had a sound base already and it would be easy to lay a new road on it. Lawrence Tarleton, of town, was foreman and with 10 men he began widening the road to 16 feet. Large stones were laid on the roadway and a stone crusher was placed in operation. It crushed the stones into three sizes, pea, birdeye and chestnut and had a capacity of 200 tons a day.
In the Spring of 1910, the largest and most expensive link in the new road, over the Nesquehoning Creek and CNJ railroad track was undertaken. Negotia­tions with the CNJ (Central Railroad of New Jersey) was made on June 24,1910, in which the County Commissioners pledged $8,000 and the railroad would complete that part of the road from the top of the mountain to the Nesquehoning road. At the close of 1910, two and one half miles of road had been completed when the Com­missioners stopped all work and decided that the State Highway Department should finish the road. The CNJ completed their part of the road and two bridges at a cost of $35,000. An agreement was finally reached in August, 1912, between the state and the county for finishing the one and one half miles of road with each paying half the cost. The Broad Mountain road was completed in June, 1914. It was re-built in the winter of 1958 and dedicated November 14, 1959 at a cost of $1,669,755.
1909
First Movie Theatre—James G. Eadie's store on Carbon Street was en­larged to house a movie theatre in February, 1909. The Star Theatre opened on March 15,1909, by proprietors Kondos and Cummings and the first picture shown was, "Thrilling Days of Old Virginia". A second movie house, Lyric Theatre, was opened in Warner's Hall on West Main Street on November 3, 1909. Admission price was five cents.
Anton Leppler bought the Star Theatre in September, 1915; Milton Hartz in January, 1916, and Hugh Campbell of Hazleton in October, 1919. The third the­atre in town was the Grand for vaudeville and movies and it was located next to Sammon's building on Carbon Street. A new modern theatre was built on the cor­ner of East Main and Carbon Streets in October, 1924. A large barn, belonging to the Gilbert House, was razed to make room for the new theatre. Frank Romano, owner and manager of his new Keystone Theatre, held a grand opening on Febru­ary 21, 1925. The first sound movie shown in his theatre was "The Homeowners", on November 27, 1929. Romano ran into financial problems and closed the theatre on September 30, 1930.
Robert Raynock, manager of Comerford Theatre Corp. theatres in Hazleton and Shenandoah, leased the Keystone Theatre from the 1st National Bank of Weatherly on October 1, 1930. The name was changed to the Grand Theatre at a special opening on October 20-21,1930. On August 25,1931, Romano reclaimed management of the theatre and renamed it the Keystone Theatre. Another change in management was made on June 6,1932, when Bert Long of Hazleton took over operation. He gave up his lease in October and Romano was again the manager. Still another management change occurred on May 25,1934, when B. Freed and S. Fine took over and changed the name to the Roxy Theatre. A new RCA high fidelity sound system and a new full size screen were installed for the grand opening on May 31,1934. E. E. Weller and Albert E. Page took over the Roxy on January 1,1935 and Page was made resident manager. On October 15,1936, Michael L. Freedman of N.Y.C., purchased the Roxy Theatre from the Weatherly Bank. P. A. Magazzu, former Hazleton theatre manager, purchased the theatre from Friendly Theatres, Inc., in June, 1938. Page left town to manage a theatre in Troy, PA. Magazzu was a well known showman in eastern Pennsylvania The name of the theatre was changed to the Ritz Theatre and Robert Rothrock was named manager. Gilbert Wolfe, of Port Carbon, was named manager of the theatre on March 25,1942, and replaced Francis Young, who had managed the facility when Rothrock was named district manager in 1940 and was placed in charge of theatres in Nuremburg, Sheppton and Weatherly, all part of the Magazzu chain.
Mrs. Robert Rothrock was named manager here to replace Wolfe in 1943. On November 22, 1944, Magazzu was honored with an award "Medal of Honor", for leading the U. S. in the sale of war bonds and stamps in the smaller theatre circuits. He received the award in the Paramount building in N.Y. C. by movie star Miss Phyliss Brooks. His theatres had a total of $240,000 in bond sales in 1944. On December 11, 1944, the Weatherly theatre had a special showing of "Stagedoor Canteen" with admission by ticket certifying a war bond purchase. This event real­ized a total $20,500 toward the war effort Magazzu completely renovated the the­atre in December, 1946. The local movie house continued to show first class films until television began to hurt attendance. The theatre closed and re-opened in 1960­61, but was finally closed for good. The building lay idle for years before it was torn down in May, June, 1977, by the Hazleton Waste Material Co. The site today is a vacant lot.
1910
Census figures for Weatherly area for 1910 were: Weatherly, 2,501; Lehigh Township, 491 and Packer Township, 717.
Hudsondale Grange Telephone Co. president, J. A. Werner and Packer Township Telephone Co, president, Allen Bittner, completed their phone lines around the township and were connected to Bell Telephone in Weatherly.
Rockport Rural Telephone Co. service was organized in 1910 and they also were connected to Bell Telephone at Weatherly.
Boy Scouts of America were organized in Weatherly and a charter was received on February 8, 1910 from scout official, William D. Boyce of Chicago, Illinois. The new scout troop received a number from national headquarters and they became Troop #65 of Weatherly, PA. The scouts met in Helker's Hall on lower Carbon Street under Scoutmasters Frank T. Bell and Edward Gerhard. Following the demolition of Helker's Hall in 1916, the troop met in local church buildings until a scout cabin was completed at Eurana Park in May, 1932. Two other troops were organized in the 1940's: Troop #64 in West Packer Township in January, 1942, under Scoutmaster Wallace Gerhard, Jr. The other troop was #66 under Edward Rittenhouse. Air scouts, sea scouts and explorer programs were introduced to the scouting scene in 1943. Cub scout programs came along in the early 1950's and scouting reached a high level of actively in the community for many years. As we enter 1988, there is no active cub scout program and only one scout troop still active.
The Lehigh Valley Railroad surveyed for a new railroad from Ashmore through Evergreen Valley, Buck Mountain into Lehigh Tannery where it joined the new mainline. The 13-mile line was started in March, 1910, and opened for traffic on January 2,1912. The new line was called Hayes Creek Branch and cost $2 million to build. Reasons for building the line was that before all freight and coal trains had to go east over the Weatherly Hill to Packerton and then north on the mainline to White Haven and on to New York and the Great Lakes. Hayes Creek Branch was a shortcut to the north out of Hazleton. The LVRR operated the line for the next 50 years but when coal declined severely in the late 1950's, the line was abandoned in the winter of 1964-65.
The Weatherly Silk Co. opened a weaving mill on March 15,1910, in the former Onoko Silk Co. building. The owners, Manhattan Silk Co. of N.Y.C., leased the building and changed the name to Roscoe Broad Silk Co., in September, 1910. The company only operated for a few years and the plant shut down in November, 1914. The building was leased to another silk company in August, 1915, called the Weatherly Broad Silk Co.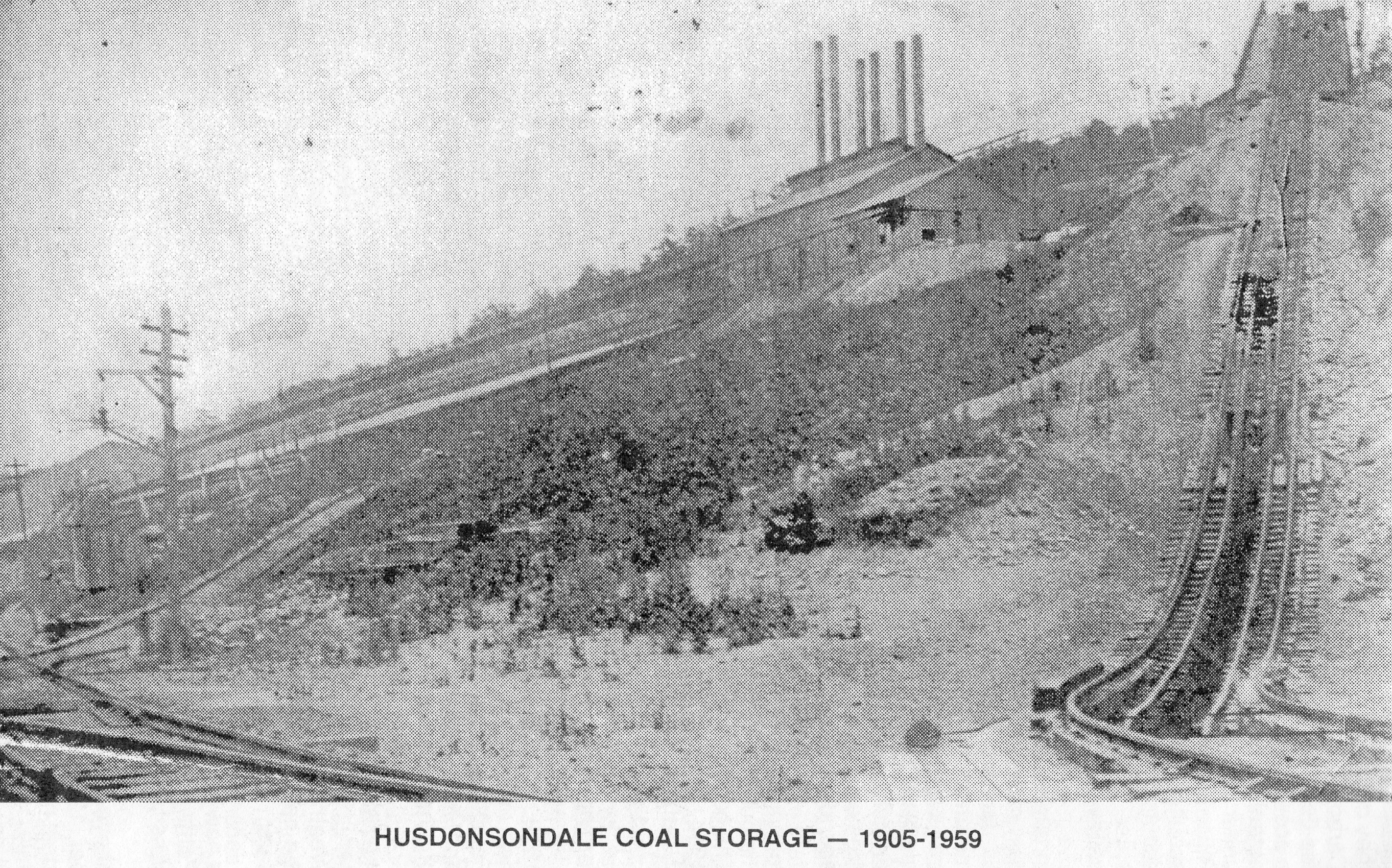 1912
Weatherly Iron & Steel Co. —Extensive inquiries were made to establish a forging, boiler, fabricating steel plant and a malleable iron foundry here. A charter was applied for in October, 1912, with capital stock of $100,000. On October 16, 1912, the abandoned LVRR shops were purchased and election of officers was held. They were: E. F. Warner, president; J. E. Rosenstock, secretary and P. E. Faust, treasurer. A charter was granted on January 7, 1913, and the Weatherly Iron and Steel Co. paid the LVRR $10,000 on February 10,1913, for shops and 20 acres of ground.
The company began work on May 22,1913, doing fabrication work for a new high school being constructed in Easton. Negotiations were made in Septem­ber, 1915, whereby the Weatherly Iron & Steel Co. would lease its plant to the Weatherly Steel Co. Charles H. Bleim was made general manager. The LVRR gave the new steel company a large order in December, 1917, for repairing their coal cars.
The unused portion of the old shops was renovated in October, 1918, for a new steel foundry. The first heat was run in April, 1919. Howard B. Thomburg, of Pottsville, was made foreman of the Weatherly Steel Co. on August 5,1922, and Miss Mary O'Donovan was hired as a clerk on May 20, 1923.
A stubborn fire did extensive damage to the plant that destroyed the roof above the core ovens on May 20, 1938. Damages amounted to $8,000. In Septem­ber, 1939, a platform was ready for a bridge over the Black Creek for storing of steel materials because of a lack of room in the yard. The bridge was completed in July, 1942. The Weatherly Steel Castings Co., located to the rear of the old LVRR shop, had been working steadily in the manufacture of steel castings, but then business fell off. The company suspended operations on January 6,1955 and 25 men were laid off. The Steel Company had up and down periods over the years. The LVRR shipped the last cars of steel into the company on October 5,1967. The track into the yard was abandoned and removed in August, 1968. All future ship­ments of steel were delivered by large trucks.
On June 24, 1984, the Weatherly Steel Co. was sold to James R. Lee, Jr., and George R. Lee of Hazleton. Early in 1985, the back shop was utilized as a pipe fabricating plant for George E DeLallo, Inc., mechanical contractors, whose main shop is located in Hazleton. The Steel Company currently employees an average of 17 workers.
1913
Parcel Post service was inaugurated in the Weatherly Post Office on Janu­ary 2,1913. The first package received was for Harry Yeide. The first one sent was by Rollin A. Blakslee.
Eurana Park—The community was surprised to learn during the celebra­tion of Weatherly's 50th Anniversary at the Old Home Week celebration on August 22, 1913, that Mr. and Mrs. Charles Schwab had given the town a present of Blakslee's Grove at the end of Third Street. Weatherly Borough received the deed from the Schwabs on January 26, 1914 for 23.5 acres of ground which included Blakslee Dam.
A letter from Schwab accompanied the deed: "I am forwarding to the people of Weatherly a deed as a gift of the grove in which your 50th anniversary celebra­tion was held. It is indeed a pleasure to be able to take the initial step to preserve for the natural beauty of the town, as well as for the happiness and welfare of its people, these woods so very familiar to all of us. Sincerely do I hope, therefore, that as you have the opportunity, those who have the development of this park will realize that it is a public trust forever to be administered for the benefit of all the people of Weatherly and their friends."
On March 3, 1914, Blakslee's Grove was named Eurana Park. Council enacted an ordinance with seven sections for creating a park and administration of a park on April 9, 1914. The following men were elected to a new Eurana Park Commission: Samuel W. Gangwer, president; William H. Weigand, secretary; Charles A. Jasper, caretaker and Frank White, Elmer Warner, N. R. Williams as board members. The Schwabs sent a check for $7,000 to Rollin A. Blakslee in payment for the grove. The community approved a $5,000 bond issue to improve the park on November 7,1916, and a park pavilion 40' x 56' was erected in March, 1917, at a cost of $2,900 and after many delays it was opened on May 30, 1918.
The community solicited funds for improving the park dam in September, 1920. A contract was awarded on May 14,1922 to David S. Kistler on his low bid of $5,082 to construct a new breast. Funds collected amounted to $4,487.87. The breast was completed in September, 1922. The dam was cleaned of large deposits of mud by William H. Hoffman for $2,240. Weatherly high school basketball games were played in the pavilion from November, 1923, to January, 1937. A bath house was built in the basement of the pavilion for $256 in May, 1924.
The Weatherly Playground Association gave the baseball and playground on the north side of Third Street, to the Eurana Park Commission on July 23,1924. Modern equipment was purchased and placed in the park grove and 30 park benches were added in 1928. A large boulder, taken from the surface of Third Street, was placed on a 7 1/2 foot base at the main entrance of the park on October 3,1929. A. H. Horlacher placed a copper plate on the stone with the name of the donor, Mrs. Eurana Schwab and the date she donated the park land to the community.
A large shelter shed was erected at the park playground in September, 1930, and a scout cabin was built in the pines in January, 1932. A group of inter­ested men built a rustic stone bridge across the canal to connect the island with the park grove in August, 1932. A raft was placed in the dam that same year. Excava­tion under the pavilion was made for a heating system in February, 1933, as well as a new bath house, which opened to the public on July 22-23,1933. Plans were made to construct a band shell, 44' x 27', with a stage, 20' x 30', with storage space surrounding the stage, in February, 1934. One hundred park benches were placed in the park and pool area during the spring of 1934. The fish commission arrived at the park and bailed out thousands of sunfish from the dam prior to it being drained for cleaning in May, 1934. The fish were taken to Ice Lake in White Haven. A new stainless steel sliding board was placed in the park dam for the summer season of 1935 and a three-story diving tower was erected in July, 1936. The tower was built at the Weatherly Steel Co. and was 25' high with three diving platforms, the highest 10' and the lowest 30" above the water. WPA grants of $600 and $3,700, were awarded to the park commission for improvements needed around the pool area in 1936. Another WPA grant was received for the construction of ovens in the park in August, 1938. A new shelter shed was built in October, 1938.
Jess Romig, caretaker, resigned on July 31, 1944, after many years of service. The commission was abolished in September, 1947. The park would be administered by a committee of borough council. Edward Sykes was elected the chairman and Cleo Youngcourt, park manager. The park continued to grow in popu­larity and crowds patronized the pool, picnic grove, pavilion, ball field and play­ground. The refreshment stand was the busiest place in town during summer months.
Things began to change slowly during the late 1950's and early 60's with the competition of new swimming and picnic areas in state parks and the people becoming a mobile society. Vandalism became a constant threat to Eurana Park from 1972-76, and loud voices were being heard to close the park for good. The community weathered the vandalism and a park commission was again organized on January 3,1984 for the purpose of refurbishing, repairing and getting the com­munity and area towns to once again use the facilities of the park. Eurana Park is open for picnics, swimming, baseball and playground, but the crowds of yesteryear are gone. Come and visit beautiful Eurana Park.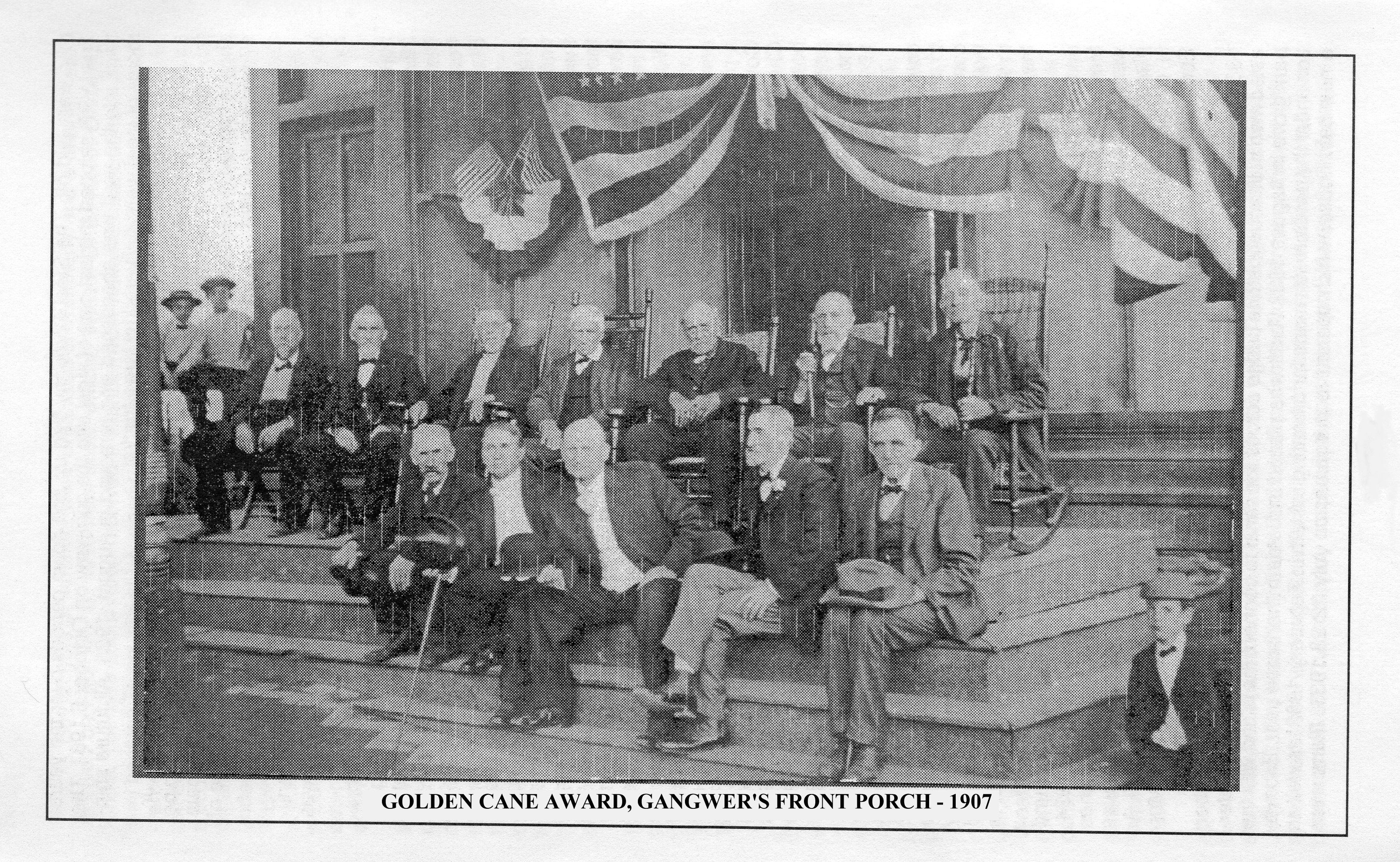 1914
First Garage—A. J. Romig built a garage near the county bridge on lots purchased from Elmer Warner. It was 40' x 32' and built for storing and repairing cars. There were now 44 cars in Weatherly. W. R. Rittenhouse purchased the ga­rage and named it Weatherly Garage on July 26,1915. Edwin F. Warner and Samuel Croll bought the garage at a sheriff sale in Mauch Chunk for $1,700 on January 15,1916. Lewis Hamm purchased the garage from them on February 1,1916. An addition was added to the business in January, 1917. Hamm took over the Buick Agency in this area of Carbon County and Gilbert Hamm was sent to Buick School in Detroit, Michigan on February 24, to learn motor mechanics.
Another extension was added to the south end of the garage in Novem­ber, 1924. In March, 1937, Lewis Hamm purchased the vacant property next to the garage from Warner and Waas. Construction began on a new garage in August, 1937 and was completed in October. The old garage was razed in the winter of 1937-38 and the grounds were improved. Hamm retired and his son, Gilbert took over the operation of the business. On April 1, 1953, Marshall Winters and Paul VanDyke took over operation of the Weatherly Garage. In October, 1988, the ga­rage will be 74 years old and is the oldest garage in the Weatherly area still in continuous use, being operated by Winters and his son, Wayne Winters.
1915
Weatherly Broad Silk Co. began operations in the former Onoko Silk Co. building by owners, Roscoe Silk Co., and J. A. Malone was elected president and Charles McGowan as secretary-treasurer in August, 1915. Gus A. Ludwig of Patterson, N.J., an experienced loom fixer, was added as a new partner with McGowan and Malone in January, 1916. The firm began with 36 box and 30 plain looms for making grey, crepes, taffetas and washable satins. Malone and Ludwig withdrew from the partnership in April, 1916, and were replaced by two local men. Granville Saeger was foreman of the twisting department and Lulu Kistler was in charge of the pickers. Onoko Silk Co. sold the building in July, 1916, to John H. Meyers and Co., a large silk concern with offices in New York.
Lewis C. Nuss purchased a vulcanizing plant operated by Edwin Miller in December, 1915, and in January, 1916, bought a plot of ground adjoining F. A. Kunkle's lumber yard along side of the borough building on Hudsondale Street. Needing more ground for a modern garage, Nuss purchased the lumber yard and erected a first class garage in June, 1916. It opened in August, 1916. An addition, 50' x 100' was added for a modern storage and auto repair facilities in May, 1923. Harold A. Koch and Herbert S. Warner leased the L. C. Nuss garage on April 11,1927 and changed the name to Central Garage. Nuss continued to run the Nuss Sales & Service and sale of Willy's-Overland cars. The Willard Battery Service, owned by C. A. Derr, was taken over by the Central Garage in March, 1933. The garage was purchased from Nuss by Koch & Warner on April 14,1932. They took over the Ply­mouth car agency on May 15, 1932. In July, 1938, the garage was renovated and was set back 10 feet in line with the borough building. A large entrance door was installed with an automatic door lift. The partnership of Koch and Warner was dis­solved on August 15, 1940, and Warner continued to operate the facility. Warner's son, Harry, began helping his father in 1947, and in January, 1968, took over the business.
The business was incorporated as Warner's Central Garage as of Janu­ary, 1987. The former borough building was sold to the Central Garage on Febru­ary 9, 1987. The business is operated at 8 Hudsondale Street by Mr. and Mrs. Harry Warner and their son, Todd.
Herman Wertman purchased a vacant lot on Wilbur Street, in December of 1915, across from the LVRR station and next to the Smith home. A large two story building was built in October, 1916 from lumber from Helker's Hall which was being torn down on Carbon St.
The new building was opened as a cigar store and pool room. In June, 1919 a 25' addition was added to make more room for pool tables, shoe shine stand and larger cigar store. Colonial Club used portions of the second and third floors for meeting places.
In December, 1922, Harry Wertman bought out his brother Herman's in­terest in the Wertman Bros. store, which he continued to operate. Walter Derrick purchased the business from Harry for $ 15,000 on February 13,1929. Five min­utes after the sale he opened the store for business. On November 6,1933, Henry "Flup" Hartz took over Walter Derrick's business. Twelve years later Hartz sold the business to the Allison Brothers, Earl and Harry.
The building was later used as the Tri-Shop, Nail Keg (1968-1970). John Raynock and Ronald Eroh purchased the building at 17 Wilbur St. from the Hazleton National Bank in May, 1970 for their ,E & R Plumbing and Heating business. They moved from 122 First St. to their present location.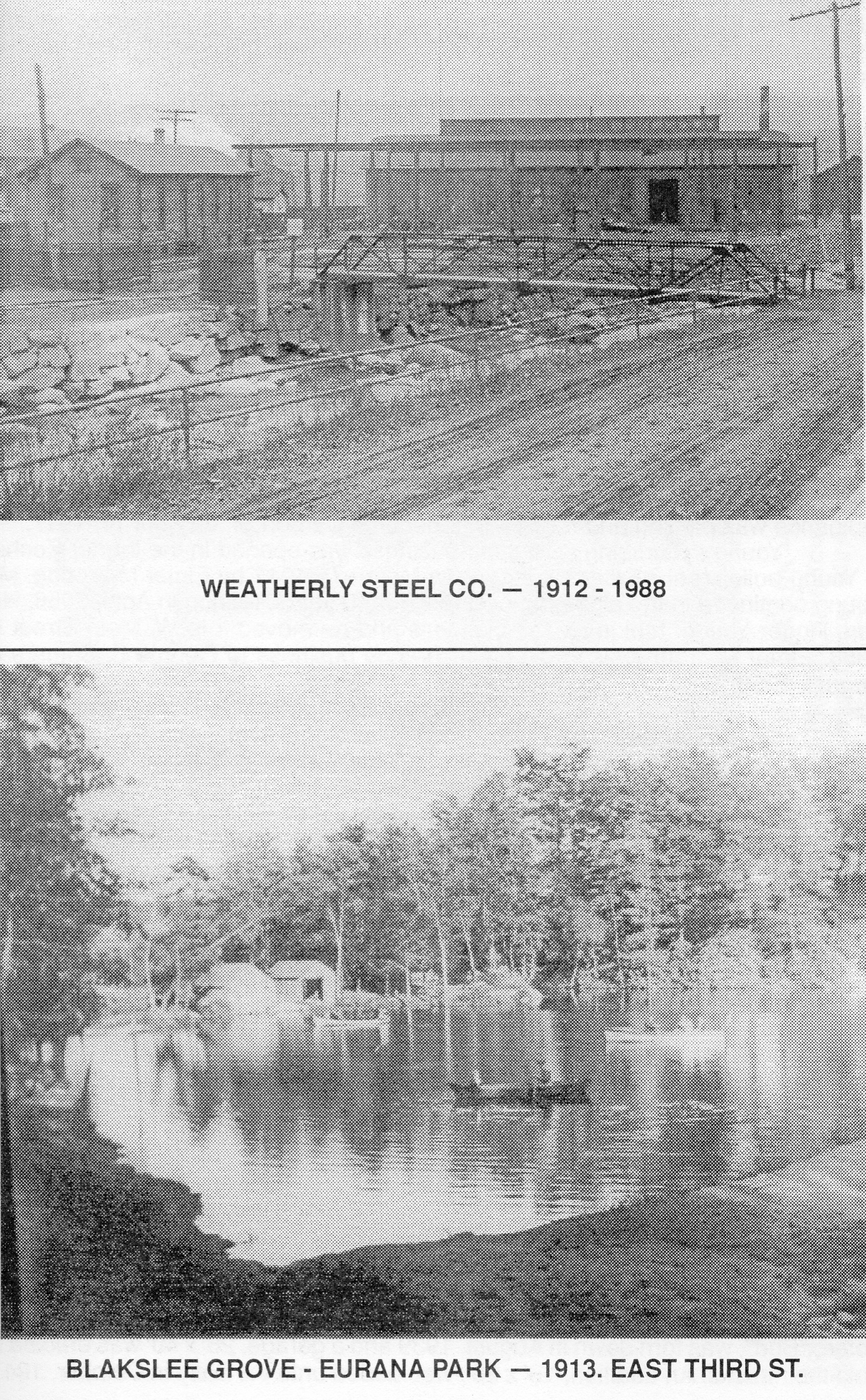 1916
John H. Meyers Silk Co. took over the Weatherly Broad Silk Co. operated by Charles McGowan on July 25,1916. The new owners continued the silk busi­ness but on a larger scale. William J. Brown was placed in charge of the plant when Charles McGowan left the firm in September, 1916. McGowan opened up a new silk company in Beaver Meadows and Weatherly.
On October 31, 1916, the Onoko stockholders sold the building and prop­erty to J.H. Meyers Silk Co. of New York City for $ 18,000. Meyers purchased the three lots between their mill and L.C. Nuss's garage for $3,000 in August, 1918 from the Anthracite Building and Loan. Irving Young was made manager in Febru­ary, 1919.
Ground was broken for a two story brick building, 40' x 150' on July 15, 1919 and completed on July 6, 1920. Within a few months, the silk business took a sharp downward trend and the mill was closed in November. It re-opened in 1921 when the silk business picked up.
Neuss, Hesslein & Co. of New York City announced that on November 1, 1922, they had acquired the J.H. Meyers Silk Co. The new company was organized with a capital stock of $2 million and business would continue under the name of J.H. Meyers Silk Corporation. Within two years on October 24,1924, the plant and equipment was sold to another silk manufacturing firm, the Joseph Berlinger Silk Co.
Girl Scouts: A girl scout troop was officially commissioned on October 20, 1916 with a membership of 28 girls under the leadership of Mrs. Florence L. Miller. The troop was registered as the "Goldenrod Troop #1 of Weatherly, PA". It was the 395th troop to be officially commissioned in the U.S.
In 1930 a drum and bugle corp. was organized under the tutelage of Walter Erdman. The girl scouts won many prizes and contests in competitive meets over the years.
Today the girl scout program has come a long way since the first troop back in 1916. There are a number of programs in scouting for all ages of girls: Daisy Troop #240, Brownie Troops #251 and #287 and Junior Girl Scout Troop #271. Cadet Scout and Senior Scout programs are on hold because of lack of leaders.
1917
Ordinance for changing Railroad St. to Carbon St. was submitted to bor­ough council by Russell Carling on February 17, 1917. Carbon St. was located from E. Main St. to Second St. and Railroad was from Second St. to Fifth St. The ordinance was passed and Railroad St. became Carbon St. on April 10, 1917.
Young's Plumbing & Heating business was opened in the former Kocher & Young building at 47 Carbon Street on March 15,1917 by Elmer M. Young. Mr. Young continued in the plumbing business for 40 years, retiring in April, 1956. His son, Roger Young, took over the business and he moved it to W. Main Street in 1958. Elmer M. Young also sold his insurance business to George L. Somers in August, 1956.
1918
On September 10, 1918, the first airplane ever seen to fly over the Weatherly area was a mail plane bound for New York from Chicago.
U.S. Federal Government purchased land near Hazleton and erected a large engine facility. It was built for the Lehigh Valley Railroad Co. and the new terminal was named Ashmore, dedicated on July 26, 1920. All engine crews were transferred to Ashmore dealing Weatherly another blow to their economy. On Au­gust 15,1921, August Hoegg, of town, was named general foreman of Ashmore. On September 21, 1951, LVRR became fully dieselized, closing Ashmore.
1919
First Dairy—Howard J. Hoegg bought up the rights of nearly all local milk dealers in July, 1919, and supplied all local citizens with milk directly from a central station located in a basement at 109 Packer Street. Norman Koch and Emory Miller bought out Howard Hoegg on September 16, 1920 and located in the basement of the Gilbert House. On May 2,1921, Charles C. Henry bought the dairy from Koch & Miller and moved the business near the firehouse on Hudsondale Street. In July, 1923, the business was purchased by John Erdman from George Eroh and Walter Erdman joined his brother in September. In June, 1925, the Erdman Bros. pur­chased a vacant lot at 114 Carbon Street and erected a modern cement block building which was completed in September. All milk had been pasteurized at Ira Kunkle's dairy in Beaver Meadow before Mr. Erdman moved his dairy into the new quarters. Walter Erdman left the partnership of Erdman's Dairy on February 20,1934. John J. & Howard 0. Erdman continued the dairy under the trade name of Erdman Bros. A large barn at the rear of the dairy that had housed his milk wagons and horse, "Bud", was torn down in August. 1939 and a garage, 26' x 40' was erected to hold their trucks. An addition, 16' x 20', was added onto the dairy in October, 1947.
John retired from the business on July 1,1962 and the dairy was taken over by his son, Henry and operated as Erdman's Dairy. John (Jack) Erdman, son of Henry, ran the business until it was closed in January, 1969. The Erdman dairy building remains empty today.
The American Legion Post #360 was organized at a meeting in Eurana Park on September 26,1919. Officers were elected at the second meeting held in the Borough building on September 29th: Dr. Ira E. Freyman, Post Commander; C. Howard White, Secretary and Howard Frable, Treasurer. The new Post was named Francis Dietrich in honor of the first Weatherly boy killed in World War I. The Post re-organized in January, 1921 with 65 members. They leased two rooms on the second floor of the Horlacher building. A Legion Auxiliary was formed on October 10, 1922 and a Drum & Bugle Corps on September 16, 1929. R. F. Ulshafer was elected Drum Major. In August, 1936, the Legion moved into new quarters on the 2nd and 3rd floors of the Miller store building on Carbon Street. In February, 1943, the Legion Post and Auxiliary jointly sponsored the erection of an honor roll which contained the names of Weatherly area servicemen who served in the Armed Forces during World War II. The American Legion Post changed their name to Dietrich - Luhman Post #360 in honor of the first boys killed in World War I & II. The Legion Post began looking for a permanent home for its members. In March, 1972, they purchased the empty McCarthy home on Franklin St. for $25,000. However, they never moved into the home even though repairs had been made to the building. The McCarthy home was sold to Mr. & Mrs. Arnold B. Rinker and in November, 1981, they leased the Crystal Inn from Walter & June Slovac. The Legion moved into Crystal Inn in December, 1981 and purchased the building in November, 1982 for their permanent home.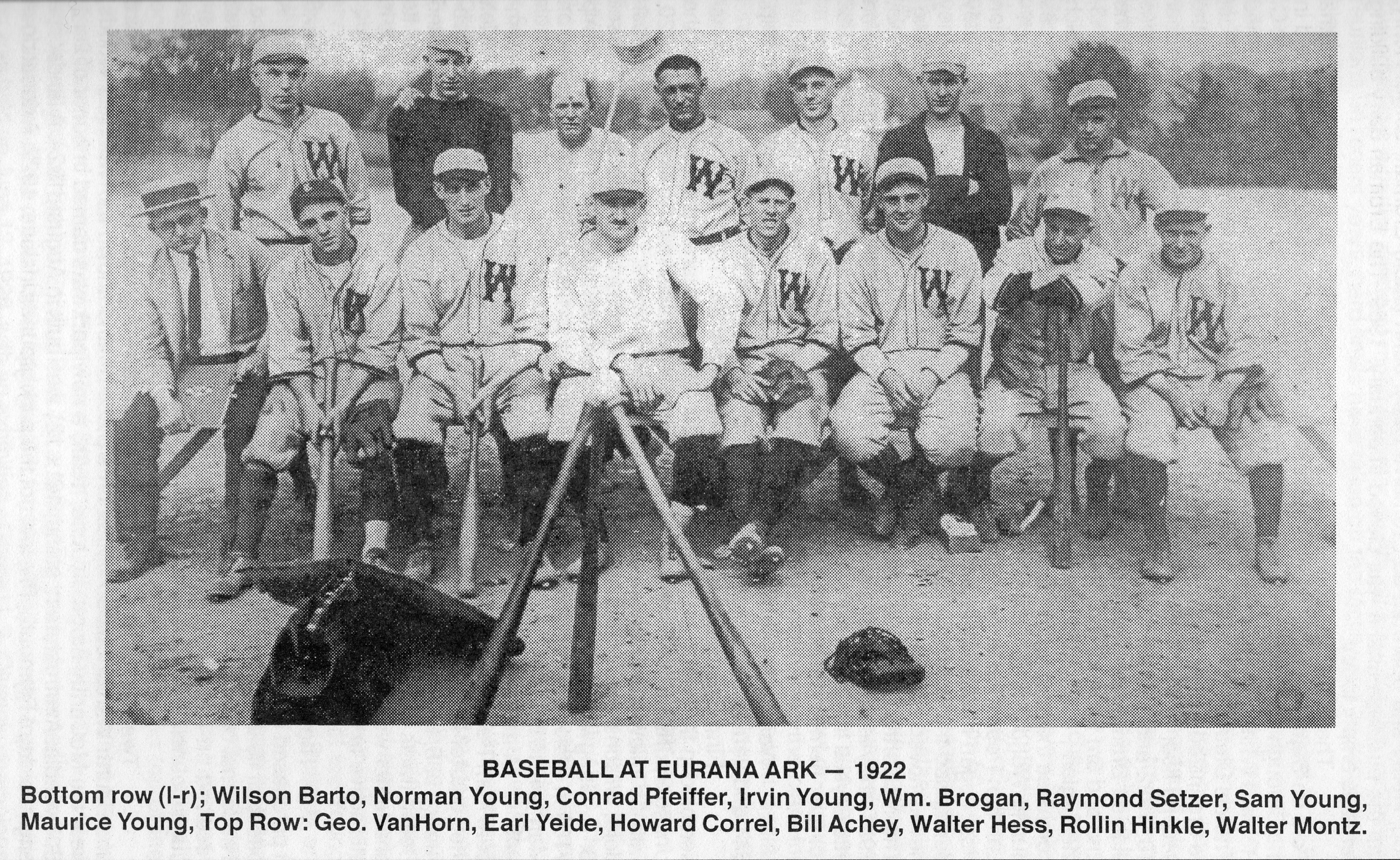 1920
Weatherly census figures for 1920: Weatherly, 2,356; Packer Township, 544 and Lehigh Township, 450.
First Sports Organization: On September 24, 1920, local sportsmen as­sembled in the Wertman building on Wilbur St. and organized a local camp of the United Sportsmen of Penna #160. The first meeting was held on October 18,1920, with the following officers elected: Wm. McClain, president; Thomas Kidd, vice presi­dent; Wilson Barto, financial secretary; Sam Young, recording secretary and Russell B. R. Gangwer, treasurer. The name of the club was changed to Harding Camp #160 in honor of President Warren G. Harding, who had joined the sports club on March 4, 1921.
A new sportsmen club was organized on September 6, 1923, with mem­bers from Packer, Lausanne and Lehigh Townships and Weatherly. Club #160 left their charter lapse and joined the new club, called Tri-Valley Outdoor Club. In Feb­ruary, 1935, the club purchased 20 acres of land from the Materchick, Drumbor and Dellen tracts in southeastern Weatherly. In September, 1947, Tri-Valley opened its charter for women to join. Membership in 1947 stood at 300 members. The club is still active in the Weatherly area in 1988.
1922
The Weatherly Playground Association was formed on June 28,1922 and it purchased a plot of ground from the Blakslee Estate, across from Eurana Park. A baseball field was constructed and a grandstand erected for a public playground. The formal opening was held on August 5,1922 and the deed for the ground was received on December 19,1922. The Association turned over to Weatherly Bor­ough Council the property for use in conjunction with Eurana Park in July, 1924.
1924
Tweedle Park & Playground Association—A group of people from the Third and Fourth Wards took an option on a piece of land known as Tweedle's Woods, near the McCarthy home. In June, 1924, a new park was named in honor of Dr. J. B. Tweedle. A refreshment stand, 12' x 12', was built in August, 1924. A landscape engineer from Plymouth, PA, laid out the park grounds in June, 1927. A donation of 25 cents was asked in June, 1929, from every family in the two wards toward new park equipment. A dance floor, 24' x 24', was built in July, 1929. Over the years, Tweedle Park was the scene of many summer month picnics, outings and family reunions. In recent years, hard times have fallen on the facility and its future looks bleak.
Rollin F. Ulshafer, Ford agent, opened a garage in the alley next to E. F. Warner, on First Street, in July, 1924. It was named the Keystone Garage and was operated by A. A. Sendel. In October, 1925, a garage, 100' x 28', was constructed at 170 Plane Street, to house Ulshafer's auto business. He closed his showroom in the basement of the Gilbert House on Wilbur Street and moved into his new quarters in February, 1927. Harold Koch later took over the establishment and later sold it to Allen Hoffman in August, 1966. Hoffman sold the business to William Watson, who closed it during the gas shortages in January, 1974. The building is used today for storage but the gas pumps are gone.
Berlinger Silk Mill—Another silk company out of New York City, Joseph Berlinger Silk Co., purchased the entire plant and business of J. H. Meyers Silk Co, on October 1,1924. The new company already had plants in Virginia, Patterson, N. J., Northampton and Towanda and had sales rooms on 4th Avenue, NYC. Berlinger expanded the capacity of the local plant and had three shifts working on 50 looms.
The textile industry in September, 1934, was having labor problems across the country. A large group of strikers from other silk mills came into Weatherly and tried to close down the Read & Lovatt and Berlinger mills. The textile industry finally settled their labor dispute and were back to work but Berlinger employees walked out on October 15,1936, over wages and work assignments. The plant was closed for a while but resumed operation of all its 128 looms in June, 1937. But on August 10,1937, the employees again went on strike and Berlinger closed the plant for good, despite a desperate effort by borough council, the board of trade and media­tors. Berlinger sold the mill to Linotype Parts Co. of New York City on November 18, 1941.
1925
Elmer M. Young's Studebaker Garage was built in June, 1925, on a va­cant lot on the corner of East Main and Carbon Streets. The lot formerly held the old Tweedle home which had burned down in August, 1892. The new garage. 50' x 150' was two-story, brick building and opened for business on March 23,1926. The first floor, facing Carbon Street, was a large 24' x 34' show room, battery shop, storage and offices. The second floor entrance was on East Main Street with a 20' x 50' room for repairing cars and a storage space for 15 vehicles. Young was the authorized Studebaker can agency for the Weatherly area. He sold his first can to Clifford Petrey, a large six passenger sedan. The garage continued at the same location for the next 13 years. In November, 1939, the show room on Carbon Street was leased to E. W. Powell's 5 & 10 cent store. The garage on East Main Street was closed in 1941. The Drake Non-Clinkering Furnace Block Co. of New York, opened their engineering and drafting department in the garage section in Febru­ary, 1942. The U. S. Post Office renovated the southeastern comer of the Young Building on Carbon Street and moved the post office from the Nuss Building on Wilbur Street to the new quarters in April, 1945.
The 5 & 10 cent store and the Non-Clinkering Furnace Block Co., both vacated the building in late summer, 1950. Henry H. Hartz opened a luncheonette in Octo­ber, 1950, remaining in business until September, 1964. The Post Office then reno­vated the empty portion of the building in October-November, 1964 and it is still located at 5 Carbon Street. The Studebaker emblem is still found on top of the building.
Crystal Pool—Andrew Marusak of Beaver Meadows purchased the old sawmill dam and meadow on East Third Street from George Roth. He excavated the plot of ground behind Eurana Park for a swimming pool. He named it Crystal Pool because of the crystal, clear spring water found on the property. A grand open­ing was held on June 12, 1926, with an exhibition of three U. S. Olympic champions from the summer Olympic Games which were held in Paris, France, in 1924.
Crystal Pool held 600,000 gallons with another 13,000 gallons going into the pool daily. A two-story building, 30' x 75', was erected near the pool in July, 1926. The first floor was used for storage and the second floor as a locker room for 600 bathers. Another locker room was located along the north edge of the pool with room for 1000 bathers.
Marusak bought more land from Samuel W. Gangwer, Sr., which con­tained another big spring which fed the pool and Eurana Park lake. Crystal Pool was enlarged, 130' x 120', with boardwalks and benches placed around the pool. A large reclamation dam was dug near the spring to store extra water. The water in the pool was so cold that Marusak had a heating system installed during the spring of 1928 and Crystal Pool became the only heated pool in this part of the state.
In November, 1931, the storage dam was enlarged to 135' x 85'. A baby pool, 12' x 12', was added the east side of the pool and was opened for the summer season in June, 1932. A popular slogan around the region in the summer of 1932, was "Swim in Drinking Water" at Crystal Pool. A dining and dancing facility was installed on the second floor and the locker rooms were moved to the first floor in June, 1933.
Large crowds continued to patronize the pool so in October, 1940, exca­vation was begun on a larger Crystal Inn building, 60' x 50' and also a new locker room. The new Inn was opened February 21-22,1941. The old inn and locker room was razed in 1946 and a new cement block building, 25' x 40' was built on the site. The girl's lockers were located in the basement of the new inn and the boys lockers were in the newly completed building.
Crystal Pool remained a popular place and upon the death of Marusak on September 13, 1960, his daughter, Theresa Meiers, continued operating the pool through the 1961-63 summers. Bad weather and poor attendance, along with com­petition from new state parks and private swimming pools, hurt both of Weatherly popular swimming areas. In 1964-67, Joseph Rashko made a valiant effort to keep the pool open but after the 1968 season Meiers closed the swimming pool for good.
Weatherly Borough purchased the spring, dam, land and Crystal Pool on February 16, 1971. Crystal Inn was not included in the sale. The pool area slowly deteriorated over the years and finally in May, 1978, it was filled in and leveled. Today only the cement locker room remains of Crystal Pool.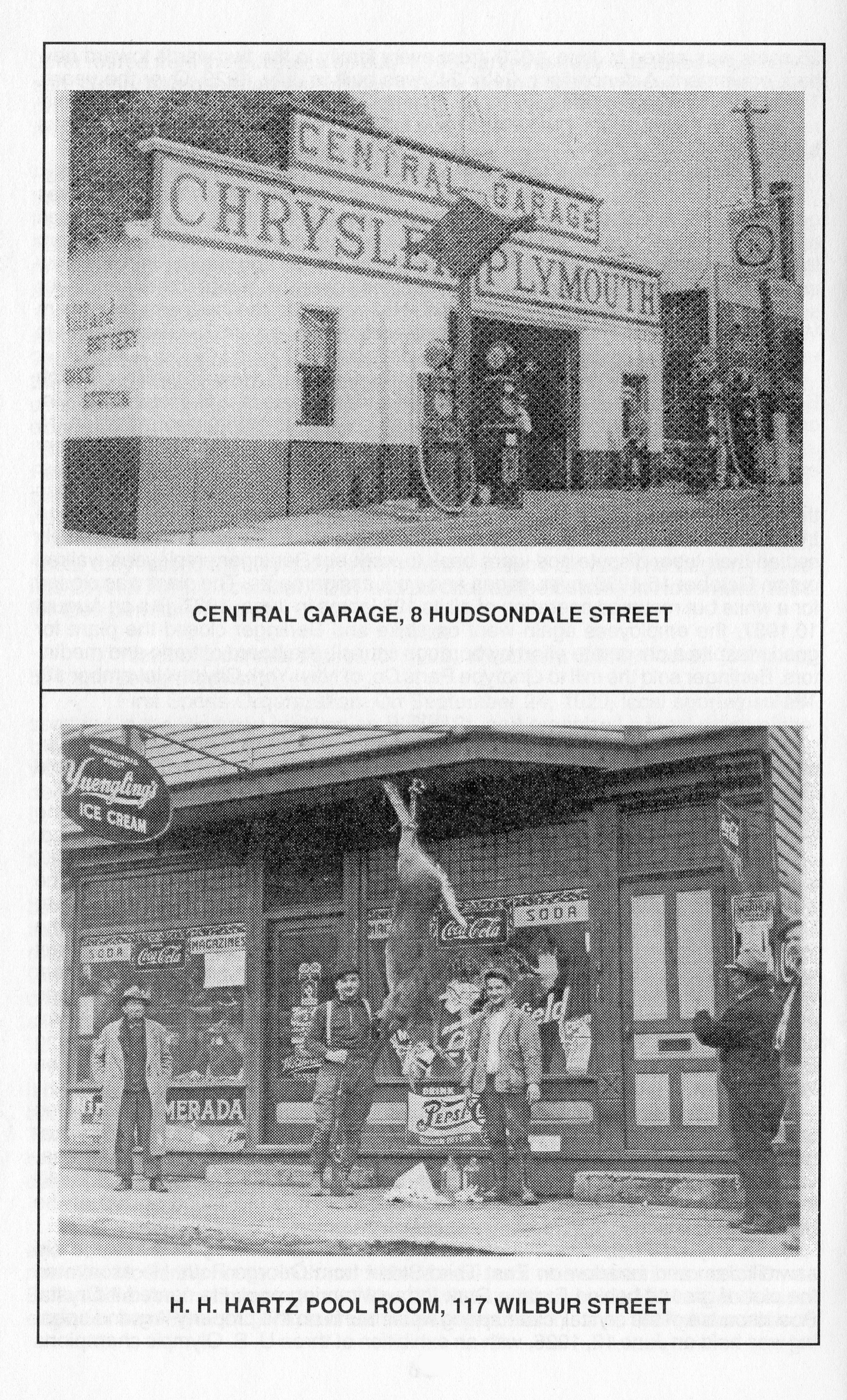 1927
Edwin H. Mengle Oil Company—Edwin H. Mengle, of White Haven, opened a coal hauling business in the community in 1927. In October, 1946, a large oil storage tank was placed in his storage yard for handling fuel oil. Excavation was made on Hudsondale Street for a new garage, 45' x 50' to house his trucks and equipment near his home. Mengle retired from the business on May 31,1963, and his son, John W. Mengle, succeeded him in the business which is still being oper­ated by Mr. and Mrs. John W. Mengle and their three sons at 247 Hudsondale Street.
1928
A street traffic light was installed overhead at the intersection of Carbon and First Streets on June 20,1928. It was taken down on September 1,1947, when a state law was passed that no overhead traffic lights were allowed. Traffic signs were then erected at that corner.
A & P Store—Atlantic & Pacific Tea Store opened in the G. I. Sammons Building on 106 Carbon Street, in August, 1928. Sammons renovated the building which had housed the old Keystone Theatre for the new A & P Store on the first floor. An office was made on the second floor for Dr. Raymond S. Waltman, dentist. Apartments were made in the rest of the building. William I. Hartley was named manager of the store in 1932. The store closed March 31, 1973.
John Shotran opened J & E Grocery Store in the building July 9,1973, and closed on May 23,1981, when he moved his business into a new building at 20 West Main Street on May 24, 1981. The old building remained empty and was finally dismantled in February, 1987.
The Lehigh Valley RR inaugurated new gas-electric trains from Weatherly to Ashmore and Hazleton on July 23,1928. They replaced three steam engines which had cost 80 cents per mile while gas-electric cost was 50 cents.
1930
Census figures for 1930 were: Weatherly, 2,531; Packer Township, 511; Lehigh Township, 515.
The Lehigh Valley RR closed the tower at Hazle Creek Jct. on May.16, 1930. The tower was located at the top of the Weatherly Hill and junction of Hazleton, Beaver Meadow and Hayes Creek branch &. Robert Rothrock, Sr., was transferred to Hazleton Jct.; C. Brogan to Locust Jct. and William Cunningham to the Weatherly station.
1931
The Lehigh Valley Railroad closed its tower at Black Creek Jct. on De­cember 31,1931. The tower was located at the junction of Hazleton & Quakake branches one mile below Weatherly. George Ulshafer, telegrapher, worked the tower for 31 years.
1935
Weatherly Borough gave approval to build a flight of steps from Hudsondale Street to Kline Street in the Fourth Ward on November 10,1935. Two hundred loads of stone were hauled from Spring Mountain by WPA workers under foreman, Frank Tarleton, in November and concrete was poured on May 26,1936. All 105 steps were completed on July 28, 1936. Elmer M. Young installed iron railing in Septem­ber, 1936. Cost of the steps was $2,326. Over the next 40 years, the steps were used heavily and deteriorated rapidly in the late 1970's. Borough Council had the old steps torn out in July-August, 1979, and awarded a contract to Fred Key, Hazleton contractor, to build a new flight of steps in October, 1979. The job was completed on October 29, 1979, railings were installed in December and the entire project was completed on December 15, 1979. Cost was $18,300.
1936
Weatherly High School—Ground was broken for a new annex to the Schwab School on Spring Street on April 14,1936, and completed on October 15, 1936. The new brick building had seven class rooms, art and music rooms, shop, 30' x 56', and a combination auditorium-gymnasium, 83' x 58', with playing court, 40' x 70'. It held 350 people. The gym was ready on January 8,1937, and the first game played was against Fairview Township. Weatherly lost, 25-16. The new an­nex was dedicated on May 14, 1937. The total cost was $76,559, of which the U.S. government paid $33,673. The last high school game was played in the gym on February 21, 1975, against Marian Catholic. Weatherly lost, 75-60. The annex is still used as high school class rooms and gym is used for intramurals and little league basketball.
Liquor Store #1306 was opened in Weatherly on June 17,1936, in the Asa Clewell Building at 37 West Main Street. Clayton Kresge was named manager. Later Fred Huhn managed the store for many years. The PA Liquor Control Board closed the store here in 1976, due to poor sales.
Lamont's Pharmacy—Leroy Lamont, of Hazleton, took over Thrifty Cut Rate Store in the Latham Building at 103 Carbon Street on August 1, 1936. The name was changed to Lamont's Pharmacy. Mr. and Mrs. Lamont conducted the business until they closed on August 1, 1971. Michael Pasquariello re-opened the pharmacy in August, 1971, under his name. Because of high rent of the building Pasquariello asked for a variance to open a pharmacy on his property in Decem­ber, 1974. The request was denied and Pasquariello closed the Carbon Street phar­macy in 1975. Weatherly had no pharmacy until the Weatherly Area Community Pharmacy opened at the Weatherly Plaza at 208 Carbon Street on May 18,1984.
The old pharmacy building remained empty until it was renovated in 1985. The Richard Garber Insurance Agency is located there since August, 1985.
1937
The first garbage collection in Weatherly was on January 10,1937, when a contract was awarded to Cleo Youngcourt for $1,397 per year.
The Weatherly Flower Club was organized in April, 1937, and Mrs. Wilbur Nyer was elected its first president. The Club celebrated its 50th Anniversary in April of 1987, and three women, Lois Williams, Catherine Newhart and Vema Gerhard, were honored for being the longest club members.
The Weatherly Rotary Club was formed when a group of business and professional men met in Salem Reformed Church on October 26, 1937. The Nesquehoning Rotary Club sponsored the local club and a charter was granted on December 7, 1937. Ray V. Laudenslager was elected the first president; James Bradbury, vice president; Warren Kistler, secretary and Gerald Jackson, treasurer. The motto of the club is: "Service above self —He profits most who serves best." The local Rotary Club celebrated its 50th Anniversary on December 1, 1987, at Salem Church.
1940
Weatherly census figures for 1940 were 2,754, showing that the commu­nity had continued to grow at a slow pace over the previous ten years.
1941
Linotype Parts Co. of New York City, a firm specializing in manufacturing of parts of linotype machines used in the printing and publishing business, pur­chased the former Berlinger Silk Mill on November 18,1941. Machinery arrived from New York and production began on December 2. The company moved its offices here from New York on April 18, 1942. Many women stepped in to fill vacan­cies at the plant when the men went off to war in 1942-43. Effective February 1, 1956, Linotype Parts Co. changed its name to Star Parts, Inc. Frank Rominger was plant manager and 130 people were employed. A new Butler Industrial Park in Hazleton lured the Star Parts Co. to move into one of its new buildings. On July 3, 1967, Star Parts, Inc., moved out of Weatherly and began production in Hazleton on July 18, 1967.
1943
A Weatherly Honor Roll was jointly sponsored by the American Legion Post #360 and Legion Auxiliary on February 11,1943. Erection of the Honor Roll contained the names of the men and women from the Weatherly area who served in the U. S. Armed Forces. Linotype Parts Co. offered the space on its property on Hudsondale and West Main Streets to place the honor roll. Oliver Kunkel, local contractor, erected a new board trimmed in gold on April 22, 1943 and it was dedi­cated with almost 400 names on September 5, 1943. Wade Gregory, commander of the Legion Post, presented the honor roll to the community and Burgess Emory Hensel, accepted it for the Weatherly area citizens. Cost of the Honor Roll was $448.70. The honor roll was de-commissioned on November 9, 1947, By the Veter­ans Committee of Weatherly. It had a total of 544 names when de-commissioned.
1944
Tung-Sol Electric Co. opened business in the former Read & Lovatt Silk Mill on Plane Street in October, 1944, after the U. S. Government Signal Corp. had conducted a long and thorough search and chose the Weatherly plant because it was in an area which contained no competing war activity and a sufficient labor supply. The building was renovated by the government and leased to Tung-Sol for the duration of the war with an option to buy. Tung-Sol moved machinery here from Its Brooklyn and Newark plants which were idle because of a shortage of labor.
In 1950 over 1300 people were employed in the local plant and on Janu­ary 23,1953, the one millionth tube was turned out on the assembly line. An addi­tion, 80 x 60', was added in July, 1956, and another expansion project of 2500 square feet was added in March, 1960. In 15 years Tung-Sol spent 45 million dollars on the plant. In October, 1962, a new building with 25,000 square feet was added to the main section at a cost of $250,000. A sharp drop in demand for tubes in February, 1965, forced a lay-off of 600 employees. Finally on January 1,1966 the production of tubes was stopped and another loss of 300 jobs occurred, leaving only 125 employees on the payroll.
Tung-Sol Electric, Inc. absorbed the Wagner Electric Corp. of St. Louis in October, 1966, and changed their name to Wagner Electric Corporation. In 1980, Wagner Electric planned to close the local plant due to depressed sales of automo­biles in the U. S. The company merged with McGraw-Edison Co. in 1981 and be­came a division of the parent company. Contract talks saved the Weatherly plant from being closed in 1988. It is currently a division of Copper Industry of Houston, Texas, manufacturing for electrical, electronic, commercial and industrial markets.
1945
Following the surrender of Germany on May 8, 1945, and Japan on Sep­tember 2, 1945, hundreds of Weatherly area servicemen and women returned home from the war. Many had been wounded and others had been prisoners of war but 19 paid the supreme sacrifice, giving up their lives in defense of the country. They were S/Sgt. John A. Luhman, April, 1942; Pfc. Charles W. Eroh, March, 1943; S/ Sgt. Charles F. Hinkle, July, 1943; Sgt. Curtis E. Helmes, December, 1943; Pfc. Nicholas E. Alexander, January, 1944; Pfc. Carmen P. Drolles, June, 1944; Pfc. George A. Heiney, Jr., June, 1944; 2nd Lt. William A. Miller, June, 1944; Lt. Fred J. Druckenmiller, June, 1944; Cpl. Russell E. Stone, September, 1944; Pfc. William H. Weigand, February, 1945; Cpl. Carroll V. Bittner, March, 1945; S/1st Class, Philip E. Eroh, March, 1945; Pfc. John G. Younker, Jr., April, 1945; Sgt. Michael Banicky, April, 1945; Pfc. Charles R. Meiser, Jr., April, 1945; Sgt. Michael Chernansky, May, 1945; S/1st Class, Emerson D. Luhman, July, 1945; Lt. Roy S. Warner, August, 1945.
The Lehigh & Lausanne Rural Volunteer Fire Co. was organized on Octo­ber 16, 1945, in R. D. #2, Weatherly. Elmer M. Young was elected its first president. Other officers were Francis Zellner, vice-president; Hilbert Dotter, financial secre­tary; Ira Traver, recording secretary; Edward McGill, treasurer and Howard Swank as Captain of Police. A total of 185 new members signed up. In August, 1947, a site was chosen for the new fire house. Contractor Edgar Young of Weatherly, erected a cement block building along the Weatherly - White Haven road. The mortgage was burned in a special ceremony on October 16,1957. The fire company cel­ebrated its 40th Anniversary on October 19, 1985.
1946
Weatherly's Only Airport-The State Aeronautics Commission granted approval on June 20,1946, to an application of Irvin W. Schugard, of Hazleton, for an airport. The site chosen was along the cement highway running through Quakake Valley, just south of the White Church in Packer Township. A foundation for an airport hangar was laid on August 22,1946, and the facility opened for business on October 31. A. J. Giller, of Hazleton Aircraft Sales, was manager. A new north south runway, 2000 feet long, was completed in October, 1947. The airport was named Green Acres Airport. Marshall Winters and Irvin Freed became full-fledged airmen on October 9, 1947, and were granted pilot licenses at the airport. A severe electric storm passed over Quakake Valley on June 17,1960, and lightning struck the airport hangar and completely destroyed the building. The airport was never rebuilt.
Veterans of Foreign Wars-A new ex-servicemen's organization was formed at Howard Meiser's place on Plane Street, on September 12,1946, with the help of representatives of the Hazleton chapter. Officers elected were: Commander, Russell Hargar; senior vice commander, Donald Hudock; junior vice commander, Edward Miller; quartermaster, Howard Younker, Jr.; officer of the day,Harry Hensel and chaplain, Howard Meiser. The post was named Eroh-Warner VFW Post#8128 and a charter was presented on September 30, 1946 at a public meeting. The post home was located on the second floor of the Allison Building on Wilbur Street in April, 1947. It later was moved to 29 Wilbur Street, the Keener Building, and then eventually purchased the Weatherly Hotel at 145 Carbon Street, in November, 1960, where it is still located.
1948
The Weatherly Community Chest was formed at a meeting of 80 people, representing industrial, business, professional, agricultural, clergy, church, civic, labor groups, fire company, borough officials and school board. The meeting was held in Tung-Sol Electric's cafeteria on June 8,1948. Elected to the committee were: John Williamson, James Bradbury, Earl Young, Fred Warner and Rev. Clarence T. Moyer. The goal was to sponsor one annual drive to cover all welfare and civic activities in the Weatherly area instead of the half dozen or more drives that had been made every year. Its chief aim was to help others and to broaden community spirit and create good will among all the people of the area. The first drive was held on September 15,1948, with a goal of $10,000. The total collected was $8,400. The Community Chest has been a very active organization here over the past 40 years and the campaign launched in October, 1987, also carried a goal of $10,000.
1950
Weatherly's census figures for 1950 stood at 2,607.
The Weatherly Lions Club was chartered in the community on April 15, 1950, at the American Legion Post Home on Carbon Street and the following offic­ers were elected: R. A. Shafer, president; Edward T. Dodson, secretary; Evan Gib­bon, treasurer; Emory Hensel, lion tamer, and Henry H. Thomas, tail twister. The club remains very active and it will celebrate its 37th Charter Night in June, 1988.
1952
Weatherly Area Joint School Board was organized on May 2, 1952, and was composed of the following school districts: Weatherly Borough, Packer, Lehigh and Lausanne Townships.
1953
Kidder Township and East Side Boro of White Haven, were admitted on May 18,1953 to the jointure of the Weatherly Area Joint School Board and became effective on July 6, 1953.
1955
Plans were made on March 21, 1955 to build a new elementary school. Available sites were inspected and on March 4, 1956, the school authority agreed to purchase 20 acres of ground from Lewis Knepper's farm on Sixth Street. The building project was approved on January 24,1958 and the site purchased at $1,200 an acre on February 24,1958. Architects Wolf & Hahn of Allentown, were awarded a contract in the amount of $26,046.13. On May 18, 1959, the joint school board authorized the Weatherly Area Joint School Authority to proceed with construction of the new school.
Ground was broken on April 4,1960, by Frank Romano, president of the Weatherly School Board and George Whipple, president of the Weatherly Area School Authority. The new school was a one-story, brick building containing 15 rooms and included a multi-purpose room, 41' x 60', with a stage, 24' x 17', offices and library facilities. Cost of the school was $475,217. School opened for classes on November 7,1960, for over 300 children from kindergarten to sixth grade. The school was dedicated on November 18, 1960.
1958
The Weatherly Area Joint School Authority was created when the six school districts of the jointure passed enabling resolutions to incorporate a municipal au­thority on October 21, 1958, and was made effective December 2, 1958. Nathaniel L. Kiser was elected its first chairman.
1960
Census figures for Weatherly in 1960 were 2,700.
1961
Weatherly Hill Climb-The local Rotary Club sponsored a hill climb on the Weatherly -Evergreen Valley road over Spring Mountain on October 15,1961. Arthur M. "Bud" Faust won first place in the Sports Car Club of America event before nearly 2,000 spectators. The challenge for years was to break the Impossible One Minute Mile climb, but on October 15, 1972, after 11 years, Craig L. Smith broke it with a time of 59.783 seconds in his Cooper-Chevrolet. The Rotary Club ended its sponsorship of the event on its 25th anniversary on October 12-13, 1985. The Hill Climb is still held and the 27th running was held on October 3-4, 1987.
Gray Ladies—These are volunteer women of the Weatherly area who were trained by the Hazleton Chapter of the American Red Cross and staff of Mrs. John Meier and Mrs. Curtis Schrader of town. They perform help and services to patients at the Carbon County Home. To the patients they are known as the "Sunshine Ladies". Gray Ladies are still performing many volunteer hours of outstanding ser­vice at Weatherwood.
Lehigh Valley Railroad suspended all passenger service on the road on February 4,1961. The local passenger station was closed and only the freight agent was left in the building.
1967
The largest single home development in Weatherly since 1883-85, was the purchase of a 20-acre tract of land by Dr. Stanley Yamulla of Hazleton, from Allen Drumbor in the northeast corner of town. Construction was begun in August, 1972, on a $2.5 million residential development of 100 units consisting of 35 single hog nes and 10 four unit town houses by Gateway Homes of Hazleton. The develop­ment was located on an extension of North Street, along with two new added streets, Norman and Louise.
Jehovah's Witnesses Church—The congregation of Jehovah's Witnesses was given approval to build a church building, 28' x 54', on the corner of 500 First & Blakslee Ave., in October, 1967. The congregation, which had been formed in 1947, under the leadership of Fred Seible, had been holding service in different down­town buildings. Dedication of their church building, Kingdom Hall, under leadership of Robert A. Olsen, presiding minister, and was held on September 28-29,1968
1969
Lehigh Gorge State Park—Plans were made to acquire land along the Lehigh River from Bear Creek to Jim Thorpe for a new state park in February, 1969. It would encompass almost 7,000 acres of scenic Lehigh River gorge into a vast conservation area. The 30-mile river gorge with an area of 800' to 2000' wide and from 400' to 700' high was named by the State Geographic Board as the Lehigh Gorge State Park on July 1,1969. PA Dept. of Forest and Waters designed the one million dollar project and the U. S. Government approved a grant for $248,380, to acquire 6,985 acres along the river in Foster, Dennison and Bear Creek in Luzerne County and Lehigh, Penn Forest, Kidder Townships and Jim Thorpe in Carbon County. A State Park office was opened in Rockport as an access to the park in 1986.
1970
Weatherly census figures for 1970, 2,554.
The Lehigh Valley Railroad closed its freight station here on March 19, 1970, and the building was placed on sale. The station area became overgrown with weeds and the property became an eyesore in the downtown area. Repeated attempts to get the railroad to clean up the area failed and plans were made to tear the station down. The Weatherly Borough Council decided to purchase the station on January 8,1973. The railroad company sold it for $7,486.83 and the deed was received for the property on May 24,1973. On hand at the station to receive the deed from LVRR official, L. M. Noseworthy, was Mrs. Beverly Knepper, borough secretary, Richard Garber, vice president of council and councilmen, Theodore Koehler, Edward Dodson, Rosebud Drolles and Herbert Kelshaw from the plan­ning commission.
The station was renovated inside and out, yet keeping most of its original style and structure the same. Total cost of renovation was $64,509.18. Weatherly officially opened the new municipal building on December 7, 1976, and the first council meeting was held on December 13. The borough building houses a council meeting room in the north end; a conference room in south end and borough offices and police station in the center. It was officially dedicated on February 27, 1977.
Carbon County Home ground breaking ceremonies on 30.2 acres of ground in Weatherly was held on July 29,1970, for the new $4.86 million home for the aged. Construction began on August 8, 1970, and was completed with cornerstone dedication on October 29,1972. The new home was a modern, well equipped, air conditioned structure and replaced the obsolete home in Lowrytown. It was a com­bination of one and two story building. One story has a kitchen and dining facilities, general therapy areas and utility rooms and the two story section has a 200 bed nursing unit and administrative areas. The building is designed in such a way that another 100 bed unit can be added on the east side if the need arises. Patients were transferred from the Lowrytown home to Weatherly on November 18,1972. Cost of the new home was $6.3 million. It was officially named Weatherwood in December, 1976, as the result of a contest to name the home by the Carbon County Commissioners. Winner was Mrs. Bernadette Lukac and her daughter, Mary Ellen of Summit Hill. Ever since 1979, the home has been filled to capacity and new patients trying to be admitted are placed on a waiting list.
1973
Middle School—Construction plans for a Middle School were made on March 1, 1973. The building would adjoin the elementary school on Sixth Street. Architect, Boyd C. Wagner, of Reading, and S. H. Evert, of Bloomsburg, were awarded contracts on August 8, 1973. Construction began in October, 1973, on 75,000 square feet. The structure included 17 rooms and gymnasium, 50' x 90', with seating capacity of 1,650 to 1,850 people. The school was dedicated on Sep­tember 7,1975, and opened on September 8, for 240 students in the sixth, seventh and eighth grades; under the supervision of Charles Murray. Cost of the new school was $2,822,696.
1975
New Fire House—The Citizens' Fire Company #1 broke ground on May 31,1975, for a new $125,000 firehouse on the corner of Spring and Laurel Streets. Elmer Young, Norman Koch and Allan Williams, three oldest members of the com­pany, took part in the ceremony. The land was donated by Weatherly Borough Council. The concrete block building was dedicated on September 25, 1976. It houses four emergency vehicles, a bar and dining room, capable of holding 250­300 people. Officers elected at the new firehouse for 1977 included: Edward O'Donnell, fire chief; Herman Reimold, president; Irvin Richie, vice president; Wayne Weigand, secretary-treasurer. Officers of the Ladies Auxiliary were: Doris Feaster, president; Theresa Hadzick, vice president; Theresa Davidovich, secretary and Helen Petchel, treasurer.
1977
The Weatherly Ambulance Association was organized on March 20,1977, in the council chambers of the Weatherly Municipal Building, with over 60 persons in attendance. Neal Feaster was elected president; Leonard Stratchko, vice presi­dent; Harrison Henritzy, secretary and Gary D. Hinkle, treasurer. It was decided the ambulance would be on call 24-hours a day for residents of Weatherly, Lehigh, Packer and Lausanne Townships. The first piece of emergency equipment arrived in May, 1973, and this was replaced with a $16,200 Dodge Horton Ambulance in June, 1977. Another new ambulance was purchased in May, 1983. The ambulance was housed in the old fire house until ground was broken on July 6,1987, for a new structure on South Carbon Street, on land owned by the Henry and Paul Hinkle families. Taking part in the ceremonies were Mayor Rosebud Leppler and Weatherly Area Ambulance Association President, Neal Feaster. Construction began on 1.6 acres in August, 1987. Estimated cost of the new building was around $50,000 and it will be dedicated sometime in 1988. The 16 member crew, led by Captain Tom Minich, includes 10 emergency medical technicians.
1978
As the 1970's slowly came to an end, gone from the Weatherly area were many of the neighborhood corner stores and small businesses. A town that once was self-sufficient in all its needs, had gone heavily to the use of the automobile for traveling to the many shopping centers and malls that had opened up in the Hazleton, Wilkes-Barre and Allentown areas. Slowly, one by one, since the end of the 1940's, the stores and businesses closed: Ted Field's Store, 208 Second St.; Ernest Will­iams Store, 201 Second St.; Fred Ackerman Store, 301 Carbon St.; James Kelshaw Store, 319 Fourth St.; Wargula Store, Packer St.; Bill Achey Store, 235 Third St.; Public Market, Mulhearn & Hunter, 42 Carbon St.; Columbia Market, Earl Kemmerle, 131 Carbon St.; American Store, Wilbur St.; Hattie McClellan Hat & Millinery Shop, 29 Wilbur St.; John Zeisloft Bakery, 122 First St.; Jacob Krohle Bakery, 312 First St.; George Somers, Tom Roberts, Michael Garber Barber Shops on Carbon St.; Ted Erdman's 5 &100 Store, 120 Carbon St.; Sturtevant Drug Store, 20 Carbon St.; Art Tag's Store, 206 Hudsondale St.; Howard Hoegg's Store, 136 Hudsondale St.; Frank Graff Store, 35 Jefferson St.; George & Bob Cunningham's Store, 504 W. Main St.; Joseph Silvernell's Store, 421 W. Main St.; Mom & Pop Wagner Store, Stanley Figas Store, Robert Strunk Garage, Sticks Farrow Garage, all in R. D. #1; Theodore Miller Store, Walter Erdman's Store & Garage in R. D. #2.
Businesses that closed: International Screen Co. & Jake's Cafe, 250 Plane St.; Bird's & Town Talk Restaurant, 40 W. Main St.; A & H Refrigeration, 29 Wilbur St.; Charles Schaeffer Wall Paper & Paint Store, 15 Wilbur St.; Don Hoegg's Pho­tography Studio, 105 Carbon St.; Nick Delazzaro Shoe Repair Shop, 1 Wilbur St.; Reiche's Cigar Plant, Fourth St.; Henry Thomas Peanut Co., 316 Third St.; Drumbor & Wagner's Sand Co., R.D. #2; James Peltz, Charles Andrews and Norman Rohde, rear 535 E. Main St., greenhouse and florist. There are many more stores and businesses that opened and closed locally over the years but lack of space pre­cludes mentioning them.
1980
J & E Supermarket—A parcel of land on the corner of West Main and Hudsondale Streets, containing a one-story wooden frame building and a two-story brick building, were razed in November, 1980. The buildings once housed the Berlinger Silk Mill and Linotype or Star Parts Industries. They had been vacant since 1977 when the Parrot Industry moved out. The site was purchased by John Shofran in 1978 and a new market was constructed in the spring of 1981. The old J&E Market on Carbon Street, was closed on May 23, 1981, and moved into the completed structure on Hudsondale Street. It opened for business on May 24,1981, and has been a real asset to the community ever since.
Weatherly census figures for 1980 are 2,791.
1983
Weatherly Plaza—Vacant lots on Carbon Street, that once housed the old LVRR car shops and later the Weatherly Woodworking Co., which burned to the ground on November 11, 1959, were cleared for the erection of a mini-mall in No­vember, 1983, Ground breaking ceremonies were held on November 29,1983. In attendance were: Henry Hinkle, developer; Concerned Citizens, Mayor Rosebud Leppler; Dave Feaster, Excavating Co.; Mr. and Mrs. Jim Wagner, new store own­ers; Steve Gimmer, St. Joseph Hospital and Keith Skotnicki, Anthracite Building & Loan Co. A special dedication program, along with the Weatherly Area Homecom­ing Celebration, was held at the Plaza on July 5, 6, 7, 1984.
New businesses that opened in the Weatherly Plaza, were Wagner Broth­ers Hardware Store, Weatherly Wash Coin-Op Laundry, Rainbow Coffee Shoppe, Weatherly Area Community Pharmacy and St. Joseph - Weatherly Hospital Satel­lite. A contest, sponsored by the Rotary Club, was held in conjunction with the grand opening, for a town motto, which was "Progress Through Cooperation", and a new crest, Weatherly's Schwab School tower.
1984
Hometown Video was opened at 100 Carbon Street in October, 1984. In March, 1988, Hometown Video moved across the street to its new quarters at 101 Carbon Street.
1985
With the opening of the Weatherly Plaza, the community has started to reverse the trends of empty buildings and outside shopping and began using the much wider variety of goods now available locally. It's time to rethink our shopping habits and "Shop Weatherly First". New stores and businesses are slowly returning to the community and changing our downtown appearance.
Garber Insurance & Financial Services opened at 103 Carbon Street, in April, 1985.
1986
Home Savings Association opened at 200 Carbon Street, in the Weatherly Plaza on February 7, 1986.
The Personal Touch, proprietors, Ruth Hinkle & Joyce Weaver, opened at 204 Carbon Street, Weatherly Plaza, on July 26, 1986.
Mister Gee's Janitorial and Armstrong Carpet business, opened in the vacant building at 105 Carbon Street, on October 13,1986. The business was moved to the former Weatherly Herald building at 31 Wilbur Street, in late 1987.
1987
American Last Technology Corp., a new firm which designs and manufac­turers last models. Lasts are plastic forms over which a shoe is built. Opened in former bowling alley on Hudsondale Road. Karl G. Knopf is owner of the firm.
(EDITOR'S NOTE:) Some industries or businesses may have been inadvertently omitted from this history, in most cases it was because no information was avail­able. Weatherly's long and varied history will undoubtedly continue to change over the years as more businesses open and close. Because of space limitations some histories had to be shortened but the main facts were always included.
WEATHERLY BOROUGH MANAGERS
Robert Parsons
1964-1966
Kent Bristol
1966-1967
Carl Wagner
1968-1971
Beverly Knepper
1971-1974
Lamont McClure
1974-1976
Leonard Stratchko
1977-1979
Beverly Knepper
1979-1992
Jay Willard
1992-1996
David Ratajczak
1996-1997
Harold J. Pudliner Jr.
1997-2015
WEATHERLY BOROUGH MAYORS
Irvin D. Neifert
1961-1965
Ray V. Laudenslager
1966-1969
Andrew Lestishock
1970-1973
Irvin D. Neifert
1974-1976
Edward T. Dodson
1976-1979
Frank Slezak
1980-1982
Rosebud Drolles
1982-1988